Plans before pledges: How P&G has evolved its climate strategy to target a net-zero value chain by 2040
EXCLUSIVE: Procter & Gamble (P&G) has unveiled a new climate action plan to reach net-zero emissions across its value chain by 2040, with the company's vice president for global sustainability Jack Mcaneny telling edie that the "absolute priority is reducing emissions".
---
P&G is recognised as one of the bastions of the corporate sustainability movement. In recent years it has focused on circular economy innovation, launched a new alliance focused on water consumption and is targeting carbon-neutral operations by 2030.
The company has this week finally forayed into the ever-expanding net-zero movement. It has unveiled a new ambition to achieve net-zero emissions across its operations and supply chain, from raw material to retailer, by 2040.
Any net-zero target is welcome in the global effort to combat the climate crisis, however, the net-zero movement is not without its issues. A report from the Energy and Climate Intelligence Unit (ECIU) has previously warned that companies risk facing allegations of greenwashing if they don't build on net-zero commitments with robust governance, transparency and reporting mechanisms.
Fortunately, net-zero targets are becoming more genuine, either through alignment with climate science or supported by actual plans to decarbonise.
This is partly the reason that P&G has waited until today (14 September) to unveil its net-zero strategy. While the headline ambition is to reach net-zero emissions by 2040, it is accompanied by a detailed, 42-page "Climate Transition Action Plan", outlining the steps and challenges on the road to net-zero.
"This is a 20-year journey going forward," P&G's vice president for global sustainability Jack Mcaneny told edie. "There is going to be uncertainty, but we can't let that hold us back. We wanted to make sure that when we came forward with a statement, we'd have the confidence in it that we can drive meaningful and credible progress against it.
"We did a lot of work on the front end of this plan, and we see this as an evolution of the journey that we have been on. In some respects, net-zero is new for us, but it is also a continuation of the climate path we've already worked towards."
Mcaneny told edie that P&G would be following the guidance set out by the Science Based Targets initiative (SBTi), which suggests that "gross global emissions need to be reduced by 90% to limit warming to 1.5°C". Following this line of decarbonisation, interim goals to reduce emissions from operations by 50% by 2030 and by 40% across the supply chain have been submitted to the SBTi for validation.
The Climate Action Plan details how replacing raw materials, embracing the circular economy and reducing carbon through better water usage will all assist with the wider net-zero goal. Other shorter-term targets include reducing virgin petroleum plastic in packaging by 50% by 2030, reducing upstream finished product freight emissions intensity 50% by 2030 and avoiding 30 million tons of carbon emissions via cold water washing by 2030.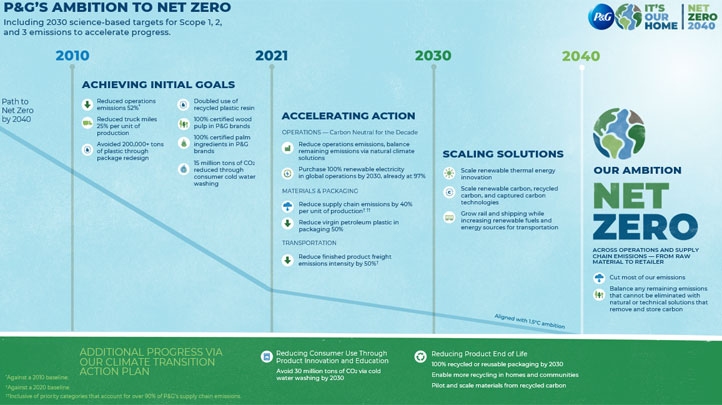 Between 2010 and 2020 the company has reduced its absolute emissions across global operations by 52%, namely through renewable electricity and energy efficiency upgrades. Mcaneny notes that natural climate solutions will need to be championed to balance any residual emissions from operations that cannot be eliminated by 2030.
But with P&G currently using 97% renewable electricity to power its global operations – and nearing a 100% target set for 2030 – the company will need to turn to new measures to decarbonise.
Mcaneny notes that thermal energy remains a challenge for the firm, and the company is currently working with the Renewable Thermal Collaborative to partner on new solutions in this area. Mcaneny understands though, that no "magic bullets" exist to enable the company to reach net-zero.
"We're trying to leverage every solution available to us, in terms of renewable energy and electricity, looking at bio-based materials and pulling the important lever of nature and the power that can deliver," he said. "But as we go forward, job number one and our absolute priority is reducing emissions.
"We'll be looking at a portfolio of solutions including electrification, geothermal and renewable thermal and hydrogen and we won't take our eye off the ball in terms of efficiency. The best energy is the energy we don't use."
Nature-based solutions
The action plan reaffirms the statement that P&G will "prioritise" cutting emissions across the value chain, from raw material to retailer. For residual emissions that cannot be eliminated, the company will use natural or technical solutions that remove and store carbon.  
When the carbon-neutral goal was announced for 2030, P&G confirmed it would use a mixture of insetting and offsetting to bring residual emissions across these scopes to net-zero. At the time, P&G estimated that its annual Scope 1 and Scope 2 emissions will be 30 million metric tonnes in 2030, once it has completed the shift to 100% renewable electricity.
While some insetting and offsetting initiatives center around renewable energy and clean fuel, P&G has chosen to back nature-based projects which serve to protect, improve or restore habitats. Key focus areas will be peatlands, wetlands and forests.
However, P&G isn't turning to nature-based solutions to solely offset unavoidable emissions in the short-term, but is actively working with external experts to seek out projects that deliver co-benefits.
"We will be tracking the impact of our natural climate solutions, but we will not be using that to alter our reporting on scope 1 and 2," he added. "This will be an effort to ensure we have other projects that balance. We've got a real effort in place to ensure credibility and transparency by working with Conservation International and we've set up an Advisory Panel on natural climate solutions, helping us navigate projects that will deliver co-benefits for nature and local communities."
Supplier collaboration
The supply chain is an area of great focus under the new net-zero ambition. Emissions from P&G's supply chain, logistics and raw materials are around 10 times greater than its operations. Meeting the 40% reduction in value chain emissions will require disruptive levels of innovation.
P&G is planning to increase transportation efficiency of outbound finished products 50% by 2030 and the Pampers brand is already working with suppliers to reduce their carbon footprints, a move that is estimated to have avoided one million metric tons of GHG from the production of its materials over the past five years.
The company has also set up a new Product Supply Innovation Center (PSIC) in Kronberg, Germany as a hub for a network of local suppliers to work with tech firms and academics in developing solutions that can be integrated across the supply chain.
The company has also joined the UN's Race to Zero and Business Ambition for 1.5°C campaigns, in a bid to collaborate on efforts to mobilise climate action. This includes sharing P&G's new Climate Transition Action Plan with a wider audience.
The company is also looking to COP26 to "bridge the gap" between policymakers and the private sector that enable conversations that will help shape policy that drives meaningful change. P&G is hoping to strike a dialogue with suppliers to enable them to increase the uptake of renewables, but this will likely depend on the maturity of national markets for green solutions.
So, while the net-zero announcement is an "evolution" of a long-standing commitment to corporate sustainability, P&G hopes its detailed plan will wash away some of the disruptive uncertainty the future holds. It's not just the end destination that is in sight for P&G, but also how all touchpoints in the business, from procurement to manufacturing, will act as enablers on the road to net-zero.
Matt Mace
© Faversham House Ltd 2023 edie news articles may be copied or forwarded for individual use only. No other reproduction or distribution is permitted without prior written consent.