Plans for zero-carbon industrial hub fleshed out in new roadmap
Drax, Equinor and National Grid have published a new roadmap fleshing out their plans to create the world's first zero-carbon industrial hub in the Humber region by 2040.
---
The report, produced by Element Energy, emphasises the region's huge potential contribution to the UK's climate change targets as the location of the country's largest industrial cluster by carbon emissions.
The roadmap sets out proposals to build a demonstration hydrogen production facility in the region by 2025 and install carbon capture equipment on one of the four biomass units at Drax's power station in Selby two years later.
The power station would form the anchor for a carbon capture and storage (CCS) network connected to storage sites in the North Sea. The pipeline would also transport carbon emissions from the hydrogen production facility, which would be used to feed a hydrogen network.
Over the late 2020s and the following decade, carbon capture equipment would be installed on the remaining three biomass units at Drax and hydrogen production would be scaled up.
The report says the project would help protect the 55,000 industrial jobs in the region and save businesses £27.5 billion in carbon taxes by 2040.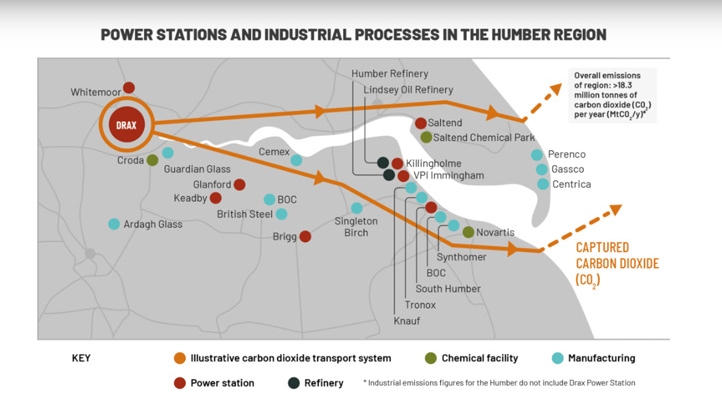 "The race to cut carbon emissions is one we can win," said Drax Group chief executive Will Gardiner.
"This plan sets out a clear blueprint of how to get the Humber to net-zero – the impact of decarbonising the most carbon-intensive region in the country will make a major contribution to the UK reaching its world-leading climate goals.
"We need to seize this opportunity. Zero starts here."
National Grid Ventures' chief operating officer for global transmission Jon Butterworth added:  "The government has set out ambitious plans to develop the world's first zero-carbon industry cluster by 2040.
"We believe this is a challenge that can and should be met. By working together across industry sectors, we can protect UK jobs, drive further economic growth and help the country achieve critically important climate goals that will significantly benefit current and future generations."
Innovate UK recently launched two competitions worth up to £143 million in total to help create a net-zero industrial cluster in the UK by 2040.
Tom Grimwood
This article appeared first on edie's sister title, Utility Week
© Faversham House Ltd 2023 edie news articles may be copied or forwarded for individual use only. No other reproduction or distribution is permitted without prior written consent.