Plastic-free sachets and hydrogen-powered F1 cars: The best green innovations from CES 2021
From big-name corporates to tiny startups, the annual Consumer Electronics Show (CES) saw thousands of companies showcase their newest tech-based innovations. Here, edie rounds up some of the biggest announcements around green products.
---
For four days each January, Las Vegas plays host to CES – and the 200,000+ delegates that attend. But this year, for the first time, the event was moved fully online, as Covid-19 continues to sweep the US.  This didn't stop announcements from coming in thick and fast, though, with innovators keener than ever to showcase technologies with social, public health and environmental benefits.
With CES having come to a close for another year late last week, edie is rounding up six products and systems from the show that could help create a more sustainable future.
Plastic-free, single-dose cleaning products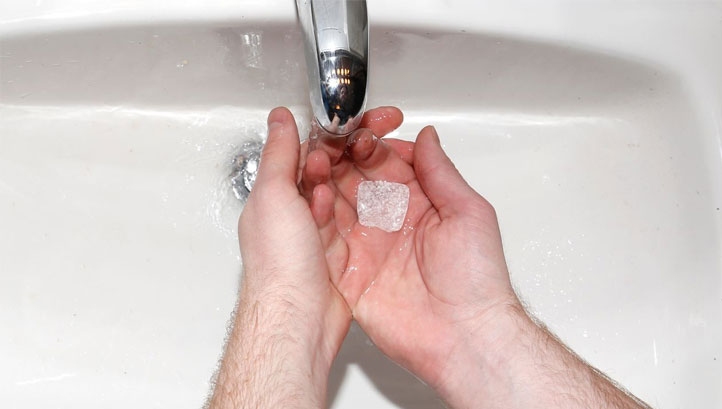 Going plastic-free is a particular challenge in developing nations where residents can only afford to buy single sachets of products like shampoo, shower gel and household cleaners at a time. In this Philippines alone, some 60 billion sachets are sold a year. While populations have reaped the short-term benefits of better sanitation and hygiene, they are now bearing the brunt of the global plastic pollution problem.
Procter & Gamble (P&G) used its platform at CES to confirm the launch of EC30 – a range of plastic-free, waterless health and beauty and home cleaning products. The dehydrated squares of product react with water, activating the cleaning properties.  They do not need to be individually packaged and come in cardboard boxes. P&G claims that the manufacturing, production and shipping-related emissions relating to the range are 50% lower than traditional, liquid-based cleaners.
Aside from the plastic and carbon benefit, the hope is that consumers will be encouraged to save water at home, in tandem with P&G using less water in the manufacturing process. The company is notably part of the World Economic Forum's 50L Home project, set up to help tackle water scarcity in urban areas.
L'Oreal's low-flow taps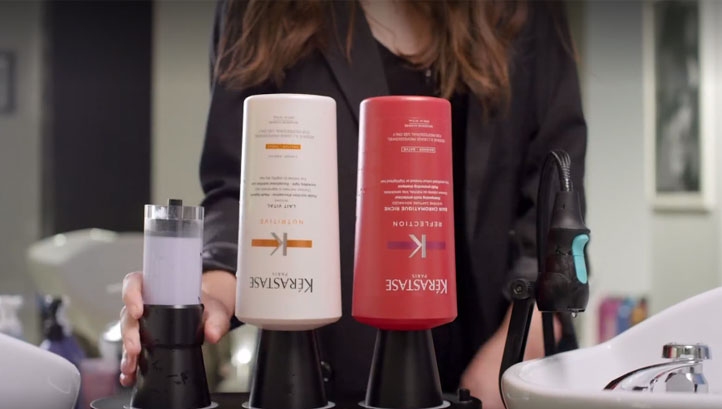 While we're on the subject of water-saving and health and beauty products, it's worth recapping the announcements L'Oreal made at CES after revamping its sustainability strategy through to 2025. The firm revealed that it has successfully worked with Swiss environmental innovation company Gjosa to develop a low-flow system for hair washing that uses up to 80% less water than average taps.
The system applies the principle of fractioning used in rocket engines to water flows, reducing the size of water particles and accelerating their speed, making it easier to wet a larger area without wasting water. It is also set up with options enabling shampoos and conditioners to be added to the stream, minimising product waste too.
Salons will be the first to trial the technology before it is offered to households. The systems filled in salons will have sensors to help track water, energy and cost-saving data.
Circular water systems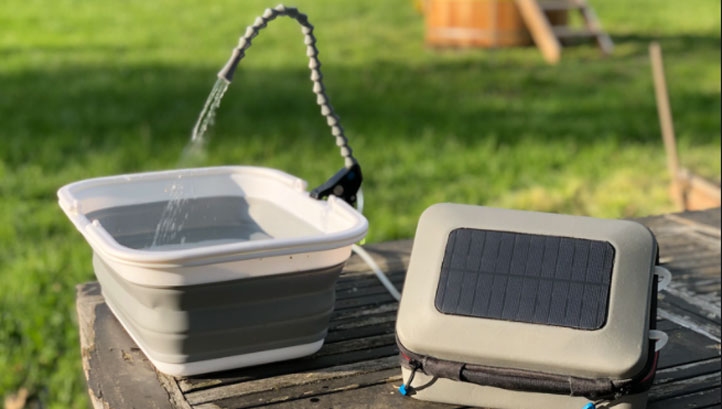 It is a misconception that water scarcity and water stress only affect warm places and developing regions. The UN is warning of widespread water scarcity by mid-century, so it's clear to see why so many green innovations at CES sought to tackle this issue.
Hydraloop, which won four CES awards last year, returned to showcase systems that collect and clean water from showers, baths, washing machines and other devices ready for reuse. Once cleaned, the water can be used to flush toilets and wash clothes. Hydraloop debuted two systems – one for families and small businesses, and a larger, modular option for businesses. Applications are likely to prove particularly useful to businesses in the hospitality and leisure sector.
For those living off of the water grid in developing nations, startup GoSun has developed a device called 'Flow' that uses solar power to purify and sanitise water. The unit can fit into a backpack and can pump around a litre of water every minute. During tests, the device removed 99.9% of pathogens from the water. Flow could help dramatically improve health and sanitation for those living near water sources like rivers, but lacking water infrastructure at home. The UN estimates that 4.2 billion people are without access to properly managed water and sanitation systems and infrastructure at home.
IoT devices made using end-of-life phones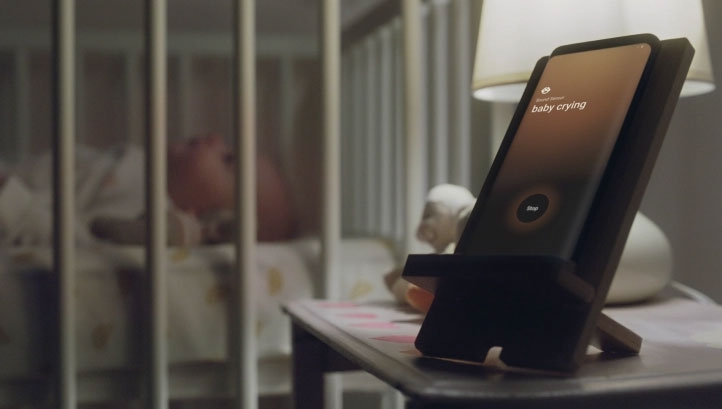 E-waste is the world's fastest-growing domestic waste stream. According to the UN, e-waste increased by more than 20% between 2014 and 2019, as recycling rates stagnated.  And the problem is likely to get worse as digitisation and population growth continue, and as people stop hoarding their old gadgets. On the latter, a survey of 2,000+ adults by the Royal Society of Chemistry found that 96% are keeping one or more small technology items at home, with less than 20% planning to recycle them.
Samsung presented a potential solution at CES – and expansion of its upcycling programme for used phones and tablets. The company launched new software updates for devices that can turn them into devices such as baby monitors or automated timers for devices including lights. With the update, old smartphones and tablets will still be able to connect with their owners' current android phones and tablets, providing notifications and enabling remote control.
Used phones could also be used in the healthcare sector, as Samsung has developed a software update and camera add-on that enables them to be used for examining eye health.
A confirmed date for the software launch has not yet been revealed. The software will be made available to Galaxy devices operating on newer software first, with versions for older products due in the coming months.
Samsung also used its CES slot to unveil a TV remote with a solar cell on the back. It claims the device, made using recycled plastic, can recharge indoors as well as outdoors, preventing battery waste.
Bioenzymatic cells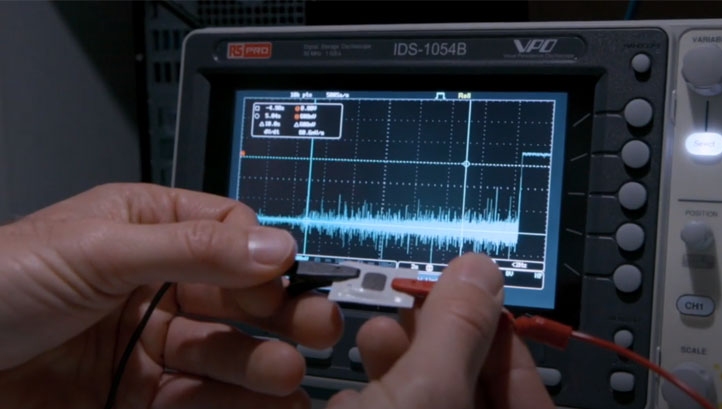 We have all seen the headlines about how bad used batteries are for the environment, and how the global production of batteries is now outpacing the development of recycling solutions as sectors like transport are electrified. But small batteries used in disposable and wearable medical devices can also harm the environment – and their size means they come with even more recycling challenges.
To that end, BeFC has developed a paper-based fuel cell system that uses biological catalysts instead of metals or chemicals to convert natural substances like glucose and oxygen into electricity. There are also no plastic components to the cells. The company claims that only a drop of solution is needed to start the energy conversion process.
BeFC developed the products for healthcare but hopes that its technologies will also have applications in the logistics sector, improving transparency by helping businesses to track raw materials and products across the supply chain.
Hydrogen-powered, flying F1 cars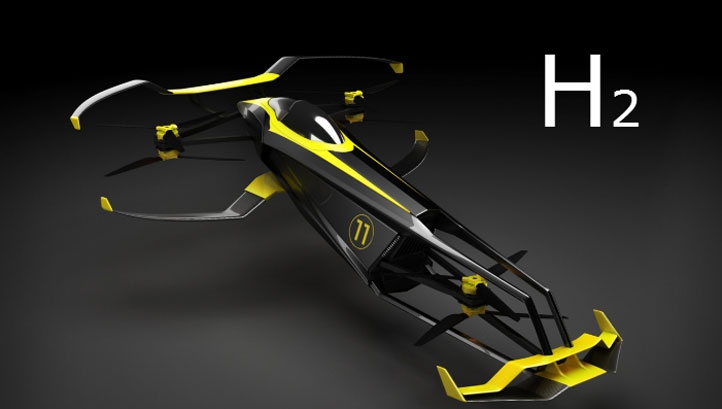 There have been several major stories about hydrogen in transport in recent years, from Nikola Motor's autonomous hydrogen lorry and Alstrom's hydrogen trains, to the hydrogen planes that Airbus and ZeroAvia are developing. But perhaps the most innovative plan so far is for the 'carcopter', a hydrogen-powered sports car that can reach speeds of 153mph.
The concept was unveiled by MACA, a French startup founded by an ex-fighter pilot and an Airbus helicopter veteran, at designboom in early 2020, and re-showcased at CES. The firm has produced a battery-powered replica that is 2.5 metres long through a partnership with Swiss electric-hydrogen propulsion system maker GreenGT.
MACA is hoping to showcase a full-size, 6-metre vehicle this year and deliver the first piloted flight in December. If it keeps to this timeline, we could see a pilot racing event in 2023 and flying hydrogen vehicles on F1 circuits in 2023. F1 is notably targeting net-zero by 2030.
Sarah George
© Faversham House Ltd 2023 edie news articles may be copied or forwarded for individual use only. No other reproduction or distribution is permitted without prior written consent.