RSS Feeds
What is RSS?
RSS feeds are summaries of news items, forums, blogs, or other website content. Each summary usually consists of a title, brief description, publication date and link to the actual article on-line.
Example:

Many websites and programs use RSS feeds to display the latest contents of your favourite sites, making it easy to spot new articles without having to visit each site in turn.
How can I read edie's RSS feeds?
There are two ways to read RSS feeds:
· Through a program installed on your computer
· Through a web page that collects and disseminates or aggregates them
There are countless programs and websites that aggregate RSS feeds, to find one try searching for:
·
"How to read RSS feeds"
·
rss reader software
·
on-line aggregators
How can I use these on my website?
If you use ASP on your website you can download a small script that you may be able to use to display our feeds on your site.
edie_feed_reader.zip
Please note, however, that we cannot offer any techncial support for this script.
Podcasts
iTunes Podcast
See
edie's social networking sites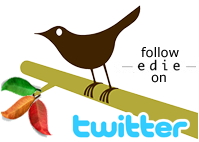 Twitter RSS feed