Self-powered desalination and next-gen carbon storage: The best green innovations of March 2022
As March comes to a close, edie and our innovation partner Springwise have rounded up six of the best breakthrough technologies that could help accelerate the transition to a low-carbon, resource-efficient and resilient future.
---
Solar and wind power are playing a crucial role in the energy transition. In the US, Standard and Poor's Global Market Intelligence reports that new wind and solar generation capacity is expected to come online at record levels in 2022. But challenges for both sources of renewable energy. For example, two of this month's innovations are focused on making solar and wind power viable in new situations. And as renewable energy is rolled out, new forms of energy storage also need to be developed and scaled up in ways that do not harm the environment.
Elsewhere, innovators are looking at how, in addition to preventing future emissions, we can remove the carbon dioxide that is already in the atmosphere. At the same time, others are seeking to mitigate the impacts of climate change on issues such as water scarcity. Finally, the continuing growth of plastic pollution is the subject of a creative solution that re-purposes used plastic as a construction-grade building material.
Two-bladed wind turbines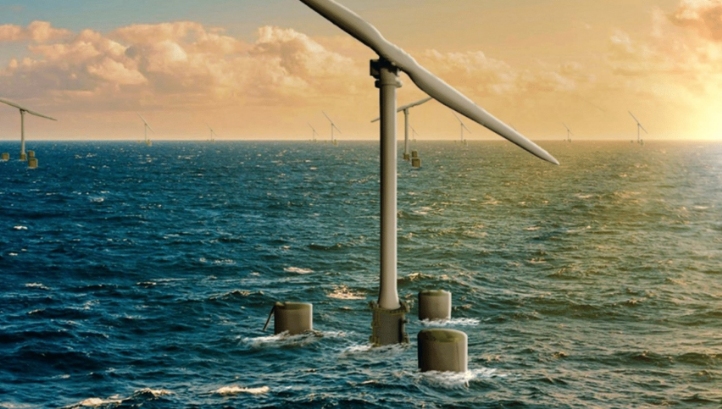 Image: Seawind
Engineering and tech company Seawind Ocean technology has developed a floating offshore wind turbine demonstrator that can produce 6.2 megawatts of energy. The company claims the floating wind turbine can be installed in any ocean environment – including ultra-deep waters and areas that see frequent cyclones, which are not suitable for the installation of traditional turbines.
Called the 6-126, the turbine uses a teetering hinge to separate the shaft and rotor, protecting the turbine from harmful and heavy loads. An active yaw control allows the turbine to run at higher speeds. The turbines are assembled harbour-side using land-based cranes, and do not require the use of installation vessels, making them easy to site. 
The company has recently signed a memorandum of understanding (MOU) with Petrofac—a leading international service provider to the energy industry—to install its first full-scale turbines. Completed turbines are expected to be installed in European waters by the first quarter of 2024. 
Solar panels that look like bricks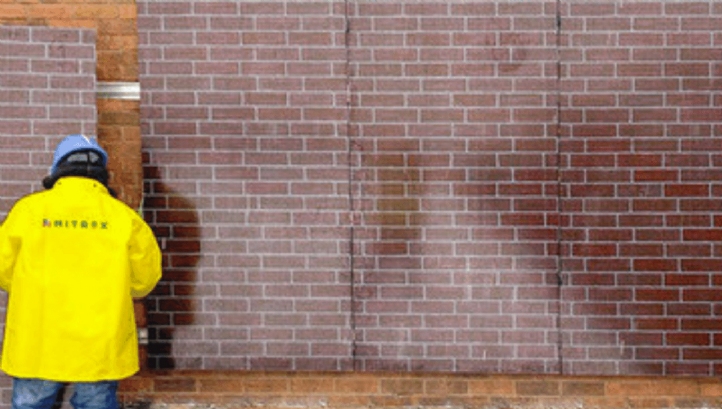 Image: CNW Group/Mitrex
Traditionally, installing solar panels has been difficult for urban dwellers with little or no access to a rooftop or garden. Now, Canadian company Mitrex has developed a new system that can bring solar generation to almost any home. The company has created a building integrated photovoltaic (BIPV) material that looks like a regular stone, brick, glass, or wood facade.
Used as cladding, the BIPV material can cover old siding or be used as a first choice in new builds. The material can be cut to a range of sizes and shapes to fit in with the desired design, making it possible to generate power from any surface that gets sunlight. 
A single panel generates up to 350 watts of power, and the company offers several different pricing options. Customers can choose between owning the entire system and the power, or just the installed hardware. Mitrex handles the full installation process.
'Ground-breaking' batteries for remote communities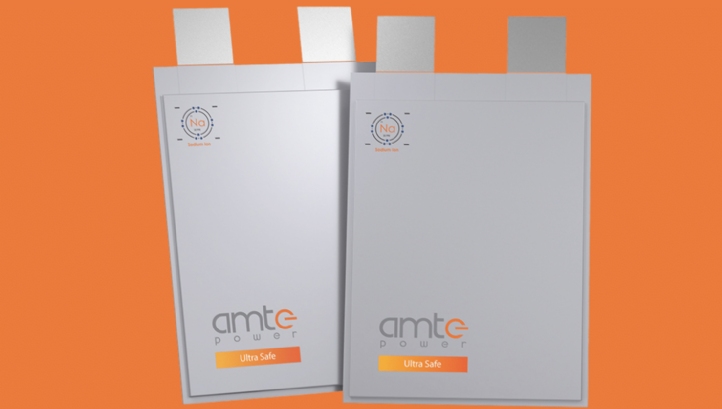 Image: AMTE Power
Critics of renewable energy often point to the fact that it is intermittent, unlike nuclear or fossil fuels. There is a pressing need to scale-up production of safe, stable battery technology to support the growth of renewable energy while maintaining energy security.
Battery technology can also improve electricity access. UK-based renewable energy and battery specialist AceOn has teamed up with battery pioneer AMTE Power to use next-generation solar-powered energy storage units to bring electricity to remote sub-Saharan African communities. AceOn has developed the AceOnPES (portable energy storage) power unit which will run on sodium-ion battery cells produced by AMTE. 
While conventional lithium-ion batteries use raw materials—such as lithium and cobalt—that are in finite supply, sodium is plentiful almost everywhere and can be extracted using minimal energy. This could allow wider and cheaper battery manufacture. Moreover, because they lack heavy metals, sodium-ion batteries are also much easier to recycle, and their use would eliminate much of the risk of pollution from both mining and battery disposal. 
Although sodium battery technology is not new, until now, there has been little interest in developing it commercially. Instead, more effort has been put into further developing lithium-ion batteries. However, the realisation that lithium is a finite resource, and that mining it is extremely polluting, has spurred several researchers and companies to take another look at sodium battery technology.
A new plan for undersea carbon storage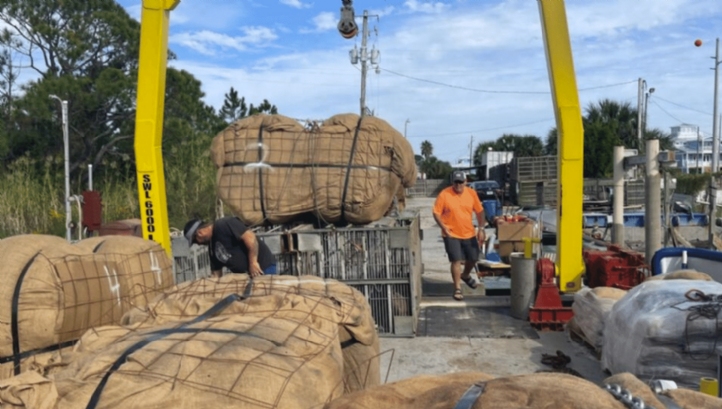 Image: CROPS
As the world ramps up the fight against global warming, there is a growing realisation that no single technology will provide all the emission reductions needed to meet climate goals. Rather, a portfolio of mitigation measures will be needed – and many experts believe carbon capture and sequestration will form an important part of this mix.
A new enterprise—called CROPS ('Crop Residue Ocean Permanent Sequestration')—is aiming to sequester carbon from crop residue by storing it deep under the ocean. The project focuses on corn, which extracts a larger proportion of carbon dioxide from the air than most other crops. The plan would package 'stover'—corn waste made up of stalks, roots, and leaves—into enormous 1500-pound bales that would then be sunk thousands of feet below the ocean's surface. 
At those depths, low temperatures, high pressures, and a lack of free oxygen mean the bales would decompose very slowly. As a result, the carbon stored in the bales would be locked away for around 1,000 years.
Solar-powered, waste-free water desalination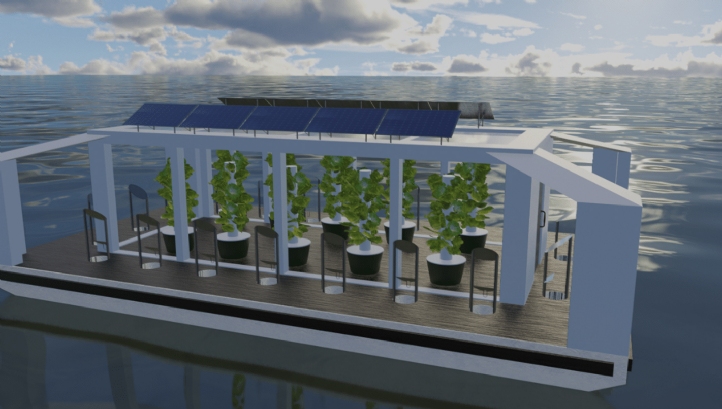 Image: Manhat
Desalination normally produces substantial amounts of salty brine that must either be treated or used in a way that avoids creating pollution. Now, UAE-based startup Manhat has developed water distillation plants that produce no waste because of their open-top design.
The design takes advantage of the natural process of water evaporating from the world's oceans, coupling it with another free resource – sunlight. Manhat builds greenhouse-like structures on the seashore. Solar radiation heats the water within these structures, causing it to evaporate. The water then condenses and is collected.
Requiring no electricity or power of any kind, the plants are designed for ease of use, portability and affordability, with island and coastal countries ideally situated to benefit from the technology. Manhat is also developing floating farm solutions that will benefit cities where the looming threat of rising sea levels is especially high.
Building blocks made from plastic waste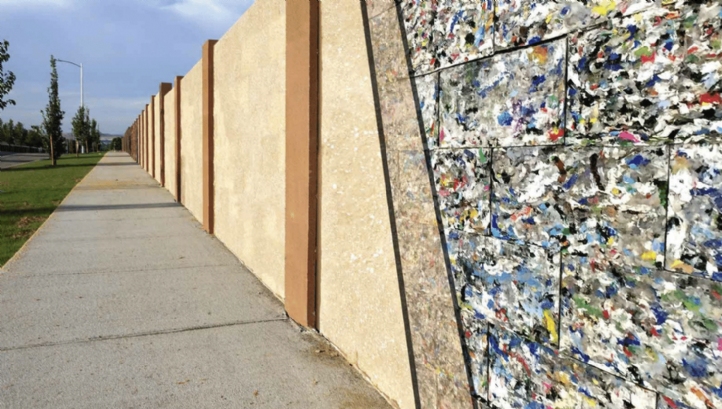 Image: ByFusion
A major OECD report released last month revealed that the growth of the plastics market has outpaced economic growth by almost 40.  Yet recycling hasn't scaled up in keeping with this trend. Just 9% of all plastics produced have ever been recycled, and much of this is recycled into products that come with their own environmental challenges, like clothing that sheds microfibres.
Now, US startup ByFusion has come up with a potential solution: using discarded plastic as a building material.
ByFusion's eco-friendly process—called 'Blocker'—uses steam and compression to convert plastic waste into construction blocks – without the use of chemicals. One of the key benefits of this process is that, unlike many forms of plastic recycling, the feedstock does not need to be washed or pre-sorted. All types of plastic can be fed into the system, where they are shredded and fused into the blocks.
The blocks that are produced are construction-grade and can be used for applications such as sheds, walls, fencing, landscaping, and furniture. Each block measures 40cm x 20cm x 20cm and weighs around 10 kilogrammes. Unlike their concrete counterparts, the plastic blocks don't crack or crumble. ByFusion also boasts that the material produces 41% less CO2 over its lifecycle than concrete.
Springwise is the global innovation intelligence platform for positive and sustainable change. With a growing database of 11,000+ innovations, we are the place of record for innovation that matters. Springwise.com.
edie Staff and Springwise Staff
© Faversham House Ltd 2023 edie news articles may be copied or forwarded for individual use only. No other reproduction or distribution is permitted without prior written consent.