Shampoo bars and sustainable shoes: Rounding up the big Earth Day product announcements
A string of big-name brands, including SC Johnson and Vans, have bolstered commitments on resource use or launched products with circular economy principles to mark Earth Day 2021. Here, edie rounds up the announcements.
---
Earth Day has been marked annually since 1970. With this year's event taking place in the same week as a climate summit hosted by the Biden Administration in the US, and ahead of COP26, businesses are making announcements in their droves.
After rounding up the key net-zero, carbon-neutral and other climate-related targets this morning (22 April), edie summarises the resource-related announcements in brief.
Hellmann's
Unilever is aiming to use at least 25% post-consumer recycled plastic by 2025 and expects to double the amount it uses by this October, against October 2020 levels.
In a step towards this goal, owned brand Hellmann's has announced plans to move all 'squeezy' bottles sold in the UK to 100% recycled plastic by the end of 2022. The move should mitigate the use of more than 1,400 tonnes of virgin plastic each year once the transition is complete.
"Our Hellmann's bottles are our first food brand in the UK to use 100% post-consumer recycled plastic, and whilst making the switch has not been without its challenges, these learnings will enable us to accelerate the move of other Unilever food brands to using more recycled plastic too," Unilever UK & Ireland's VP of foods and refreshment Andre Burger said.
Hush Puppies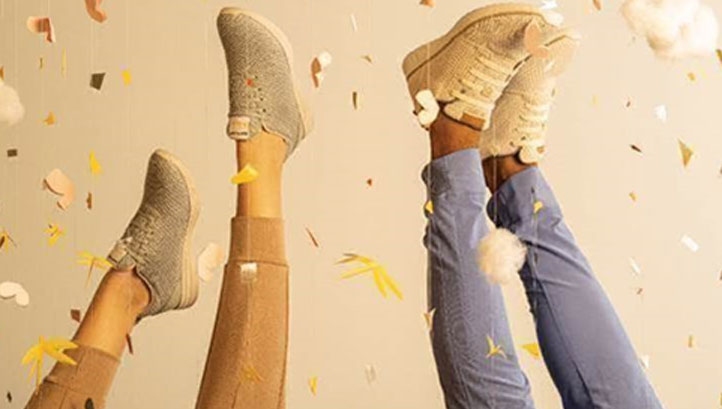 Shoes are one of fashion's most challenging waste problems. Most are multi-material and consist of virgin materials held together with non-recyclable glues, and production has rapidly expanded faster than reuse and recycling capacity.
Hush Puppies is marking Earth Day by launching what it claims is its most sustainable shoe yet. The 'Good Shoe' is produced using a 100% recycled PET upper, made from used plastic water bottles. The outsole is made using an algae-based bio-foam. Hush Puppies claims that neither longevity nor comfort have been compromised in altering the materials.
Ibstock
Building materials manufacturer Ibstock is perhaps best known in the sustainability space for its net-zero target. Energy manager Michael McGowan is an edie award-winner and a regular guest for the edie news team.
But the firm is marking Earth Day by reiterating other sustainability commitments, including a pledge to cut plastic use by 40% by 2023. Ibstock estimates that it will remove at least 200 tonnes of plastic shrink wrap this year, through a combination of replacement and reducing the material's thickness.
Mastercard and Starling Bank
As of July 2019, the UK was home to more than 150 million issued credit or debit cards. The mind boggles to think of how many there must be in the world once unissued cards are also accounted for – and what the plastic footprint of this sector must be.
MasterCard and Starling Bank are using Earth Day to promote their new cards made from recycled, biodegradable and ocean plastics,
MasterCard has also announced new partnerships with Doconomy and ekko, centred on carbon calculations. The Doconomy Mastercard Carbon Calculator is available online for Mastercard customers around the world. Ekko, meanwhile, has an app for UK consumers, enabling them to contribute to ocean plastic avoidance and tree planting initiatives in a 'loyalty card' style.  
Morrisons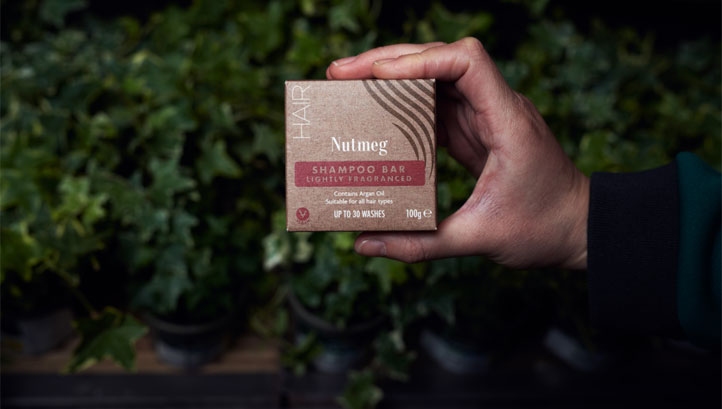 Shampoo bars were once the forte of independent zero-waste shops and of high-street retailer Lush. Now, after Garnier launched what is believed to be the first shampoo bar from a multinational FMCG firm to the UK market, supermarket Morrisons has launched its own range.
The bars come in plastic-free packaging that can be recycled at kerbside. Morrisons has developed a vegan formula and, for consumers that are less eco-minded, is marketing them on the basis that they cost £3 for 30 washes.
 "Our customers are telling us they want more sustainable options, not only for their groceries but for their beauty products too," Morrisons' health and beauty development manager Karena Hung said. "We're excited to launch these new shampoo and conditioner bars under our own brand, so customers can pick them up as easily as they would regular bottles of shampoo and conditioner, with their weekly shop."
Morrisons has already phased out single-use plastic bags in fruit and veg aisles and on flowers, as well as black plastic trays and all plastic carrier bags.
SC Johnson
US-based FMCG giant SC Johnson is a key partner of the Ellen MacArthur Foundation, through the charity's New Plastics Economy Commitment. The aim of the Commitment is to create a "new normal" for plastic packaging by eliminating single-use packaging materials, increasing the amount of reused or recycled plastics in new products and innovating to ensure 100% of plastic packaging can be reused, recycled, or composted by 2025. 
On the renewed and recycled plastics piece, SC Johnson has been working with the Plastic Bank to capture ocean plastic for incorporation into things like Windex bottles in the US and Mr Muscle packaging in the UK and Ireland. The Plastic Bank has this week announced that it has stopped one billion bottles from entering oceans, with SC Johnson's support having been directly responsible for half of this progress. SC johnson's programme alone has prevented 10.4 million kilograms of ocean plastic pollution.
More than 250 collection points are now operated by the Plastic Bank, across Indonesia, the Philippines and Brazil. Points will launch in Thailand and Vietnam by the end of next year.
SodaStream
SodaStream's parent company, PepsiCo, has been subject to a string of plastics-related activism from NGOs over the years. After engagement with As You Sow, the firm recently pledged to make targets more ambitious in the near future.
While its main corporate strategy is centred around recycled plastics use and using less plastics, subsidiary SodaStream uses a refill business model to eliminate single-use plastics. After meeting its 2020 goal on plastics mitigation, it is now aiming to help prevent the use of 78 billion single-use drinks bottles by 2025.
As well as simply selling more devices, the company has committed to making its sparkling water makers using recycled or plant-based materials, while switching flavour bottles from plastic to metal. The bottle switch will be completed by the end of 2021 and will mitigate 200 plastic bottles.
Sweetgreen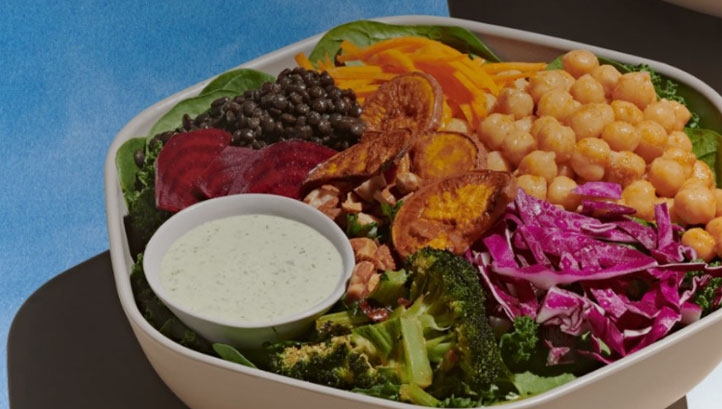 US-headquartered restaurant chain Sweetgreen recently pledged to reach carbon neutrality by 2027. It will halve emissions before offsetting the residual emissions.
To engage consumers with the journey, the firm has begun displaying low-carbon menu items, labelling the carbon footprints of dishes and their ingredients on the Sweetgreen app. Sweetgreen has lowered the carbon footprint of selected dishes and ingredients through a mix of a plant-based approach, local sourcing, and helping suppliers quantify and reduce their environmental impact.
Vans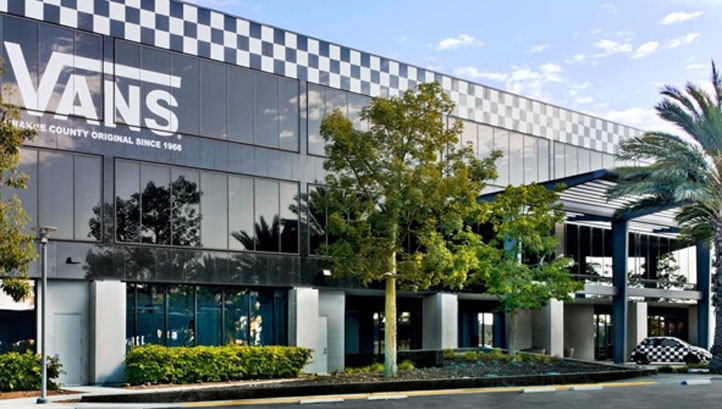 VF Corporation's Timberland brand made headlines last year with a commitment to ensure that it has a net-positive impact on nature within a decade.
Now, Vans has followed suit. The brand, best known for its skate shoes, has pledged to source only regenerative, recycled or responsibly sourced and certified materials by 2030. The pledge covers all key materials including rubber, cotton, leather and polyester.
Regenerative agriculture will be the focus for rubber, cotton and leather. For all non-regenerative cotton, alternative certification will be sought. Vans will also scale up the sourcing of recycled polyester and explore how it can get this material from its own used products in a closed-loop fashion.
Vans has additionally pledged to eliminate all single-use packaging within the same timeframe. Plastic shopping bags will be gone from stores by the end of this year, as a first step.
UGG
UGG's overarching sustainability strategy, Feel Good, details commitments to reach at least 35% sustainable material content across its entire product portfolio by 2027. Materials classed as 'sustainable' are those that are recycled or repurposed; those that are plant-based or bio-based and those that are certified. At the same time, UGG will strive to improve product longevity and recyclability.
The brand has already achieved 100% certified leather through the Leather Working Group and 98% wool that is repurposed or by-product.
Building on this progress, UGG has pledged to launch a repair programme later this year and has partnered with canopy to scale up responsible sourcing and forest restoration schemes. The partnership will cover 200,000 acres of land in 2021 and a further 800,000 acres through to 2025.
It has also joined the Apparel Transparency Pledge, designed to help fashion brands disclose more information on their supply chains, in a unified method.
Sarah George
© Faversham House Ltd 2023 edie news articles may be copied or forwarded for individual use only. No other reproduction or distribution is permitted without prior written consent.