Shell's green energy plan and edie's Plastics Hub: The sustainability success stories of January 2019
As the first month of 2019 comes to a close, edie rounds up some of the most-read sustainability stories and standout pieces of content from the past 31 days - from Shell's decision to boost its investment in low-carbon technologies, to the launch of edie's own Mission Possible Plastics Hub.
---
Despite the freezing weather outside and the fact that Christmas 2018 now seems like it was a lifetime ago, action within the sustainability sphere has shown no signs of slowing down this month.
Big announcements and ambitious commitments were rolling in well before this year's World Economic Forum kicked off in Davos and have continued to land on the edie newsdesk ever since the event came to a close last week.
From the UK Government unveiling funding for innovative, high-tech concepts aimed at tackling food waste, to the launch of a huge new collaborative refill and reuse service by 24 companies – including the likes of Nestle and PepsiCo –  there is much to reflect on when looking back at the past month in both policy and corporate terms.
As this round-up proves, businesses are bracing for the polar vortex and charging ahead with new ideas, frameworks and innovations. So, take a look through all of the month's most-read news stories, and click the links in the descriptions below to read them for yourself.
edie's most-read article of the year so far listed 19 resolutions for sustainability professionals in 2019 that will help businesses ignite a new era of leadership. Which ones will you choose?
Earlier this month, 3,000 business leaders, policymakers and thought leaders gathered in Davos for the 48th annual World Economic Forum (WEF). This round-up details some of the key reports and announcements from the summit, from research by the Ellen MacArthur Foundation to a speech on sanitation by Matt Damon. 
Last year, consumer goods giant Unilever decided to ask its 172,000 staff what sustainable business meant to them. This exclusive interview with the company's global vice president for sustainability, Karen Hamilton, details how this move may well keep the firm in the vanguard of corporate responsibility in its post-Polman era.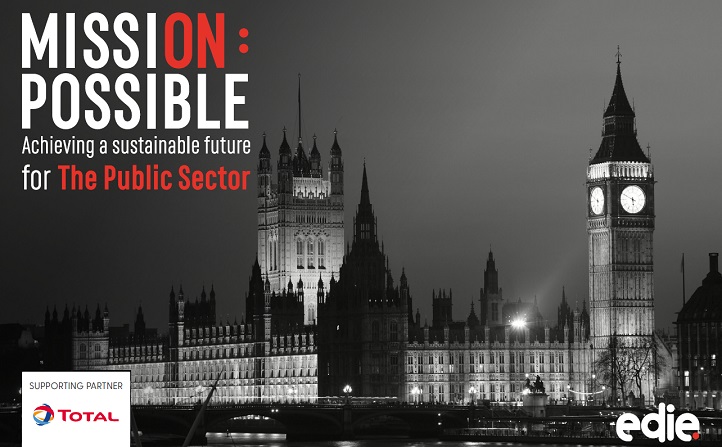 Our latest sector insight report, produced in association with Total, demonstrates the steps that must be taken for public organisations to scale-up action across all areas of sustainable development. The downloadable report is structured around the five Mission Possible campaign pillars of Energy, Resources, Mobility, The Built Environment, and Business Leadership, outlining how organisations within Britain's public sector can take steps across the board to achieve a sustainable future, today.
The 10-Year Challenge has been dominating our Instagram feeds this month – but here at edie, we think it should be more than just a chance for celebrities to show off how little they've aged. This in-depth feature takes a look back at how the UK's green policy frameworks and low-carbon economy have transformed over the past decade.
Oil and gas giant Shell is currently in the process of investing $1-2bn in green energy by 2020, but the company hit the headlines this month after announcing that it was exploring plans to double this figure. The announcement came after Shell spent twice as much on clean technologies in 2018 than it did in 2017. 
January saw edie launch the Mission Possible Plastics Hub – a brand-new, content-driven campaign that will support sustainability and resource efficiency professionals on our collective mission to eliminate single-use plastics. Why not add your own commitment to our pledge wall?
One of the outcomes from the Plastics Hub was a special webinar featuring insight from Cranswick, Sky and A Plastic Planet. This round-up summarises the key learnings of the webinar, covering how best to reduce single-use plastics use within all kinds of business.
edie readers were particularly keen to find out more about ClientEarth's lawsuit against the European Investment Bank (EIB) this month. The bank will be taken to Europe's highest court later this year after green campaigners argued its decision to loan €60m (£53m) to developers building a biomass facility in Spain.
At the start of the month, anti-modern slavery charity Know The Chain published an update to its fashion sector benchmark, naming the corporate leaders and laggards in the fight for fair worker treatment in supply chains. The table details the progress of 43 companies, naming the likes of Adidas, Gap and Primark as leaders in this space.
edie staff
© Faversham House Ltd 2023 edie news articles may be copied or forwarded for individual use only. No other reproduction or distribution is permitted without prior written consent.