Single-use plastics: Two weeks left to register for free online event
Registration is now open for an afternoon of live, interactive webinar presentations and discussions from companies such as Eurostar, Nestlé and Sky on Thursday 16 January - all dedicated to helping businesses collaborate, innovate and actuate to eliminate single-use plastics.
---
Taking place on Thursday 16 January from 1pm–4pm (GMT), the Business Leadership Inspiration Sessions will be targeted at sustainability and resource efficiency professionals who are looking to make 2020 the year that they turn the tide on single-use plastics.
The online event, which is free to access for all edie users, combines three edie webinars into a single afternoon. Each webinar session will have its own edie chair and selection of independent expert speakers, and each session will take a particular format.
It's been one of the biggest sustainable business issues of the past decade: tackling the scourge of single-use plastics. In 2018-19, the so-called "Attenborough effect" gave this issue the mainstream attention it deserved, and thousands of businesses duly began to ramp up their efforts to eliminate single-use plastics from their operations and the supply chain.
So, as we embark upon a new decade, what's changed in the world of single-use plastics? What political, organisational and infrastructural challenges remain? What does business best-practice on plastics now look like? And what is the role of engagement and behaviour change in achieving an economy free of single-use plastics? 
Online event: How it works
The brand-new and exclusive online event, sponsored by Nestlé, PHS Group and Reconomy, will give registrants access to three live and interactive webinar sessions about single-use plastics: a Q&A debate (1pm–1.45pm); a selection of business best-practice case studies (2pm–3pm); and a 45-minute masterclass (3.15pm–4pm).
Registrants can choose to tune into one, two or all three webinar sessions on the day – and the full collection of sessions will be made available for all registrants to watch on-demand afterwards.
You can register for the online event for free, here.
The three webinar sessions:
1) Q&A debate: Plastics Policy, Recycling and the Role of Business
Timings: 
1pm–1.45pm (GMT)
Synopsis:
Kicking off our Inspiration Sessions, a selection of industry leaders and circular economy experts discuss what needs to happen next – at a political and infrastructural level – to accelerate the UK's transition to an economy free of single-use-plastic.
Speakers (provisional):
Matt Mace, Content Editor, edie (chair)
Fiona Ball, Group Head of Inspirational Business & Sky Ocean Rescue 
Discussion points:
Plastic waste legislation: Bridging the gaps
Increasing collaboration across the entire value chain
Recycling infrastructure: Overcoming key challenges
2) The Plastic-Free Power Hour: Best-Practice Business Case Studies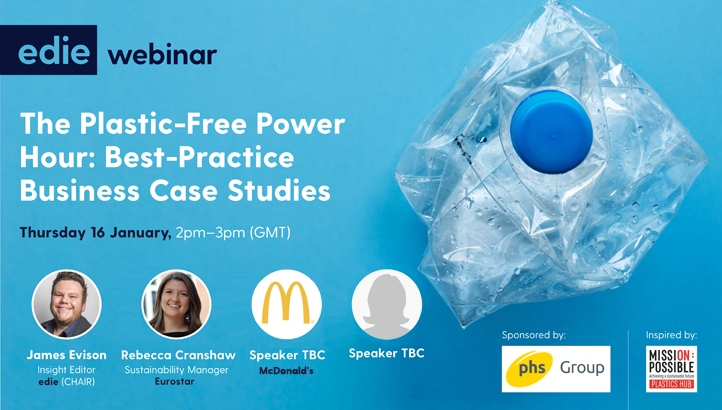 Timings:
2pm–3pm (GMT)
Synopsis:
The second of our Inspiration Sessions offers up a series of quick-fire case studies, hearing from some of the businesses that are leading the fight against single-use plastics in their operations and across the supply chain.
Speakers (provisional):
James Evison, Insight Editor, edie (chair)
Rebecca Cranshaw, Sustainability Manager, Eurostar
Representative TBC, McDonald's 
Representative TBC, PHS Group
Discussion points:
Innovation and collaboration: From buzzwords to reality
Closing the loop in your supply chain
Avoiding 'unintended consequences' of plastic bans
3) 45-Minute Masterclass: Eliminating Single-Use Plastic through Behaviour Change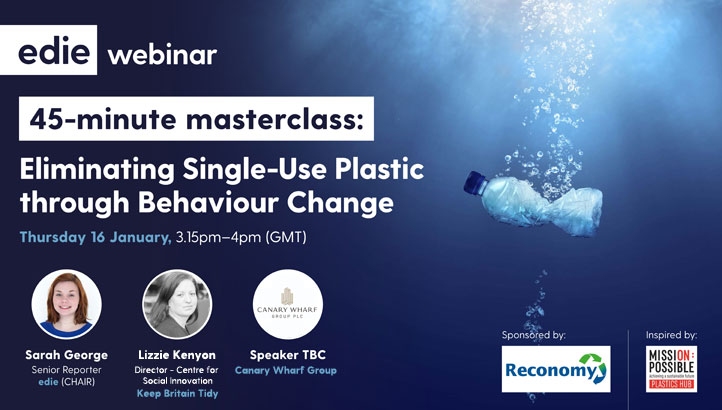 Timings: 
3.15pm–3.45pm (GMT)
Synopsis:
It is arguably the most important piece of the plastics puzzle for sustainability and environment managers: driving engagement and changing behaviours to minimise waste and scale-up alternatives. edie's third and final Inspiration Session will show you how to do just that.
Speakers (provisional):
Sarah George, Senior Reporter, edie (chair)
Lizzie Kenyon, Director – Centre for Social Innovation Keep Britain Tidy
Representative, Canary Wharf Group
Discussion points:
Two keynote-style PowerPoint presentations (10 mins each)
Live audience Q&A (20 minutes)
Guest speaker (representing audience) to join Q&A
---
edie's Mission Possible Plastics Week 2020
The Business Leadership Inspiration Sessions are being held during edie's Mission Possible Plastics Week 2020 (13-18 January) – a themed week of content and online events dedicated to supporting sustainability and resource efficiency professionals on our collective mission to eliminate single-use plastics.
Sponsored by Nestlé, the week will include exclusive interviews, blogs, insight reports and podcasts. In addition to this inspiring content, edie is encouraging sustainability professionals to submit new commitments to tackle plastic pollution on the dedicated Mission Possible Pledge Wall.
View all of edie's Mission Possible Plastics Hub content here.
---
edie staff
© Faversham House Ltd 2023 edie news articles may be copied or forwarded for individual use only. No other reproduction or distribution is permitted without prior written consent.