'Smart' food waste tags and brilliant bees: The best green innovations of November 2021
As November comes to a close, edie and our innovation partner Springwise have rounded up some of the best breakthrough technologies and carbon-cutting solutions which could accelerate climate action over the coming months and years.
---
Post-COP26, and net-zero has officially become mainstream. Businesses of all shapes and sizes are announcing net-zero ambitions – with varying degrees of detail and covering different scopes of emissions. This widespread acknowledgment of the issue is exciting and refreshing. But what we really need, is to go even further, shifting the dial towards net positive and regeneration.
To deliver net-zero, let alone net positive, companies will need to undertake end-to-end business transformation. It is clear that innovation has a key role to play in helping us all—businesses and consumers—contribute towards ambitious climate goals. In line with this, this month's innovation round-up focuses specifically on innovations that show us how we might get there. 
A tech platform to boost renewable energy procurement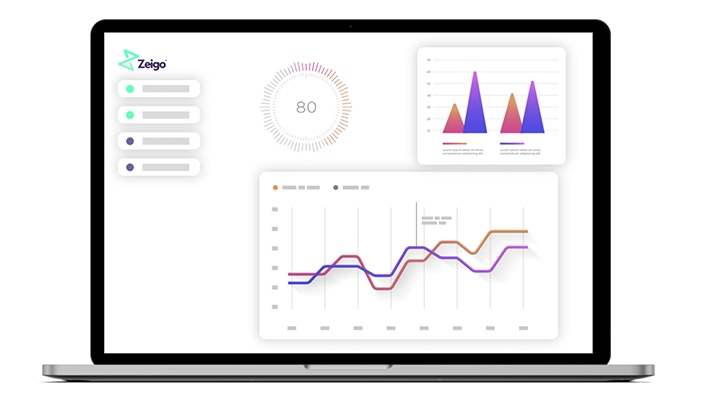 [Photo source: Zeigo]
One of the ways that companies can reduce their carbon footprint is by procuring renewable energy for their operations. But the logistics can be complicated – especially for smaller businesses. New climate-tech platform Zeigo is making it easier than ever for companies to quickly and cost-effectively source renewable energy.
One way companies access renewable energy is through a power purchase agreement (PPA). These contracts represent a long-term energy supply agreement between an energy provider and a customer. As companies commit to ambitious decarbonisation targets, PPAs allow them to source traceable clean energy, reducing the impact of their electricity consumption. But PPAs are often complicated and time-consuming to negotiate.
Now, climate-tech platform Zeigo is addressing this problem by simplifying and standardising the PPA procurement process. The value of their tech comes from streamlining the process of matchmaking, pairing customers with a network of renewable energy suppliers based on their energy profile. The platform is also increasingly being used for aggregated PPAs, where a group of businesses band together to purchase energy. Buying together like this allows small companies to benefit from the negotiation, cost and price advantages usually reserved for the biggest organisations.
Tree planting subscription services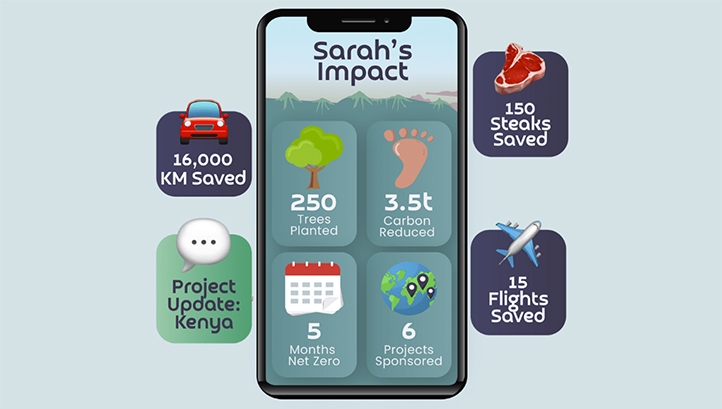 [Photo source: Furthr]
Tree planting is all the rage. From corporations to philanthropists to governments, pledges to plant trees are coming from all sides. And trees can play an important role in achieving net-zero, as they sequester carbon and, if planted correctly, can also improve biodiversity and soil quality. 
But what can we as individuals do to be part of the global tree-planting effort? Environmental conservation organisation Furthr has developed a user-friendly app that applies a subscription model to harness the power of collective action. App users have the option to pay a monthly amount—ranging from £4 to £24—to support tree-planting and renewable energy projects. In exchange, they are entered into a prize draw and receive feedback on the impact of their contribution. This feedback is made accessible by converting the amount of carbon reduced into easily understandable metrics, such as the number of steaks, car trips, and plane journeys saved. 
Smart ventilation control systems
[Photo source: AirEx website]
In the UK alone, tens of millions of homes have are leaky and energy inefficient. And this causes a number of problems. For the owners, cold draughts are accompanied by higher bills. Poorly insulated homes retain less heat, and therefore require more time with the heating turned on. More broadly, home heating remains largely reliant on fossil fuels, so additional heating contributes to the climate crisis.
Traditional solutions to the problem of draughty houses have also come with a price. Energy efficiency measures can reduce ventilation, leading to damp and mould, unless properly integrated. Now, startup AirEx has come up with a solution. The company's smart ventilation system uses a range of sensors to measure temperature, humidity and air quality. These sensors are connected wirelessly to vents that can open and close in response to conditions.
The system reduces draughts and improves thermal efficiency so rooms warm up faster. Not only is this more comfortable – it also results in less time spent with the heating on, leading to lower energy bills. At the same time, the system's flexibility means that it imoproves indoor air quality while reducing damp and mould.
Households consume 29% of the world's energy, and despite promising tech and pledges from governments, the large majority of homes are heated using fossil fuels. As we move towards cleaner heating methods, innovations like the AirEx system will play an important role in the interim, by reducing the demand for fossil-fuel-derived heat.
Electronic tags to reduce food waste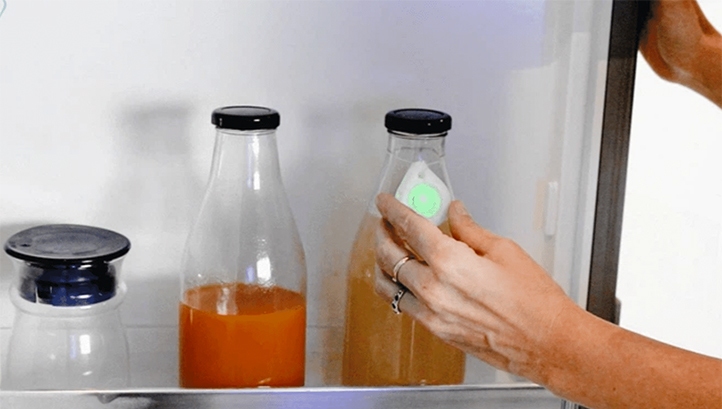 [Photo source: Nudge / Kickstarter]
No matter how much we try to avoid it, we have all had the experience of finding food at the back of the fridge that spoiled before we could eat it. Food waste is a huge and growing concern. According to the UN, 17% of all food available at a consumer level is wasted. And, according to Our World in Data, food is responsible for approximately 26% of global greenhouse gas emissions. Waste only serves to keep this figure high, as resources are spent on food that is never eaten.
Finding solutions to food waste is, therefore, an important part of the push to net-zero. Now, startup Tugiba, has proposed a solution with connected devices that remind users when the food in their fridge is about to go out of date.
The system has two parts – a cloud-connected 'puck', and electronic 'tags' that are connected to the puck. The puck is hung on the front of the refrigerator door, while the tags are clipped to individual foods or packets. When the user places a food item in the fridge, they twist a dial on the puck to indicate how many days are left before the food item expires. They then press a Bluetooth pairing button on a tag and hold that tag near the puck. The devices connect and the tag uploads the expiration data. After this, whenever the fridge door is opened, the puck wirelessly triggers all of the active tags inside to light up in one of three colours – green for food that has a lot of time left before expiration, yellow for food that should be used soon, and red for expired foods. 
Bees, please!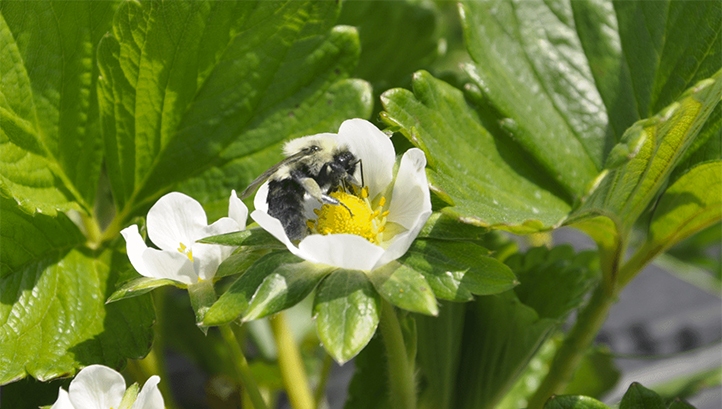 [Photo source: Bee Vectoring Technology]
Agriculture is directly responsible for 14% of the world's annual greenhouse gas emissions, while contributing to other systemic issues such as biodiversity loss. Reducing the impact of farming is one way we can move towards net-zero, and this requires we work with, rather than against nature.
Crop spraying is one contributory factor in the negative impact of agriculture. Spray tractors guzzle fossil fuels and conventional crop protectants are applied using hundreds of gallons of water per acre, further contributing to climate-change-exacerbated water scarcity.
Canadian company Bee Vectoring Technology has devised an alternative system that uses neither fossil fuels nor water. Best of all, it harnesses the power of bees doing what they do best – pollinating flowers. The bees take a natural fungicide powder that eliminates mould on growing fruits, directly to the flower.
The fungicide is dispensed through the openings of the bees' hives. As the bees leave, they move through the powder, picking up a thick coating on their legs and wings. When they land on a flower to collect pollen, the powder naturally falls off. This process is very precise as the bees go direct to the flower meaning no fungicide is wasted. This avoids a further problem with crop spraying – much of the spray does not reach the intended plants, falling between the rows of crops and getting lost in spray drift or water runoff.
Springwise and edie staff
---
Catch up with all of the content from edie's Net-Zero November campaign here.
Sign up to the Springwise Sustainable Source newsletter to receive a bi-weekly curation of green innovations, or contact the Re_Set consultancy team to learn how innovation could help accelerate your business.
---
© Faversham House Ltd 2023 edie news articles may be copied or forwarded for individual use only. No other reproduction or distribution is permitted without prior written consent.