Spotlight on gender at COP26: 8 inspiring women tackling the climate crisis
To mark Gender Day (9 November) at COP26, edie collates a non-exhaustive list of women whose voices have been integral to the summit so far, including activists from the global south and UN representatives.
---
As well as spotlighting Science and Innovation, today's programme for COP26 in Glasgow highlighted the intersections between gender equality and tackling the climate crisis.
Research has repeatedly shown that women are more likely than men to be displaced by physical climate impacts. Moreover, the fact that there is not yet global equal access to education and to family planning services is preventing many women from participating in climate solution development and implementation, as explained by Project Drawdown.
Additionally, women have not historically been properly represented in governments and businesses present at international climate talks like COP26. 
With this in mind, edie has complied a non-exhausted list of eight influential women in the climate space, who are engaging organisations from nations to cities, businesses to communities, children to world leaders.
Patricia Espinosa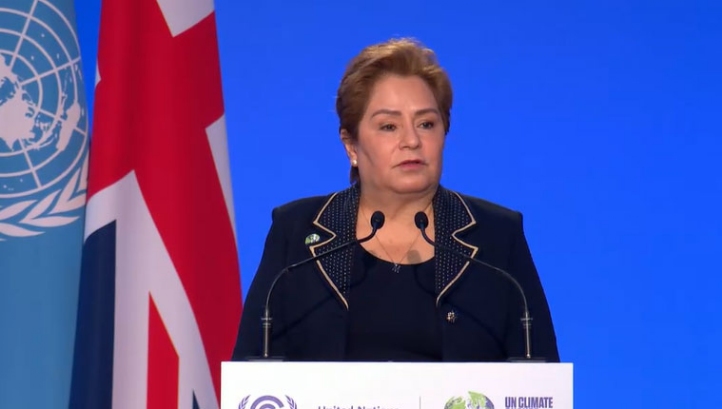 Image: UNFCCC
Espinosa is the UN's most senior climate representative and, if you were in Glasgow for week one of COP26, you'll have been hard-pressed to have missed all of the many conferences she gave.
Speaking at the formal opening ceremony, Espinosa said: "As Scottish poet Robert Burns wrote, 'now is the day, now is the hour'. Colleagues and dear friends, we stand at a pivotal point in history. Humanity faces stark but clear choices.
"We either choose to achieve rapid and large-scale reductions of emissions to keep the goal of limiting global warming to 1.5C, or accept that humanity faces a bleak future on this planet.
"We either choose to boost adaptation efforts in light of current extreme weather and prepare for future impacts, or we accept that more people will die, more families will suffer and more economic harm will follow. We either choose to recognize that business as usual is not worth the devastating price we paying, and make the transition to a more sustainable future, or we accept that we are investing in our own extinction.
"It is about more than the environment. It is about peace, stability, and the institutions we have built to promote the wellbeing of all."
Espinosa has been in her current role since 2016 and has played an instrumental role in every COP since COP22. This year, she has continually been reviewing updated nationally determined contributions to the Paris Agreement and warned nations that a failure to align with 1.5C is akin to "collectively wandering into a minefield blindfolded". Espinosa has also repeatedly stated that her other priorities this year are to finish the Paris Agreement rulebook and improving inclusivity.
Prior to working at the UN, Espinosa served as Mexico's Secretary of Foreign Affairs from 2006 to 2012. She has also served as the nation's Ambassador for Austria, Germany, Slovenia and Slovakia.
Christiana Figueres
What an evening! Thank you for your vision Duke and Duchess of Cambridge 🙏 #EarthshotPrize underlines the urgency we face, kindles the agency we have and restores our faith in ourselves. @KensingtonRoyal. Bravo! pic.twitter.com/sjZjR4aljZ

— Christiana Figueres (@CFigueres) October 17, 2021
Before Espinosa held the UNFCCC's top job, the position was held by Figueres. Her six-year tenure was a time of change for the COP process, which evolved from failure in Copenhagen in 2010 to the Paris Agreement's ratification in 2015.
Figueres had been attending COPs as a negotiator representing Costa Rice since 1995, and was appointed to the UNFCCC post for her tireless work in this field. She played a key role in the approval of the Kyoto Procol and the development of the Clean Development Mechanism.
Since leaving the UNFCCC role, Figueres has worn many hats. She is the chair of the advisory board for the Lancet Countdown, an initiative researching the links between health and climate change and recommending solutions. She is also a member of the International Olympic Committee's Sustainability and Legacy Commission the co-founder of Global Optimism, along with Tom Rivett-Carnac.
Additionally, Figueres sits on the board of directors for Impossible Foods, Acciona and the World Resources Institute, as well as the advisory boards of Eni and Formula E.
Elizabeth Wathuti
"The decisions you make here will help determine whether the fruit trees we plant will live or perish"

Women and girls across the world play a vital role in driving climate policy.

Watch @LizWathuti's powerful speech urging leaders to deliver #ClimateAction#COP26

— COP26 (@COP26) November 9, 2021
On day one of the World Leaders Summit at COP26, Kenyan climate activist Wathuti delivered a moving speech to thousands of attendees. Her hope was to make those in the global north understand what life is like in Kenya, where millions of people are suffering from starvation due to climate-related drought, that there may be more of a sense of urgency.
Wathuti explained that a 2C world would "not allow a future" for millions of children and urged negotiators to "open your hearts… if you allow yourselves to feel it, the heartbreak and injustice is hard to bear".
She said: "I have seen with my own eyes three young children crying at the side of a dried-up river after walking 12 miles with their mother to find water…Please open your hearts. This is not only happening in Kenya."
Wathuti, as well as participating in climate marches, online activism and speeches, is the founder of the Green Generation Initiative, which provides fruit trees to schools. More than 30,000 trees have been provided to date.
Jade Begay
 

 

 

View this post on Instagram
Begay is a Native American multimedia artist, film-maker, communications strategist and campaigns director who dedicates her work to the intersections between preserving the rights of Native communities and improving their livelihoods, and addressing the climate crisis.
She is a member of the NDN Collective, which describes its mission as "building the collective power of Indigenous Peoples, communities and nations, to exercise our inherent right to self-determination, while fostering a world that is built on a foundation of justice and equity for all people and the planet". The Collective advocates for the defence of communities against environmentally damaging resource extraction; for the development of regenerative systems and for the decolonisation of systems.
As well as working for the Collective, Begay sits on the board for conservation organisation Amazon Watch Official and for the Native Conservancy. She is also a member of the White House's Environmental Justice Advisory Council, representing New Mexico.
Women representing Native communities have spoken out, time and again in recent months, about difficulties accessing COP26 due to barriers such as travel and accommodation costs, language barriers, confusion over Covid-19 restrictions and paperwork and simply not receiving UN accreditation to entry. This is despite the fact that Native communities are believed to safeguard 80% of the world's biodiversity, and have tirelessly campaigned against aggressive fossil fuel extraction projects and in favour of water stewardship, renewable energy and climate education.
Mary Robinson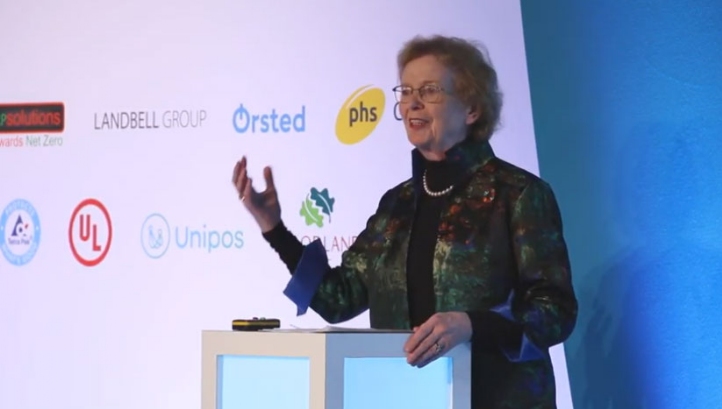 Image: edie
Former president of Ireland Robinson has had a long and varied career within the UN; she is a two-time UN climate envoy and former UN commissioner for human rights, who now chairs the Elders – an initiative convened in 200 with the aim of helping world leaders contribute wisdom and independent leadership to solutions to global problems.
Combining her specialisms in human rights and environmental issues, Robinson is a long-time speaker and campaigner on the issue of climate justice, having penned a book by this title and played a role in popularising the term in the global north.
Speaking to edie last year, Robinson said it would be "hypocrisy" for rich nations to set net-zero commitments without backing them with science-based pathways, plans to support workers or plans to stop financing fossil fuels abroad. She expressed annoyance at a "lack of action that really counts", despite the trend towards updated long-term climate goals from nations.
This stance has continued into 2021. Responding to the recent IPCC report, Robinson said: "The exigency of this situation must not lead us to despair, rather it should propel us into action.
"Leaders must show they understand the seriousness of the science and turn in stronger national commitments …. The big question leaders must reckon with in Glasgow is whether these plans add up to what is needed – and if not, how they will close the remaining gap.
"To those who seek to argue that it's too hard, or too late, and so not worth trying – the report is a reminder that every fraction of a degree of warming really does matter. The level of climate ambition has never been greater than it is right now and there is still everything to fight for. Governments must do all they can to prevent the 1.5C window shutting."
Vanessa Nakate
I believe that we need to speak out — to break the silence. I see my task as drawing attention to communities that people may not have heard of, where lives are being upended and lost on a daily basis. I'm on the cover of @TIME Magazine #UprootTheSystem pic.twitter.com/y92PGkHyLX

— Vanessa Nakate (@vanessa_vash) October 28, 2021
Speaking at COP26 on Monday (8 November), former US President Barack Obama said: "A lot of people know about Greta [Thunberg], but the world is full of Gretas…. they are forming a movement across borders… if the older folks are not listening, they need to get out of the way."
This hasn't stopped many news outlets from cropping Ugandan climate activist Nakate, who is a long-term participant in the Fridays For Future and #UprootTheSystem initiatives, out of photos featuring Thunberg and other white activists.
Nonetheless, the 24-year-old has, as her new book states, "fought to bring a new African voice to the climate crisis". Inspired by Thunberg, she started her own strike movement in Uganda in 2019. She has since attended COP25, the World International Peace Lecture and COP26 – all the time calling for greater consideration of women, young people and those living in the global south.
Aside from campaigning online and offline, writing and speaking at events, Nakate has set up a renewable energy initiative providing schools with solar energy and clean cooking stoves, called the Green Schools Project.
Maria Mendiluce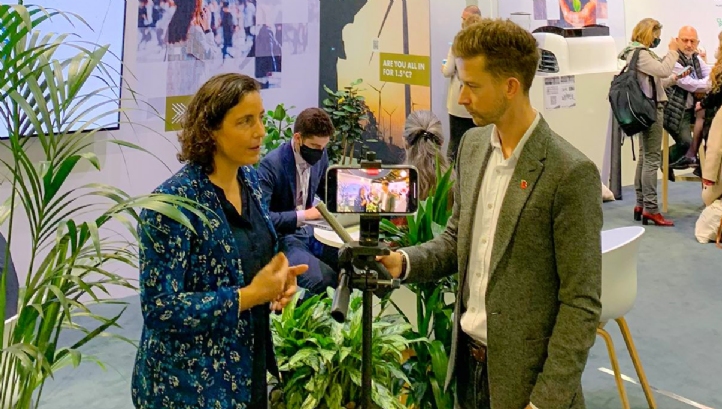 Image: edie 
Mendiluce took over from Nigel Topping as the We Mean Business Coalition's chief executive in May 2020, as he stepped into his role at the UN's High-Level Champions. Prior to this, she worked for the World Business Council for Sustainable Development (WBCSD) for more than 12 years, moving up the ranks from the manager of the climate and energy programme, to managing director of the climate and energy unit, and latterly managing director of the circular economy, cities and mobility units as well.
Currently, Mendliuce is putting her 20+ years of experience in sustainable development to work by guiding more than 200 companies on sustainability. The Council works to get businesses to increase their own sustainability ambitions and targets and to deliver strong, shared signals to supply chains and to policymakers.
Mendlluce spoke with edie's content director Luke Nicholls this morning for an exclusive video, covering topics ranging from carbon markets, to SME engagement, to measuring indirect emissions. You can watch that interview in full here.
Tori Tsui
 

 

 

View this post on Instagram
Tsui is a climate justice activist and mental health campaigner with roots in Hong Kong and New Zealand, currently living in Bristol.
Through Sail to the COP, Tsui was sponsored by Stella McCartney to sail to COP25, and to undertake research into changing international transport systems in the name of environmental sustainability. During COP26, she took part in a panel hosted by the New York Times, also featuring Vanessa Nakate, Greta Thunberg, Malala Yousafzai, Amanda Gorman, Mya-Rose Craig, Dominique Palmer, Ati Gunnawi, Daphne Frias and Viviam Misslin Izquierdo.
Tsui's day-to-day work includes jointly running the work of the Bad Activist Collective, which uses its podcast and social media channels to unite "changemakers, artists, storytellers and activists" in "dismantling perfectionism and fighting for the liberation of people and the planet". They are also a freelance researcher, consultant and producer, with plans to release their first book in 2022.
Laurence Tubiana
Greenwashing is the new climate denial. We need to be honest and truthful to make these commitments a reality. Let's move from net-zero to true-zero.
Great discussion with @jrockstrom & @andykarsner at the @nytimes Climate Hub on #COP26 pic.twitter.com/doL5z6tdln

— Laurence Tubiana (@LaurenceTubiana) November 3, 2021
Tubiana is currently the chief executive of the European Climate Foundation – an independent philanthropic foundation. She is also the chair of the board of directors at the French Development Agency.
Preceding these appointments, she has had a multi-decade career in economics, academia and as a diplomat. She is best-known in the sustainability space as a key architect of the Paris Agreement, as she was France's Special Representative for COP21 and Climate Change Ambassador in the 2010s. 2014 and 2015, Tubiana has said, were years in which she worked most days for more than 16 hours, garnering the views of ministers and business groups from across the world on climate plans.
COP15 saw the Paris Agreement going from a 2C agreement only, to 1.5C, thanks to the work of the most-affected nations and the groundwork of architects like Tubiana. It also saw the agreement extended, from a handful of nations to all but the world's lowest-income.
Tubiana has described her "driving force" as the "very idea of justice". She has spent the run-up to COP26 calling on G20 nations, which are responsible for 80% of global emissions, to increase their ambitions and actions on mitigation, and to recognise that climate adaptation is an issue for everywhere, not just developing nations.
Additional groups to follow
Of course, collaboration is key at COP26, as it has been during the incredible amount of work done in the lead-up to the conference, and as it will be once negotiations close. 
There are, therefore, organisations and groups to mention here as well as individuals. Again, this is a non-exhaustive list.
She Changes Climate campaigns for nations to put forward teams that include at least 50% women for international climat4e talks. It also conducts broader work to help amplify the voices of women and girls in international and national climate diplomacy.
Project Drawdown lists climate solutions – with a focus on solutions that already exist- and provides practical advice on their adoption. It has repeatedly listed the provision of education and healthcare for women and girls as a key solution, which could prevent and sequester more than 85 gigatonnes of CO2e by 2050.
Parents for Future is a global network inspiring and empowering parents to demand a safe future for their children from those in positions of power.
Inclusion Scotland has partnered with the International Disability Alliance to host the first side event at a COP with a specific focus on disabled people in the climate crisis. Diversity means not only representing women, but other marginalised groups too, and the intersection between gender and disability is notable; it is estimated that 75% of the disabled people in low-income and middle-income nations with disabilities are women.
Stay up-to-date with the latest news from COP26 with edie's Live Blog. 
Sarah George                    
© Faversham House Ltd 2023 edie news articles may be copied or forwarded for individual use only. No other reproduction or distribution is permitted without prior written consent.