Starbucks' community solar power and a UK biodiversity boost: The sustainability success stories of the week
As part of our Mission Possible campaign, edie brings you this weekly round-up of five of the best sustainability success stories of the week from across the globe.
---
Published every week, this series charts how businesses and sustainability professionals are working to achieve their 'Mission Possible' across the campaign's five key pillars – energy, resources, infrastructure, mobility and business leadership.
As tabloid headlines filled with news surrounding conflict in Palestine and the easing of lockdown restrictions in the UK, projects and initiatives which empower businesses to play their part in achieving a sustainable future, today, continued to launch and scale-up.
Here, we round up five of the top announcements. 
ENERGY: Starbucks signs deal to bring renewable electricity to New York communities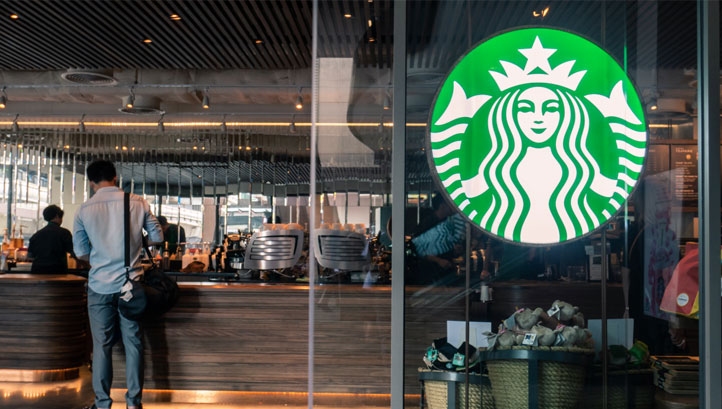 Starbucks has allocated more than $140m to renewable energy procurement over the past two years and claims that this has enabled generation equivalent to 77% of its global annual energy demand. 
As it strives to reach 100% in line with its updated 2030 sustainability targets, the coffee giant has signed a deal that will see stores in New York State, as well as thousands of surrounding businesses and homes, powered by new community solar projects. The deal is with sustainable infrastructure investors Generate Capital and will support 23 projects with $97m of Starbucks' funding. The first six of the solar projects are already in service and, once the whole portfolio is running, almost 120,000 MWh of electricity will be generated annually.
"People are what this climate crisis is all about, and so we must focus on the people who are disproportionally impacted by climate change," Starbucks' chief sustainability officer Michael Kobori said. "That is why we go beyond simply powering our stores with green energy; we're committed to supporting and strengthening underserved communities and using our scale for good to bring more clean power onto the grid."
RESOURCES: Hubbub and evian team up to recycle Wimbledon waste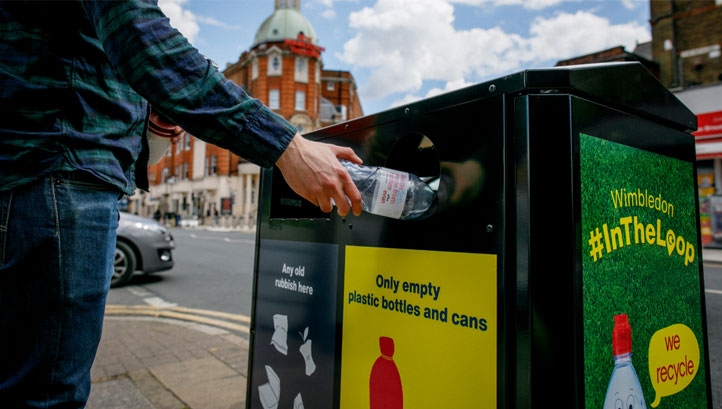 It's been a busy time for environmental charity Hubbub, which this week unveiled a partnership with the Co-op that will expand its UK-wide network of food-waste-busting community fridges to 250 locations.
Now, the organisation has formed another corporate partnership, with Danone-owned water brand evian. The partnership will install 50 new recycling bins across the London Borough of Merton, ahead of the Wimbledon tennis tournament later this summer. 20 bins were opened this week and a further 30 will open in June, with all situated in high footfall areas.
Hubbub will apply learnings from its 'In The Loop' campaign and other recycling campaigns to maximise behaviour change. Such campaigns ensure that messaging is simple and bright, that infrastructure is easy to access and that there is a gamification element. To this latter point, students and youth groups have been invited to design the bins in return for the chance to win 2022 Wimbledon tickets.
"We've taken important steps in our sustainability journey since the last Championships – with the launch of 100% recycled plastic bottles and achieving carbon neutral certification – and we continue to challenge ourselves to do more," evian's brand marketing manager Gemma Morgan said. "With Wimbledon right around the corner, it's more important than ever to remind people of the value of recycling, and the steps we can take together to work towards a circular economy." 
MOBILTIY: Brent Cross Shopping Centre plans 236 new EV chargers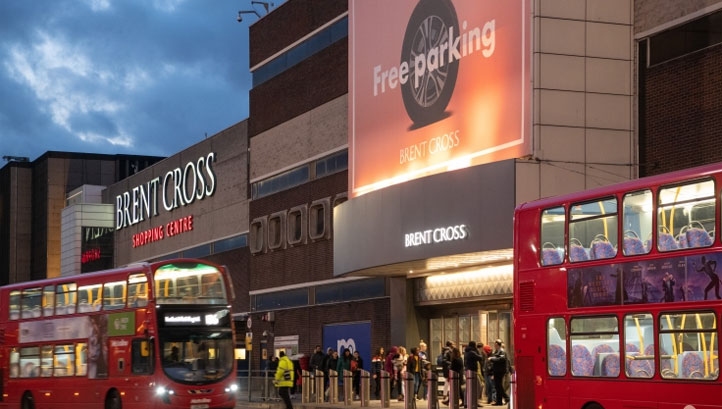 MPs on the Public Accounts Committee (PAC) published a report urging the Government to do more to support the UK's transition to banning new petrol and diesel car sales from 2030 this week, with particular concerns raised about electric vehicle (EV) charging infrastructure.
But it would seem that many across the private sector aren't waiting for more policy clarity. This week brought news of a new 38-charger 'Superhub' for Oxford, as well as other charging projects in Kent and North London. To this latter point, Brent Cross Shopping Centre has partnered with EVBox and Franklin Energy to add 236 chargers to its car park.
The first phase of the project, comprising 52 chargers, is due to be completed next year. Around one to two hours of charge will be needed to restore the average car battery to 100%. Aberdeen Standard Investments and Hammerson – the joint owners of the shopping centre – will purchase REGO certificates to claim 100% renewable electricity for the facility, which it claims will be the largest of its kind in the UK.
Image: Franklin Energy
THE BUILT ENVIRONMENT: BAM Construct UK exceeds 2020 climate targets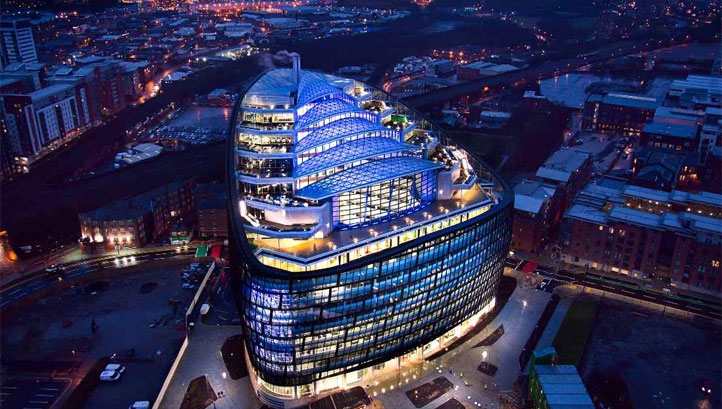 While building materials and construction account for around 11% of global annual emissions directly, the sector also contributes to carbon and energy use in other high-emitting sectors including building operations, heavy industry and transport systems. By some estimates, this puts the sector's life-cycle contribution to global annual emissions at around 40%.
A success story in this space comes from BAM Construct UK, which has revealed that it has exceeded a target to reduce absolute emissions by 25% between 2015 and 2020. The firm published a statement this week revealing that the actual reduction during this five-year period was 45%. This progress has put the firm on track to amend its 2030 carbon target. While it had been targeting a 50% reduction in net emissions against a 2015 baseline, 2030 will now become its net-zero deadline.
"We achieved the majority of these significant carbon reductions from improving efficiencies like reducing energy and fuel use, not through offsetting our impacts," BAM Construct UK's head of sustainability Jesse Putzel said.
Pictured: Co-operative Group's HQ in Manchester, a building designed to be carbon negative
BUSINESS LEADERSHIP: Jordans Cereals urges Brits to boost biodiversity in their back gardens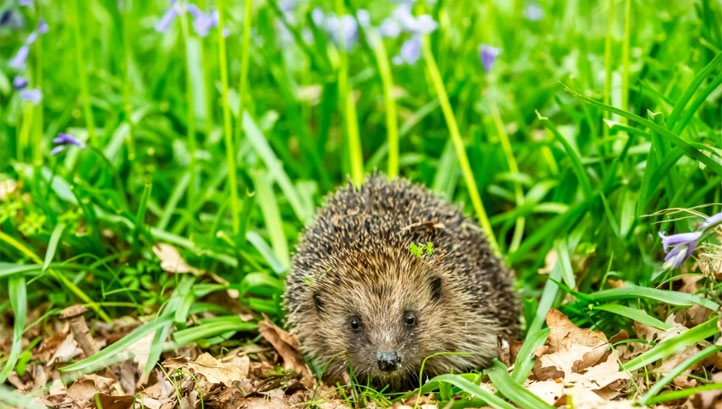 This Saturday (22 May) marked the UN's International Day for Biological Diversity. To mark the occasion, Jordans Cereals has launched a new public engagement initiative with NGO partner The Wildlife Trusts.
Building on the partnership's work to help British farmers manage at least 10% of their land habitats for wildlife, the 'Grow Wild' campaign urges households to dedicate their own patch for nature in their garden or community. Advice is being given on creating wildflower beds, green walls and other green spaces, and for avoiding garden products that contain peat.
"With an estimated 24 million gardens in the UK covering some 10 million acres – and plenty more balconies, walls and window ledges besides – Jordans and The Wildlife Trusts want to highlight the importance of people's outdoor space to act as important havens for wildlife, including birds, butterflies and bees," the partners said in a statement.
A survey conducted prior to the campaign launch found that four in ten UK adults have never seen a wild hedgehog. The proportion rose to 59% for owls, 70% for hares and 73% for badgers – all native species that are in decline.
Sarah George
© Faversham House Ltd 2023 edie news articles may be copied or forwarded for individual use only. No other reproduction or distribution is permitted without prior written consent.