Sustainability 2.0 roundtable: What's stopping businesses from investing in green innovations?
In an era of unparalleled technological advancements - and with the UK's net-zero target looming - businesses of all sizes can reap rewards from investing in scalable technologies with positive social and environmental impacts. So, what's stopping UK plc identifying and investing in green innovations?
---
edie recently convened a group of senior sustainability leaders from an array of industry sectors – all members of our Sustainability Leaders Club – to discuss exactly that, at a bespoke roundtable event.
Hosted in association with Centrica Business Solutions and at Tideway's London headquarters, edie's roundtable on "sustainability 2.0" explored how innovation should be defined in an era of rapid technological and green policy change and gauged where, exactly, businesses of all sizes and sectors are on the transition to an increasingly digitized and decarbonised economy.
Chaired by The UCL Institute for Global Prosperity's David Bent, the roundtable encouraged participants to take stock of any sustainability targets which may expire in 2020 and outline the role which innovative products, services and systems could play in meeting new ambitions.
Several emerging technologies, including artificial intelligence (AI), big data, blockchain and hydrogen, were all cited as innovations which could soon become not only crucial to meeting future targets around net-zero carbon, one-planet compatibility and social challenges, but also mainstream for business.
But with many of the businesses represented facing challenges implementing established innovations such as electric vehicles (EVs), onsite renewable generation and energy efficiency systems, much of the discussion centred around the key barriers which stand between businesses and the actions needed to meet international climate and resource targets.
Case study gaps
First to discuss these hurdles was Bunzl's group head of sustainability James Pitcher, who explained that, in his former role at Whitbread, he was sometimes unable to forecast a financial return for efficiency improving technologies due to a lack of available data and case studies. This left his sustainability team unable to gain boardroom buy-in.
"I think it's quite an uncertain time for business and, given that the nature of innovation is that you win some and lose some, presenting that to the committee is not likely to be favourably perceived," Pitcher said.
Participants agreed that a potential solution to this issue would be encouraging the board to ring-fence a pot for projects deemed to be "riskier" in terms of financial return, or to begin using non-financial metrics such as social and natural capital. Carbon pricing was also floated.
Less easy to solve, it was concluded, was retaining trust from the public when sustainable innovation projects underperform or don't keep to deadlines. Iceland, for example, was slammed as a "greenwasher" in the mainstream media for failing to reach its palm oil phase-out deadlines and altering on-pack labelling instead of publicly admitting this.
This is a particular hurdle for risk-adverse companies and sectors, who, Axa XL's CR director Suzanne Scatliffe argued, are balancing "a growing culture of being in a public conversation about sustainability" and "the reputational risk of knowing not all innovative projects succeed" at a time when many conversations with consumers happen on Twitter.
Poor policy support
With repeated criticisms having been levelled at the Government for failing to set sector-specific short and mid-term policy frameworks to back up its 2050 net-zero target, it was only a matter of time before policy barriers were brought into the discussion by Bent.
"On the one hand, you've got governments saying climate change is an emergency and setting 2050 goals; on the other, underneath that, there are short-term barriers," NHS Scotland's head of energy & sustainability Kathryn Dapre said, putting this disconnect down to "oversight".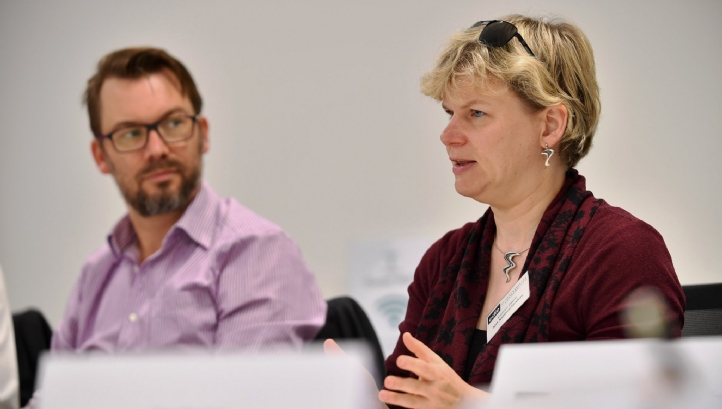 For her organisation, Dapre (pictured above) explained, shorter-term policy support will be required in the fields of low-carbon heating and cooling and the provision of green funding to public bodies to meet net-zero. On the latter, NHS Scotland is not allowed to apply for private finance and is also exempted from some Government grant and loan schemes.
Nestle's head of value chain sustainability UK&I Andrew Griffiths agreed that key policy gaps exist in hard-to-abate areas such as heating, cooling and transport, but said Ministers should also be looking at the broader impact of short-termism.
"The policy management around some of these challenges needs to be changed to really deliver hundreds of innovations and to support them long-term – not just as pilots," Griffiths said. "Being able to clearly define an innovation framework from the outset – one which helps politicians and businesses to understand the roles they play – seems absolutely essential."
Complex collaboration models
Nestle's Griffiths (pictured below) additionally argued that Ministers could do more to help big businesses, innovative startups and other organisations connect in a more collaborative, less competitive manner – given that the creation of a 1.5C world will require all actors to be aligned in both ambition and action.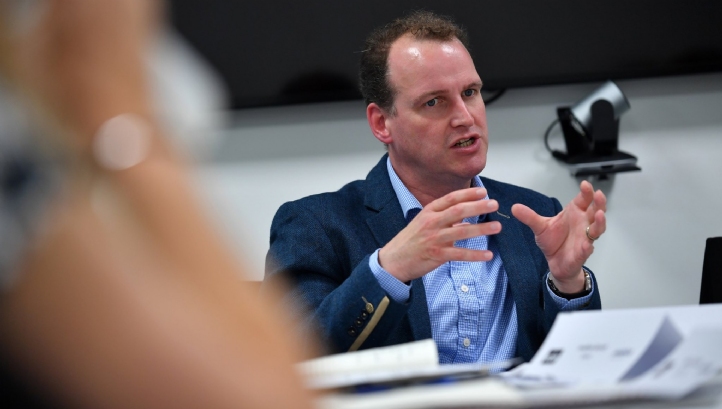 Outlet developer MacArthurGlen's head of sustainability Joanna Daley added that, in the absence of best-practice case studies around the newest technologies, it can be hard for sustainability professionals to determine where ownership lies and partake in efficient and open dialogue with stakeholders and investors.
Daley noted that this challenge is often amplified during international projects, where key contacts might speak different languages or live in different time zones, and where different legislative and financial frameworks may apply.
Construction component firm Tyman's group health, safety & sustainability director Jonathan Garrett echoed Daley's sentiments, noting that the "very decentralised" nature of his organisation requires it to foster internal and external collaboration, but also makes this process "fairly long-winded at times". Tyman's operates 44 sites across nine countries.
Garrett's key suggestion for making the collaboration process more efficient was "fostering and driving a cultural shift to make sure sustainability is part of what everybody is doing". An "embedded" sustainability approach, he argued, can help all staff feel empowered and responsible while ensuring everyone is striving towards the same targets – a line of thought also taken by the likes of Patagonia and Unilever.
Expertise, education and engagement
The only downside to this "embedded" sustainability model raised during the roundtable was that it can result in a workforce where all are familiar with basic sustainability concepts, but few are experts in specific fields, leaving the organisation poorly placed to measure and reduce its environmental footprints through a targeted innovation strategy.
PwC's chief sustainability officer Bridget Jackson noted that organisations facing this challenge without the budget to create a dedicated sustainability team could seek expertise externally.
"It's quite helpful to distinguish between different types of innovation because it's such a big topic; there's this tendency to think of innovation as something which can be put off until tomorrow but has to be home-made," Jackson (pictured below) said. "There's a difference between what we deploy in our organisations and what we create in our organisations."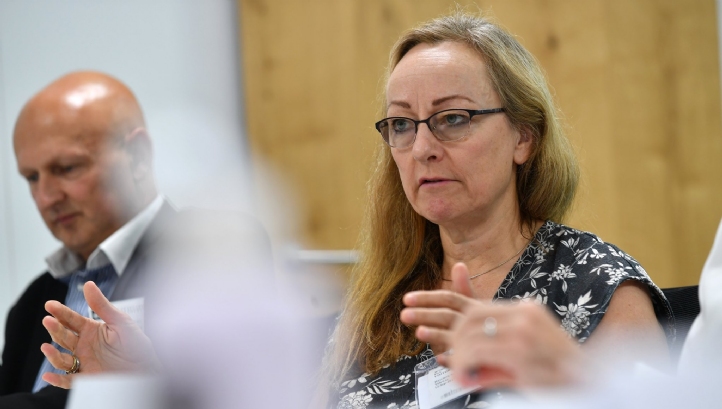 NHS Scotland's Dapre agreed that outsourcing innovation can make for smoother processes and lower costs, but said it doesn't serve to create a purpose-driven workforce.
"To get past incremental improvement and to meet net-zero, you need conversation, you need engagement," she summarised.
Here today, installed tomorrow?
Perhaps the most commonly cited challenge during the roundtable was the lack of a clear-cut definition of the term "innovation". Several participants said the boards at their organisations were "looking for silver bullets" or investing in whatever technologies were newest and would generate the most positive PR, rather than those which would deliver the most sizeable and sustainable impacts.
Jackson additionally said many PwC clients had struggled to invest in both "here-and-now" innovations – those currently feasible for deployment in financial and political terms – and "future" innovations – those still considered emerging.
This, she explained, has led to a culture whereby innovation is continually put off and then supported only on a pilot or trial basis.
Centrica Business Solutions' director Ian Hopkins echoed this point, claiming that businesses often define "innovation" as the newest product or service, rather than a way of taking new approaches to "here-and-now" technologies.
"Technology can get us [to net-zero] and, in energy specifically, we could get there within three years – but we wouldn't like the landscape we'd created, and we definitely wouldn't like the cost involved," Hopkins said.
"Businesses need to think about how we can deploy what we know we already can while maintaining the same service. This will be more efficient than running into the wall before changing direction."
Sarah George
© Faversham House Ltd 2023 edie news articles may be copied or forwarded for individual use only. No other reproduction or distribution is permitted without prior written consent.