#SustyTalk: Exploring coral reef restoration with marine biologist Dr Tim Gordon
edie's #SustyTalk interview series continues with an exclusive discussion with Mars Petcare's marine science officer Dr Tim Gordon.
---
With edie readers working remotely or on furlough, this exclusive series of video interviews keeps you connected to the inspirational business leaders who are continuing to drive sustainability and champion climate action from their own homes.
#SustyTalk is all about keeping edie's loyal readers connected to sustainable business leaders across the world, whilst reminding us all that sustainability and climate action must go on through the current Covid-19 pandemic and beyond. 
The latest episode sees edie's senior reporter Sarah George speaking with Mars Petcare's marine science officer Dr Tim Gordon.
Dr Gordon discusses how the company, in partnership with The Nature Conservancy, restored a major coral reef off the coast of Indonesia, and how the project will be scaled to cover 185,000 square metres by the end of 2029.
He also provides advice for businesses looking to partner to deliver credible nature conservation and restoration projects – a topic which is becoming increasingly important with the 15th biodiversity COP on the horizon and with the development of nature-based targets for businesses underway.
For edie's full coverage of the Mars Petcare project, click here.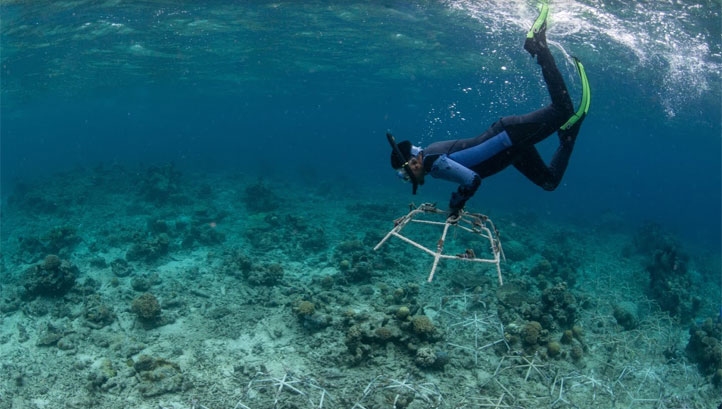 Image courtesy of The Ocean Agency. 

Click here to see our catalogue of #SustyTalk video interviews.
Want to be featured on a future episode of #SustyTalk? Email newsdesk@fav-house.com. Please bear in mind that our calendar is now full for the entirety of June. 
---
Biodiversity resources 
edie recently hosted a biodiversity-themed Masters series of exclusive content with The Woodland Trust, designed to inform, inspire and empower professionals to help develop leading nature projects and strategies for their organisations. 
Access these resources below: 
– Downloadable 'edie Explains: Biodiversity and Business' guide 
– Sustainable Business Covered Podcast episode, also featuring Patagonia and Earth Security 
– On-demand webinar, 'Restoring Nature Through Your Sustainability Strategy' 
Additionally, to mark the UN's International Day of Biological Diversity, edie's editorial team this month hosted an exclusive panel discussion with experts from Unilever, Thakeham Group, the ECIU and the Wildlife and Countryside Link. You can catch up with that recording here.
---
edie Staff
© Faversham House Ltd 2023 edie news articles may be copied or forwarded for individual use only. No other reproduction or distribution is permitted without prior written consent.