Taking place TODAY: edie's online Net-Zero Carbon Inspiration Sessions
Sustainability specialists from Pukka Herbs, Virgin Media O2, Costain and the Zero Carbon Forum are among our host of expert speakers for our digital Net-Zero Carbon Inspiration Sessions, taking place TODAY (25 November).
---
As the flagship digital event of edie's Net-Zero November campaign, the Net-Zero Carbon Inspiration Sessions offer up an afternoon of live, interactive webinar presentations and discussions – all dedicated to accelerating your organisation's decarbonisation progress.
This premium online event effectively combines four edie webinars and masterclasses into a single afternoon, with each session taking a particular format. Registrants will get access to all four webinar sessions on the day.
Be sure to keep an eye on all of edie's Net-Zero November content here.
Full details of the four webinar sessions are as follows:
1) The Big Net-Zero Debate: Turning global ambitions into business actions (12.30pm-1.30pm)

Kicking off our Net-Zero Carbon Inspiration Sessions, a selection of energy and climate experts will discuss how the global ambitions of the recent COP26 climate talks are shaping the political, regulatory, infrastructural and institutional elements of net-zero business in the UK.
Discussion points:
COP26 and the clean energy transition: What have we learnt?
From carbon pricing to energy efficiency: Policy priorities for UK energy managers
Making net-zero happen: Investment and decarbonisation pathways
Chair:
Matt Mace, Content Editor, edie
Speakers:
Sebastian Pole, Co-founder and Practicing Herbalist, Pukka Herbs
Kristen Filice, Sustainability Lead, Zero Carbon Forum
Laura Plimbley, Product Develop, British Gas Business
2) Quickfire case studies: Business action on net-zero carbon buildings and transport (1.45pm-2.30pm)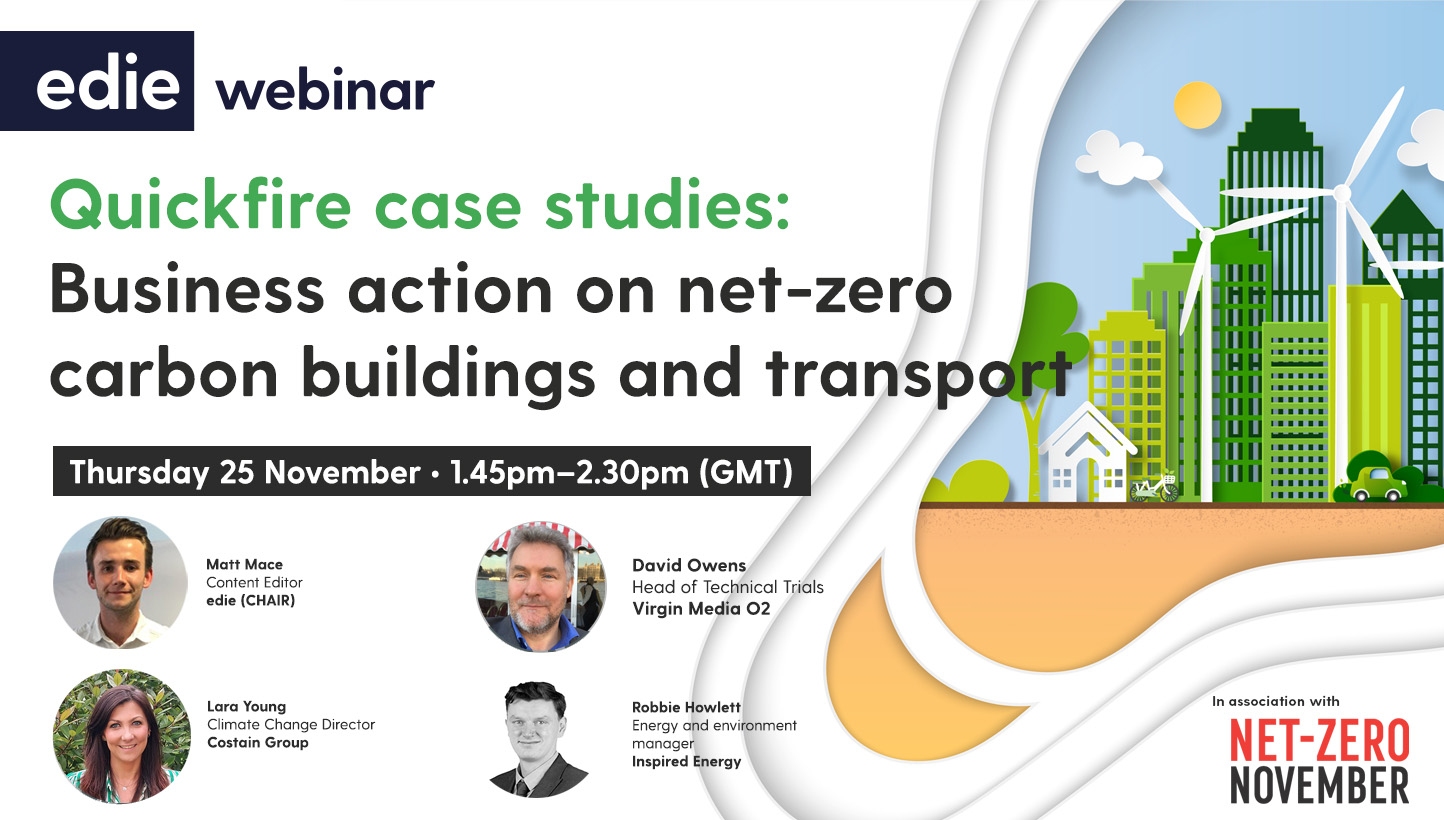 From rooftop renewables to EV rollouts, our second Inspiration Session will showcase an array of best-practice case studies to help energy and sustainability managers make net-zero buildings and mobility a reality for their business.
Discussion points:
Making your buildings net-zero carbon and ultra-efficient in a post-pandemic world
Overcoming infrastructural and institutional challenges to EV adoption
Using energy data to support your net-zero transition
Chair:
Matt Mace, Content Editor, edie
Speakers:
David Owens, Head of Technical Trials, Virgin Media O2
Lara Young, Climate Change Director, Costain Group
Robbie Howlett, Energy and Environment Manager, Inspired Energy
3) 45-Minute Masterclass: How to build a net-zero culture in your business (2.45pm-3.30pm)

Our third Inspiration Session takes a 'masterclass' format, we a selection of energy management and behaviour change experts on-hand to show you new and innovative ways to secure buy-in and increase engagement with decarbonisation goals, across the business.
Discussion points:
Securing boardroom buy-in for decarbonisation programmes and activities
Overcoming barriers to employee engagement with energy and carbon
Understanding the benefits of a 'net-zero' culture in your business
Chair:
Sarah George, Senior Reporter, edie
Speakers:
Claire Atkins Morris, Director of Corporate Responsibility, Sodexo

Constanza Moreno Sanchez O, Impact and Sustainability Lead, Ooni Pizza Ovens
Christian Arno, Founder Pawprint
4) 45-Minute Masterclass: Utilising CPPAs to support your net-zero journey (3.45pm-4.30pm)

Our fourth and final Inspiration Session will focus on Corporate Power Purchase Agreements (CPPAs) – breaking down how such Agreements work and how they can support your organisation's renewable energy and decarbonisation strategy.
Discussion points:
Achieving 100% renewable energy: Identifying the right pathways
Key considerations when exploring CPPAs for your business
Overcoming key challenges and complexities surrounding CPPAs
Chair:
Sarah George, Senior Reporter, edie
Speakers:
Adam Clarke, Senior Manager of PPAs and Sustainable Solutions, EDF Energy
Graham MacWilliam, Head of Carbon Reduction, Edrington
A recording of all of the sessions will be available to watch on-demand for those who register.
edie staff
© Faversham House Ltd 2023 edie news articles may be copied or forwarded for individual use only. No other reproduction or distribution is permitted without prior written consent.