Tasmania's 200% renewables goal and Toast Ale's B-Corp recertification: The sustainability success stories of the week
As part of our Mission Possible campaign, edie brings you this weekly round-up of five of the best sustainability success stories of the week from across the globe.
---
Published every week, this series charts how businesses and sustainability professionals are working to achieve their 'Mission Possible' across the campaign's five key pillars – energy, resources, infrastructure, mobility and business leadership.
As the matches at the Euros and Matt Hancock's resignation as Health Secretary filled the tabloid headlines, projects and initiatives which empower businesses to play their part in achieving a sustainable future, today, continued to launch and scale-up. 
Here, we round up five top announcements. 
ENERGY: Tasmania pledges to produce twice as much renewable electricity as it consumes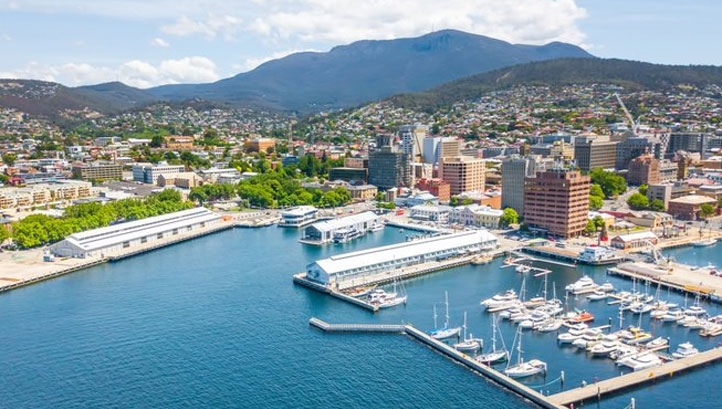 The power sector is often dubbed the "foundation to" or "enabler of" the net-zero transition. Increasingly, nations with net-zero targets are backing them up with renewable energy generation or consumption targets in the hopes of getting as close to 100% as possible.
But Tasmania has already reached this milestone. Last November, the island announced that its electricity needs were met by 100% renewables, following the significant expansion of its wind and hydropower sectors. Now, it has legislated a target of 200% renewable electricity by 2040.
Under the target, Tasmania will export surplus renewable electricity to the Australian mainland via a new interconnector cable with Victoria. Tasmania and Victoria are already linked with a 500MW Basslink cable but the proposed new cable would increase the capacity threefold. Consultation on Tasmania's action plan for delivering the cable and increasing generation will now run until September.
RESOURCES: Lay's to recycle crisp packets into football pitches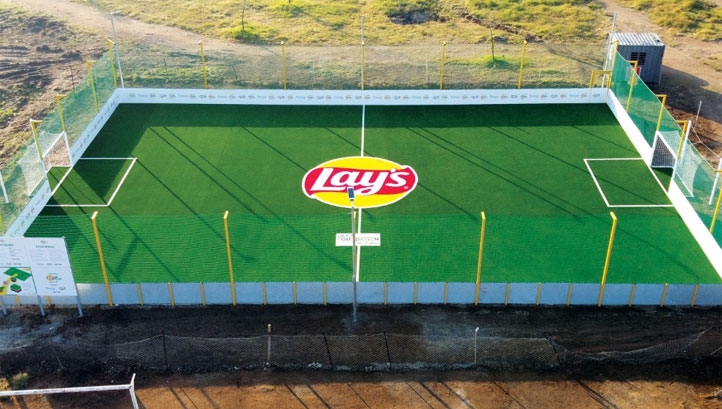 After facing criticism from environmental campaigners a few years back around the non-recyclability of its crisp packets, PepsiCo, which owns Lay's and Walkers, launched the UK's first nationwide recycling scheme for the packaging in partnership with TerraCycle in late 2018. Similar schemes were subsequently launched in other countries.
Now, in its position as the official partner of the Men's UEFA Champion's League and UEFA Women's Football, Lay's has launched a new scheme called 'RePlay', whereby recycled crisp packets are used to make football pitches. The snack brand is working with artificial pitch manufacturer GreenFields to incorporate shredded crisp packets into an underlying layer beneath the turf, called EcoCept. GreenFields claims that the EcoCept and turf will have a net-zero carbon footprint on a lifecycle basis and that, at the end of their ten-year lifespan, they can be recycled.
The first 'RePlay' pitch will be in Johannesburg, South Africa. Other pitches will then be opened in Russia, Brazil, Turkey and the UK.
MOBILITY: HumanForest to launch e-bikes in London this summer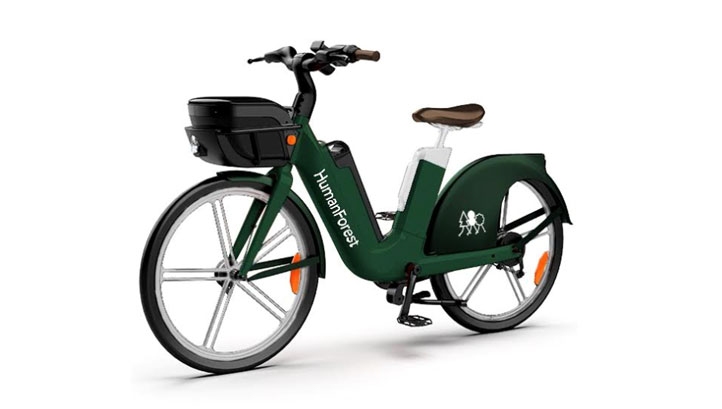 A new report from the IPPR this week warned that the UK Government's plans for decarbonising transport are overly focussing on individual electric vehicle (EV) ownership, downplaying the importance of public transport networks and active transport.
It is timely, then, that micro-mobility platform HumanForest has announced plans to launch in London this summer. Rental bikes will be made available in the City of London and Islington initially. More boroughs will then benefit from the bikes in the coming months. Under the platform, each user receives 10 minutes of free bike rides each day and will subsequently be charged 15p per minute.
HumanForest is hiping that the initial fleet of bikes will facilitate up to 7,000 rides each day. The firm has hired former Cabify lead Agustin Guilisasti and former Zipcar head of operations, Will Jansen, to assist with the London launch.
"London is the perfect city for our bikes, with ambitious targets to reduce noise, traffic and pollution matched by our ethos of affordable and sustainable transport," Guilisasti said.
THE BUILT ENVIRONMENT: World Green Building Council spotlights low-carbon leadership in Latin America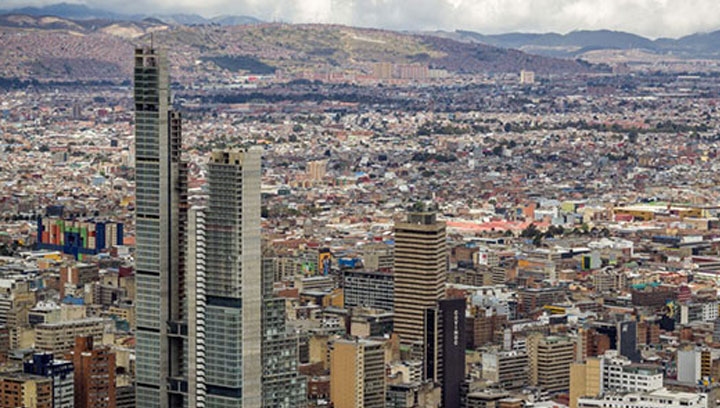 In this part of this weekly roundup, edie typically features an announcement on a particularly innovative sustainable building, like the new primary school believed to be Norway's most sustainable or a new office complex in China which will produce no net carbon, water waste or other waste in operation.
This week, however, the team is featuring a new report from the World Green Building Council (WorldGBC), produced as part of the Council's Climate Cities Action Project (CCA). The report outlines a string of successes from Latin America, across the fields of green policymaking (such as new building energy efficiency and resource use policies for Colombia and Mexico), NGOs and the private sector.
The report emphasises how partnerships can be used to accelerate progress on creating a sustainable built environment, with collaboration stated to be key in all urban areas. While urbanisation is a global megatrend, the report highlights how more than 80% of Latin American citizens already live in cities. The CCA itself is the result of collaboration between WorldGBC, P4G and the World Resources Institute (WRI).
WorldGBC's chief executive Christina Gamboa said: "The CCA demonstrates the progress which can be made when we work together. The right partnerships and collaborative approaches are critical in unlocking the building and construction sector's contribution to climate action and sustainable development. They bring us together, inspire innovation and turn ideas into tangible projects which benefit our communities, our cities and, of course, our world.
"The result of our collaboration with our member Green Building Councils, the BEA platform, our partner, WRI, and our scale-up partner, P4G, has been staggering. Over 90 government officials have collaborated with over 100 partners, who have delivered technical and legal guidance for each city's policy to be designed and published." 
BUSINESS LEADERSHIP: Toast Ale achieves carbon neutrality, nature positivity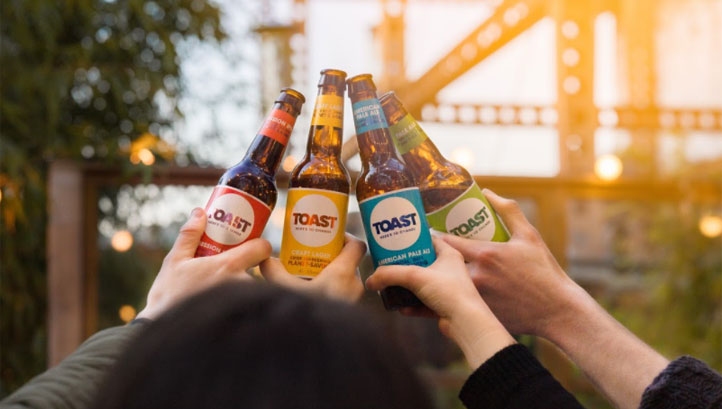 Craft brewer Toast Ale was founded in 2015, in a bid to reduce the UK's food waste mountain by brewing beer with surplus bread. Following significant expansion over the past five years and a major sustainability-focussed rebrand in 2019, the company has this week revealed that it has recertified as a B-Corp
To certify as a B-Corp, businesses must score at least 80 points out of a possible 200 in an assessment with metrics relating to environmental impact, worker treatment, governance, community impact and customer engagement. Toast Ale Scores 111.8 – the highest of any UK brewer at present.
Toast Ale also announced that it has achieved carbon neutrality and a net-positive impact on nature through a new partnership with Soil Heroes. The partnership will see Toast Ale supporting the uptake of regenerative agriculture practices which rebuild soil organic matter and restore biodiversity, increasing a landscape's ability to draw down carbon.
Sarah George
© Faversham House Ltd 2023 edie news articles may be copied or forwarded for individual use only. No other reproduction or distribution is permitted without prior written consent.