The SDGs In Action: How Diageo is achieving SDG 6 – Clean Water and Sanitation
Welcome back to edie's new editorial series which breaks down exactly how businesses are turning the Sustainable Development Goals (SDGs) into action. Up next: global drinks firm Diageo outlines how it is improving its water efficiency to the benefit of the communities it operates within.
---
Defining the Goal
Access to safe drinking water and decent sanitation should be basic human rights. However, around 30% of the population still lack safe drinking water supplies, while more than 60% still go without safe sanitation services.
Water scarcity now affects more than 40% of the global population, a figure that is projected to increase as climate change brings about increased cases of drought and desertification.
More than 2.6 billion people have gained improved access to safe drinking water sources since 1990 and SDG 6 "Clean Water and Sanitation" aims to ensure availability and sustainable management of water and sanitation for all.
Diageo agrees with the notion that water is a human right and the global drinks firm is committed to acting as a leading water steward, largely due to the fact that one-third of the water used by Diageo is located in water-stressed regions. The company is following international best practice guidelines for water management and aims to protect scarce natural resources to enable a sustainable future for all.
Diageo's alignment with Goal 6
As a beverage company, Diageo has an intricate dependency on water. Not only is water an essential ingredient for Diageo's brand portfolio, it is also used throughout the production process ­– to clean, cool, lubricate, heat, germinate and pasteurise.
The London-based firm launched its Water Blueprint in 2015, detailing goals to improve water efficiency across the six continents where it has facilities. The Blueprint was updated in 2018, with the refreshed document placing greater focus on water-based SDG targets, as well as gender and the effects of climate change on water.
The new strategy notably includes a pledge to take a "scientific, context-based approach to water stewardship", using independently collected and analysed data to prioritise action at breweries and distilleries in water-scarce regions.
Under the revamped Blueprint, Diageo has created numerous goals that align and contribute to SDG 6:
Equip suppliers with tools to protect water resources in the most water-stressed locations
Reduce water use through a 50% improvement in water use efficiency
Return 100% of wastewater from operations to the environment safely
Replenish water-stressed areas with the equivalent amount of water used in final products made in water-stressed areas
Ensure appropriate access to safe water, sanitation and hygiene for all employees in all premises under Diageo's control
Approximately one-third of Diageo's product volume is produced in water-stressed regions and so, the Blueprint attempts to invest in internal facilities to reduce water consumption, but also positively impact the communities around the world to address the global water challenge along its entire value chain.
Results so far…
The original targets of the Blueprint were set against a 2007 baseline and many have a 2020 deadline. Diageo claims that the goals have supported an ambition to be "one of the most trusted and respected consumer products companies in the world".
Notably, Diageo has improved the water efficiency of its distilleries and breweries around the world by 40%. However, many of the Blueprint's targets go beyond reductions to focus on community impact. Water recovery technology at a Cameronbridge distillery in Scotland, for example, led to the recovery of 40% of the water used in the distilling process.
Further afield, sites in Nasik, Aurangabad and Pioneer have generated a 35% reduction in water extraction through water recycling systems, while at the Uganda Brewery in Kampala a £4.4m investment has seen the brewery returning water to Lake Victoria at a higher quality than when it was extracted.
Diageo and Goal 6: Example project
In 2016, Diageo announced a five-year partnership with WaterAid to deliver access to safe water, sanitation and hygiene at local, national and global levels. The partnership is built on more than fifteen years of support for WaterAid through the firm's flagship Water of Life programme in Africa.
The Water of Life community projects are rolled out in water-stressed regions where production sites are located. These "comprehensive community investment programmes" are predominantly focused in Africa and India to provide access to safe drinking water.
The objectives of the Water of Life programme include:
Improved access to clean water
Improved access to sanitation
Promoting gender equality and empowering women and girls
Reducing poverty
Promoting better health and wellbeing
Since 2006, the programme has reached more than 10 million people in India and in 21 countries in Africa, including 234,000 last year alone. Projects range from the introduction of boreholes and hand-dug wells to the installation of rainwater harvesting and domestic filtration devices.
In India, for example, Diageo built 25 community toilets and 60 "smart" or self-cleaning toilets and installed three reverse osmosis water purification systems in schools. All installations were accompanied by training in water, sanitation and hygiene (WASH).
How Diageo is working towards other goals
While the Water Blueprint predominantly contributes to SDG 6, its transformative impact on rural communities in developing countries also lends itself towards other goals, notably:
SDG 3 (good health and wellbeing)
SDG 1 (no poverty)
SDG 10 (reduced inequalities)
SDG 5 (gender Equality)
Diageo found that its focus on water has created numerous touch points with these goals. During the evaluation of 40 water-related projects in Ghana, for example, a survey of farmers found that 94% felt that these projects had benefited women farmers. Further research revealed that women farmers were spending 33% less time collecting water.
Those on the ground are now framing the water projects as a driver of economic wellbeing and better living standards, which is increasing engagement with the projects.
Sharing the learnings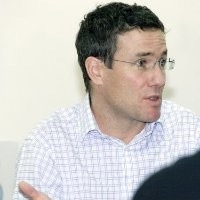 According to Diageo's interim global sustainable development director Michael Alexander (pictured left) the SDGs can be used as a framework to uncover where individual sustainability impacts can be used to drive action across a broader CSR spectrum.
Speaking exclusively to edie about Diageo's alignment with the Goals, Alexander said: "It's really important to contextualise water into a global framework like the SGS and the Paris Agreement. We started to find that water had much more of an impact across the SDGs, rather than just Goal 6. As a result, we started to shift our focus to include other areas like gender, skills and human rights.
"Water is so fundamentally important to us, so it makes it easier for us to engage the company with it; this was a natural bridge to getting engagement with the SDGs. The initiatives we're running are expected from an international organisation like Diageo, but we've learnt about the inter-relationships between the projects and benefits.
"The SDGs provide a common framework and really focuses the mind on how we articulate collaboration with peers and competitors. It helps if you are specific with your aims but use the SDGs to contextualise. The SDGS provide a common articulation of how we can collaborate without having to adopt one company's targets or narratives, it's now what we're all working towards."
Diageo's future sustainable development plans
Alexander noted that Diageo is closing in on the 2020 deadline for a lot of the targets listed in the refreshed Water Blueprint and that a lot of "near-term focus and energy" would be placed on reaching and surpassing them.
Once the timeline for the framework expires, Alexander believes that Diageo has an opportunity to further align business strategies with the Goals by exploring new targets with a 2030 deadline – the same year as the SDGs.
Having learnt how a focus on one Goal can help contribute to other areas of sustainability, Alexander believes that further cases of mapping against the SDGs will help fill out "gaps" in the firm's strategy.
"The examination of the indicators and targets of the SDGs will be absolutely paramount to the framing of our sustainability ambition and the KPIs we'll use to measure our targets," Alexander adds.
"If we can use this opportunity to align to the SDGs as much as we can, I think it really sets us up well for the future. But it will also help us identify gaps in our strategy. We'll need to fill those gaps as we did in the refreshed Water Blueprint a few years ago."
Matt Mace
© Faversham House Ltd 2023 edie news articles may be copied or forwarded for individual use only. No other reproduction or distribution is permitted without prior written consent.