Unilever's refills and the 'world's first' 100% recycled hoodie: The best green innovations of the week
Every week, numerous eye-catching and potentially transformational innovations are being developed to help businesses and nations turn their green ambitions into actions. Here, we round up six of the best.
---
The eagle-eyed among you will have noticed that this weekly round-up underwent a one-edition hiatus last week, as team edie were all very busy making the most of London Climate Action Week.
Organised by City Hall, the week saw more than 100 events take place across the capital, uniting business leaders, academics, green campaigners and the general public on a shared mission to boost the city's – and the nation's – ambitions and actions on climate mitigation and adaptation. 
Taking place against a backdrop of continued school strikes and with the buzz surrounding the UK's net-zero target still very much in full swing, the week served to highlight just how much the climate conversation has accelerated in recent times. 
But for action to match the pace of ambition, organisations will now need to begin investing in innovative products and systems to make their operations, products and services more resource-efficient and less carbon-intense. With that in mind, this article rounds up six innovations that are helping businesses and governments achieve a sustainable future, today. 
Biodegradable water bottles
City to Sea estimates that the average Brit purchases 150 plastic water bottles annually and, while most rigid plastic bottles are widely recyclable in kerbside collections, the fact remains that just 9% of all plastic produced globally has ever successfully been recycled.
As the war on plastics continues in the wake of Blue Planet 2, a string of innovative alternatives have emerged, including vacuum-formed paper bottles and seaweed protein packaging. This week saw a UK firm pioneering another innovation in this space – biodegradable bottles made from maize starch – receive a six-figure investment.
The financing, provided to Somerset-based Cheddar Water by HSBC UK, will enable the company to invest in a new maize-starch bottling line. The packaging is expected to biodegrade within 90-180 days of disposal, given the correct composting conditions and temperature.
Also in this space, supplement brand Vivo Life has launched a new line of wood-pulp-based packaging which it claims is fully compostable at home. The material, due to be used for all the firm's packaging by the end of the year, claims to decompose in less than six months in industrial conditions, or less than 24 months at home.
Unilever's refill solution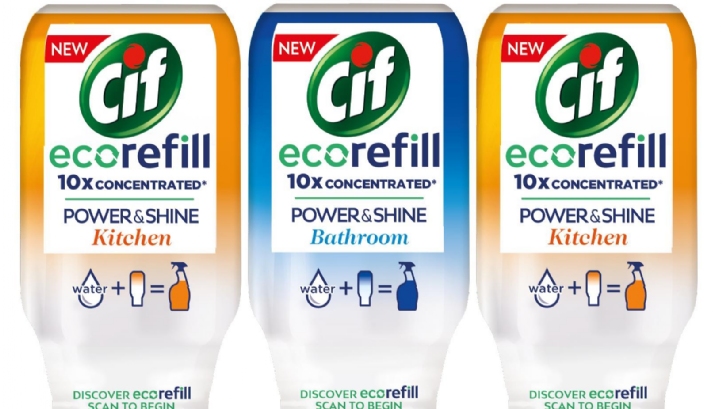 Given that 82% of UK shoppers are now stating that the amount of plastic packaging produced by companies needs to be "drastically reduced", companies unable to find suitable compostable or biodegradable alternatives are increasingly turning to refill models.
One of the newest innovations in this space comes from Unilever, which this week unveiled a new 'ecorefill' model for its Cif cleaning products. The model consists of a refill capsule full of 10x concentrated cleaning product, which has been designed to attach to existing Cif Power & Shine bottles. Unilever claims that this model uses 75% less plastic than buying a new bottle of non-concentrated product and states that it has designed the ecorefill capsules to be recyclable in all kerbside collections in the UK.
The ecorefills went on sale at Sainsbury's stores this week and retail for £2.50. They will be made available at Amazon, Ocado, and Morrisons next month.
Ultra-light pallets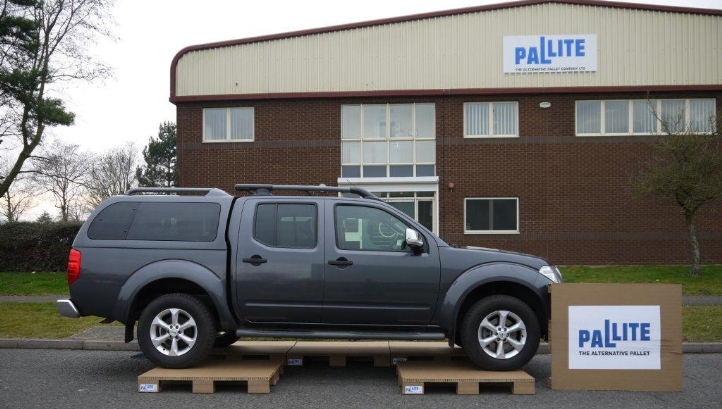 Also on the topic of resource efficient innovations, pallet and shipping crate producer Pallite has secured more than £620,000 of funding through Crowdcube to expand its operations.
The company's pallets and pallet boxes are designed to be 83% lighter than traditional wooden and plastic alternatives, reducing the carbon intensity of both the products themselves and transporting them. Indeed, the firm estimates that shipping 30,000 pallets by air from London to New York would produce more than 4,000 fewer tonnes of CO2 than their predecessors. The pallets, which are manufactured in Wellingborough, Northamptonshire, are made using 80% recycled paper and are designed for recyclability.
Pallite will use its crowdfunded financing pot to expand its business and is targeting £1m in total, with funding to remain open until 25 July. 
'Clean air' taxis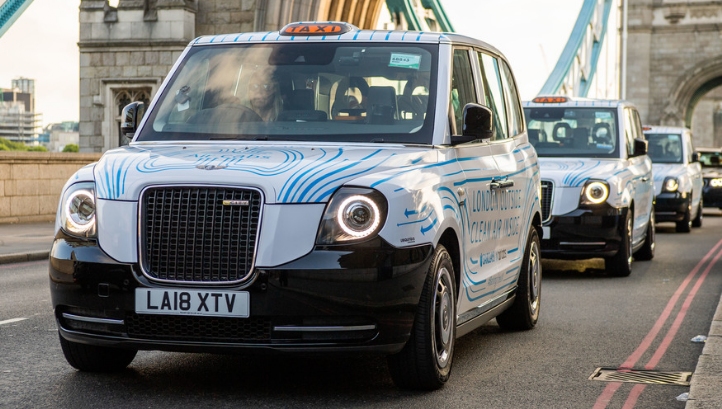 With the World Health Organisation estimating that seven million people die every year as a result of exposure to airborne contaminants, the need to act on air pollution has never been clearer. Indeed, the UK's polluted air was declared a "public health emergency" by MPs in 2016, with the problem proving particularly pronounced in urban areas.
With this in mind, Barclays has partnered with green start-up Airlabs to pilot black cabs fitted with a filtration system which removes airborne pollutants. Called airbubbl, the nano-filter-based technology claims to remove up to 97% of gases including CO2 and nitrous oxide (NOx), as well as particulate matter.
The World Health Organization guideline safety limit for annual Nitrogen Dioxide (NO2) exposure is 40 micrograms per cubic metre of air (µg/m3) – but Barclays' research found that levels inside Zone-1-based London taxis peaked at 111 µg/m3. After installing the Airlabs filters, the levels dropped to 5.7 µg/m3 NO2 – as clean as the air in the Peak District National Park.
The Airlabs systems have been installed on the headrests of 10 fully electric taxis which are operating across Zone 1 and 2. The cabs will be available for hire for the next 11 weeks.
Adidas's 'liquefied' hoodies
Currently, less than 1% of textiles recovered for recycling are turned into new garments, largely due to the difficulty of mechanically or chemically separating textile blends. At the same time, the global fashion industry is churning out more garments than ever before, with levels having surpassed 100 billion items per year in 2018, according to BBC documentary Stacey Dooley investigates fast fashion.
One innovator who has been pioneering a more circular economy for fashion for years now is Stella McCartney, who founded her brand on the principles of social and environmental stewardship. This week, McCartney unveiled what has been dubbed the first "truly recycled" or first "liquefied" sweater.
Produced for Adidas by Stella McCartney, the limited-edition hoodie is made using NuCycle – an emerging technology that enables used cotton to be purified and liquefied, ready for making new yarn. Cotton is currently mechanically recyclable, but Evrnu, the start-up behind NuCycle, claims that its chemical process better retains the material's strength. The hoodie is initially being produced for a limited-edition 50-garment run, with all pieces due to be given to athletes this summer.
Closed-loop protein shakes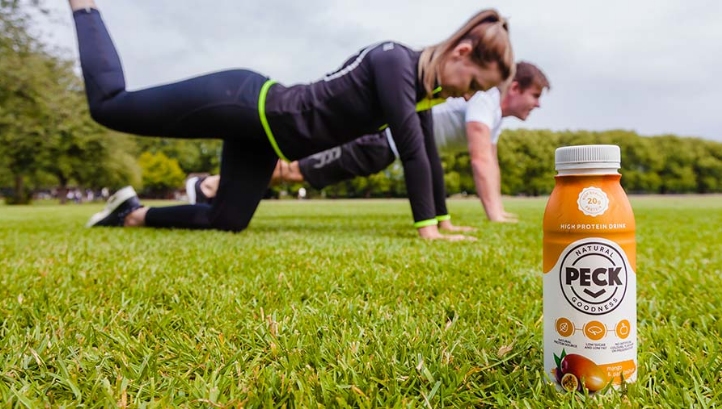 Around one-third of all food produced globally is currently wasted, with this proportion forecast to rise rapidly in the run-up to 2030 – the year by which the UN is urging businesses, policymakers and consumers to halve food waste against a 2015 baseline.
Meanwhile, the global market for meat-free protein is expanded at an annual rate of 8.29% over the next four years. In a bid to join up these two trends, Suffolk-based entrepreneur Matt Havers has developed a range of protein shakes made using the eggs from his family farm that don't meet general sale criteria due to their size or wrinkled, discoloured or weak shells. Of the 15,000 eggs laid by the farm's flock each day, 2.5% are not considered fit to sell to consumers.
The protein shakes, called Peck and packaged in 250ml servings, each contain six egg whites sourced from both the Havers family farm and other local businesses. The drinks are made by blending the separated eggs with soya bean powder and fruit juices, resulting in a beverage that contains 20g of protein per serving. Havers has been selling the shakes for 18 months now, during which time he has sold 30,000 bottles. Following a successful trial with a major supermarket and a £40,000 grant from the Local Enterprise Partnership, he is now hoping to expand the business and launch a whole-egg version.
Sarah George
© Faversham House Ltd 2023 edie news articles may be copied or forwarded for individual use only. No other reproduction or distribution is permitted without prior written consent.