Veganuary: Asda unveils plant-based 'butcher' as campaign gets record 440,000 sign-ups
The Veganuary campaign has received a record 440,000 sign-ups to its 31-day challenge - and, keen to grab a piece of the plant-based action, the UK's biggest supermarkets and food-to-go chains are debuting new products.
---
Launched in the UK in 2014 by a team of environmentalists, the Veganuary campaign challenges participants to eat only vegan foods for 31 days, with a view that they will change their dietary habits in the long-term. 
Around 300,000 people signed up to the challenge for the 2019 and 2020 iterations. But the organisers have revealed that 2021 has already broken the record by a large margin, with more than 440,000 participants.
Vegan and vegetarian diets have been growing in popularity for several years now, with concerns about health and animal welfare being compounded by a growing recognition of the environmental impact of industrial meat, fish and dairy production.
But the events of 2020 are believed to have accelerated the trend. Analysis from investor group FAIRR, published after reports of Covid-19 outbreaks at several major meat plants, concluded that 44 of the world's largest meat, fish and dairy companies are considered "high-risk" in terms of pandemic vulnerabilities. Moreover, people are increasingly aware of the links between habitat degradation, often caused by the production of beef, and the spread of zoonotic diseases.
"2020 brought much hardship and heartbreak, but it also gave us an opportunity to change and build a better future," Veganuary's head of international communications Toni Vernelli said.
"Veganuary offers people a way to take positive action to protect our health and our planet, as well as help prevent future pandemics. The huge response we've had this year shows it's exactly what many people need right now."
The business case
With all this in mind, it's hardly surprising that many of the biggest food and drink brands are keen to expand their forays into vegan food market. Even pre-Veganuary-2021, FAIRR found that four in ten large corporates in this space have dedicated R&D teams for plant-based protein.
Recent weeks have seen all of the UK's major supermarkets launching new vegan or vegetarian lines. Sainsbury's and Waitrose & Partners are now stocking Higgidy's egg-free quiches and mini no-pork pies, for example, while Iceland has listed frozen versions of Gregg's ever-popular vegan sausage rolls and steak bakes.
Other companies are growing their own-brand lines. Marks & Spencer (M&S) is debuting products including Greek-style vegan cheese, No Fish Cakes, No Chicken Southern Fried Tenders and Sweet and Sour No Chicken, while Gro Sizzle Steaks and Gro Kievs are hitting the shelves at the Co-Op.
100% #VEGAN 🌱 Our new Plant Kitchen no chicken Southern fried tenders look like chicken, taste like chicken, but are 100% plant-based! Give your #veganuary a flavour boost now with Plant Kitchen 🌱 pic.twitter.com/eMP1pxsMbb

— M&S (@marksandspencer) January 5, 2021
Perhaps the most innovative offering from a supermarket comes from Asda, which is piloting a vegan butcher counter at its Watford store as part of a collaboration with KBox Global. Products on display include plant-based versions of bacon, roast chicken, chicken nuggets, hoisin duck, sausage rolls, lamb steaks and mince. The supermarket now offers more than 120 own-brand, plant-based products.
"The demand for vegan products is on the rise and we have seen a surge in people seeking out ways to easily enjoy a plant-based lifestyle," Asda's chief strategy officer Preyash Thakrar said. 'Veelicious will be a 'test and learn' trial to help us understand what resonates with customers to enable us to enhance our plant-based proposition."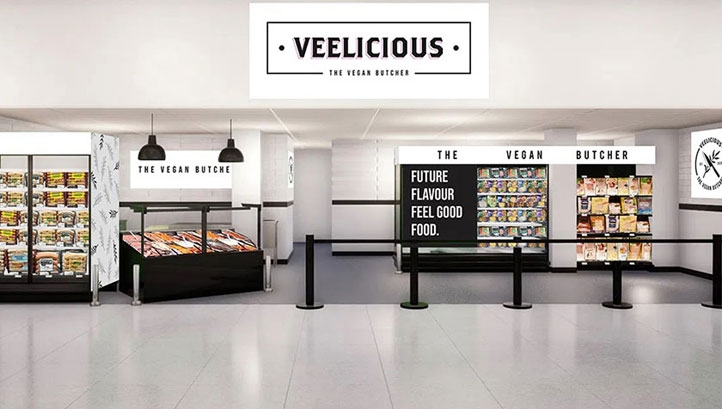 Some major launches from food suppliers, meanwhile, include:
Unilever-owned Magnum's vegan sea salt and caramel ice creams
Kraft Heinz-owned Heinz's vegan salad cream and chilli mayonnaise
Heck's vegan Italia sausages and apple chipolatas
Chicago Town's Deep Dish Sticky BBQ Jackfruit and Cheezeburger pizzas
Food-to-go
2020 was a challenging year for the UK's hospitality sector, with lockdown restrictions intermittently prohibiting dine-in options. But many major chains have still been able to launch new offerings for Veganuary 2021, following the success of Gregg's vegan sausage rolls and steak bakes, and KFC's Quorn burger.
Domino's began selling a 'Chick-Ain't' pizza, also topped with peppers and red onions, on Monday (4 January). Vegan nuggets were also added to the menu of side dishes.
Subway UK's offering for Veganuary 2021 is a vegan Tastes Like Chicken (TLC) sub. Its Meatless Meatball Marinara, launched for Veganuary 2020, proved so popular that it is now a permanent menu fixture.
After launching Beyond Meat breakfast sandwiches to much success in the US, Starbucks UK is trialling them until 3 March. They contain a Beyond Meat sausage patty, tofu-based egg alternative seasoned with turmeric and a slice of plant-based cheese.
Burger King has developed a Vegan Bean Burger which will be a permanent fixture on UK menus. It features two patties on a toasted sesame seed bun, topped with salad, ketchup and vegan mayonnaise.
Taco Bell UK has partnered with Gold & Green to launch an oat-protein-based alternative to the mince filling used in its burritos, tacos, quesadillas and Crunchwraps. It will be available at all 53 branches from Thursday (7 January). Taco Bell's parent company Yum Brands also owns Pizza Hut, which began trialling Beyond Meat toppings in the UK in November 2020.
Wagamama has set a new target for 50% of its main menu to be meat-free by the end of 2021. For Veganuary, it is launching mushroom-based chilli squid and sticky ribs; a tofu firecracker curry and a no-duck donburi bowl made with shredded seitan.
Costa Coffee is adding vegan-friendly strawberry croissants, Jamaican ginger load cake and apple crumble flapjack to its sweet treats counter – and is also bringing back the vegan Lotus Biscoff cheesecake. In its savoury fridges, it will stock a veganised BBQ chicken panini and a roasted butternut squash pastry roll.
Sarah George
© Faversham House Ltd 2023 edie news articles may be copied or forwarded for individual use only. No other reproduction or distribution is permitted without prior written consent.