45-minute masterclass: How corporations are leading the way on turning net-zero carbon ambition into reality
30 January 2020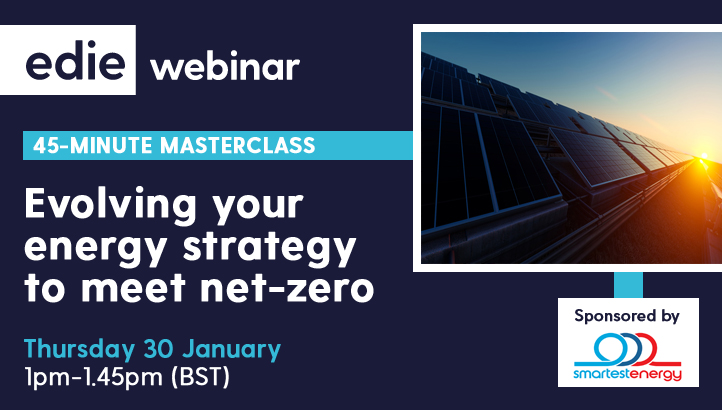 <
This webinar sponsored by SmartestEnergy, will demonstrate how leading corporates are helping to accelerate the net-zero transition by setting ambitious targets for their long term energy strategies.
The webinar will feature a case study from property consultancy, JLL, pioneers in making their buildings more sustainable to achieve net-zero carbon operations by 2030. They will present an outline of their net-zero commitments and explain how they're working with their energy supplier SmartestEnergy, to adapt their energy strategy.
Topics to discover:
Building net zero targets into your long-term strategic energy plans
Making net-zero carbon a mainstream topic with clear corporate commitments
Working with your energy supplier to achieve your net-zero carbon targets
Questions and answers
INTRODUCTION AND CHAIR:
JAMES EVISON
Insight Editor, edie
James Evison is the insight editor for edie.net, creating and covering the latest reports and news for sustainability, energy and resource efficiency professionals.
SPEAKERS
MICHAEL WATTS
Strategic Sales Manager, SmartestEnergy
Michael joined SmartestEnergy in 2017 and is a key member of the supply team. In his role as Strategic Development Manager, he works with some of the UK's leading Industrial and Commercial businesses to help innovate their energy strategies and support them in the transition to net-zero carbon.
Before joining SmartestEnergy Michael held a similar role with ENGIE Energy Solutions. His career in the industry has also included positions with Haven Power, Shell Gas Direct and Gaz de France.
Michael has an MA Business Economics from Wilfrid Laurier University, Toronto and a BA Economics from the University of Essex.
DAVID MEAD
Associate, JLL
For the 10 years David has been at JLL he has been passionate about ensuring JLL deliver on its ambition of buying renewable electricity for its clients (and itself). All contracts placed via JLL are on 100% renewables. Most recently he secured a deal through SmartestEnergy to source the energy for JLL's corporate offices from a named PV generator without entering into a long term PPA.
Tags





N.B. The information contained in this entry is provided by SmartestEnergy Ltd, and does not necessarily reflect the views and opinions of the publisher.



© Faversham House Group Ltd 2020. edie news articles may be copied or forwarded for individual use only. No other reproduction or distribution is permitted without prior written consent.