Employee engagement: What does it take to change behaviours?
17 April 2018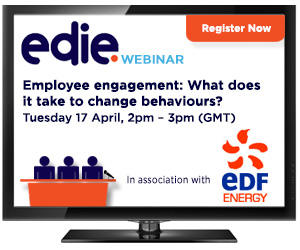 <
Aligning corporate sustainability targets with individuals' motivations and behaviours can drive significant savings, but it is incredibly difficult to achieve. In this webinar, we explore how energy and sustainability managers can effectively engage with employees to bring about positive change.
It has been reported that UK firms could save as much as £1bn on their energy bills by changing the 'energy behaviours' of their employees, rather than relying on technical solutions. But engaging staff to deliver long-term savings can be a lot easier said than done.

Using real-experience case studies, this webinar will explore how energy and sustainability managers can solve the challenge of behaviour change. The one-hour session will provide you with expert tips and proven techniques to help you overcome some of the biggest barriers and most common pitfalls in delivering a successful behaviour change campaign.

Key discussion points
Empowering your people to make a difference: from the boardroom to the shop floor
The common mistakes that can cause behaviour change programmes to fail
Telling the right sustainability story, to the right people, at the right time
Measuring the successes, and failures, of behaviour change initiatives
Introduction and chair:
Speaker:
Tags





N.B. The information contained in this entry is provided by , and does not necessarily reflect the views and opinions of the publisher.



© Faversham House Group Ltd 2018. edie news articles may be copied or forwarded for individual use only. No other reproduction or distribution is permitted without prior written consent.