Is your business energy resilient?
30 November 2017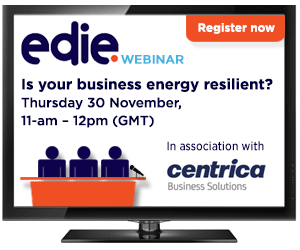 As more business are beginning to feel the true impact of not having a dedicated Energy Resilience strategy, this dedicated edie webinar explores the practical steps businesses can take to ensure energy resilience.
Using real-experience case studies, participants will learn what energy resilience looks like, what the risks of non-resilience are and how they can assess the risks and opportunities for their own operations. Practical advice and guidance will then equip them to apply that knowledge in practical terms and take steps to ensuring their own energy resilience.
Presenters
Luke Nicholls
Content Director, edie.net
Tim Wynn Jones
Senior business development manager, Centrica Business Solutions
Maria Spyrou
Energy Efficiency Manager, Marks and Spencer (M&S)
Charles Sainsbury
Energy Manager, Landsec

Tags





N.B. The information contained in this entry is provided by Centrica Business Solutions , and does not necessarily reflect the views and opinions of the publisher.



© Faversham House Group Ltd 2017. edie news articles may be copied or forwarded for individual use only. No other reproduction or distribution is permitted without prior written consent.