Mission Possible: Taking bold action to achieve a sustainable future
3 May 2018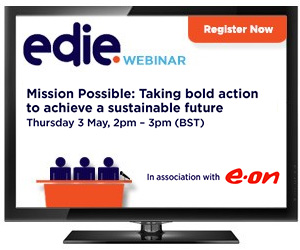 The mission, should we choose to accept it: achieving a low- carbon, resource-efficient industrial revolution. As we gear up for edie Live 2018 this webinar will hear from the leading businesses and experts that are scaling-up effort and innovation across all areas of sustainable development to make this Mission Possible.
Whether it's securing investment to move towards zero-carbon operations, transforming business models to drive resource efficiency, or empowering others to join the mission, there is a clear need for sustainability and energy professionals to be bold, think big and form new collaborations to achieve a sustainable future.
This one-hour webinar will hear from the business leaders and sustainability experts who are taking bold action to accelerate change. The session is the perfect primer for edie Live 2018, where the discussion will be brought to life on stage to help you achieve your Mission Possible.
Key discussion points
Adopting a 'leadership' position on energy and sustainability
Empowering employees to achieve your 'why'
Using the Sustainable Development Goals to drive tangible actions
Introduction and chair:
Luke Nicholls
Content director, edie
Speakers:
Jo Mourant
Sustainability delivery manager, Kingfisher
Gavin Milligan
Sustainability director, William Jackson Food Group
John Walsh
Senior strategic account manager, E.ON
Tags





N.B. The information contained in this entry is provided by E.ON UK , and does not necessarily reflect the views and opinions of the publisher.



© Faversham House Group Ltd 2018. edie news articles may be copied or forwarded for individual use only. No other reproduction or distribution is permitted without prior written consent.