Webinar: Powering ahead: Learning from the leaders in onsite energy generation
31 May 2018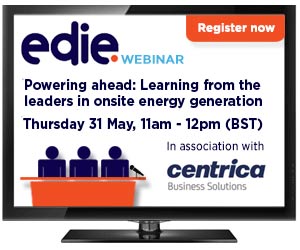 Energy costs are rising, clean technology costs are tumbling, and new off-grid opportunities are becoming more viable - NOW is the time to upgrade your organisation's sustainability strategy through onsite energy solutions, and this webinar will show you the way.
Key discussion points:
Developing a realistic, subsidy-free business case for renewables
Choosing the best onsite energy technologies for your organisation
Overcoming barriers to greater investment in onsite energy generation
Making the most of your onsite solutions through advanced energy data analytics
Introduction and chair:
Matt Mace
edie.net
Speakers:
Adam Pawelas
Group director environment & utilities, Carlsberg
Adrian Fox
Lead project manager (North lead), renewable energy investment programme, National Trust
Tim Wynn-Jones
Senior business development manager, Centrica Business Solutions

Tags





N.B. The information contained in this entry is provided by Centrica Business Solutions , and does not necessarily reflect the views and opinions of the publisher.



© Faversham House Group Ltd 2018. edie news articles may be copied or forwarded for individual use only. No other reproduction or distribution is permitted without prior written consent.