Decarbonising Heat
11/10/2017 External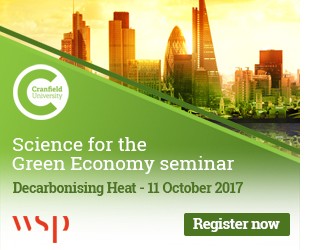 A transformation in the way heat is currently provided and used is required to meet the UK's 2050 emissions reduction targets.

This seminar will address options to reduce direct and indirect reliance on fossil fuels, while increasing the utilisation of renewable sources.

Different scales of heating and cooling provision and heat electrification will be discussed, from individual buildings to cities, through to industrial applications, with tailored solutions for new developments as well as retrofits.

Mr Barny Evans, Head of Sustainable Places, Energy and Waste at WSP will also discuss 'The Electrification Future: How electrification of heating will deliver the low carbon future'.
Event Programme
Wednesday 11 October 2017
| | |
| --- | --- |
| 5:30 pm: | Registration |
| 6:00 pm: | Seminar |
| 7:00 pm: | Networking and refreshments |
| 8:30 pm: | Close |
Who should attend
Open to anyone interested in the Green Economy agenda – practitioners in banking institutions, solicitors, NGOs, government, global companies, Universities, consulting firms.
Cost & Concessions
This is a free seminar; pre-registration is requred. Late registration on the evening also available.
Add to Calendar
11/10/2017
11/10/2017
Europe/Paris
Decarbonising Heat
A transformation in the way heat is currently provided and used is required to meet the UK's 2050 emissions reduction targets.

This seminar will address options to reduce direct and indirect reliance on fossil fuels, while increasing the utilisation of renewable sources.

Different scales of heating and cooling provision and heat electrification will be discussed, from individual buildings to cities, through to industrial applications, with tailored solutions for new developments as well as retrofits.

Mr Barny Evans, Head of Sustainable Places, Energy and Waste at WSP will also discuss 'The Electrification Future: How electrification of heating will deliver the low carbon future'. Event Programme Wednesday 11 October 2017 5:30 pm: Registration ...

www%2Ecranfield%2Eac%2Euk%2Fevents%2Fevents%2D2017%2Fdecarbonising%2Dheat%3Futm%5Fmedium%3DMPU%26utm%5Fsource%3Dediewebs
External
true
DD/MM/YYYY
Visit event website