edie Smarter Sustainability Reporting Conference
01/03/2017 Inmarsat Conference Centre, London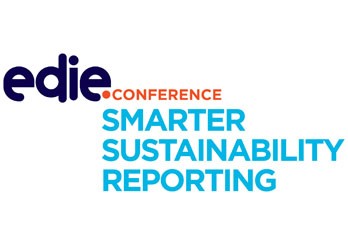 Driven by the implementation of the Sustainable Development Goals and ratification of the Paris Agreement, sustainability reporting has accelerated up the corporate agenda to become an integral part of prudent business strategy.

But a number of significant challenges remain: How can a business cut through the ever-increasing complexity of the reporting landscape? How should data be effectively measured and presented? And how should a report be formulated to ensure complete relevance to stakeholders?

The edie Smarter Sustainability Reporting Conference addresses all of these questions and more; providing an unrivalled opportunity for you to explore the very latest sustainability reporting innovations, network with peers, discuss your own challenges, and experience best-in-field examples from reporting pioneers across multiple sectors.

Register now at events.edie.net/reporting to:

- Explore the implications of Brexit, SDGs & European Directive on Non-Financial Reporting
- Be inspired by the new 'Power Hour' with punchy and thought-provoking 10-minute talks
- Get your burning questions answered in expanded open panel discussions
- Engage and learn from peers in breakout sessions
- Benefit from constructive insight from global experts on the key elements of a good report
- Take home tips from diverse case studies on transparency, data, engagement and more

Speakers include:

- Rodney Irwin, Managing director - redefining value & education, World Business Council for Sustainable Development
- David Picton, Chief sustainability officer, Carillion
- Svetlana Nikolaenko, AVP citizenship & reputation, Barclays
- Louise Koch, Corporate sustainability lead - EMEA, Dell
- Rachel Thompson, Sustainability manager, Gatwick Airport
- Chelsea Reinhardt, Deputy director standards team, GRI
- Nicki Crayfourd, Director of HSE, Compass Group
- Jon Hampson, Head of sustainability measurement & reporting, PwC
- Fran Leedham, Head of environment & sustainability, Jaguar Land Rover
- Nicki Woodhead, Head of environmental management, Vodafone
- Verity Lawson, Sustainability reporting manager, British American Tobacco
- Dylan McNeill, Head of sustainability reporting, Philips Lighting

For more information, please contact Nicola Gillman at +44(0)1342 332020 / nicola.gillman@fav-house.com.

For sponsorship opportunities, please contact Sadie Mevlit: +44 (0)1342 332090 / sadie.mevlit@fav-house.com.

Contact
: Nicola Gillman
Tel
: 01342 332 045
Click here to enquire via email
Add to Calendar
01/03/2017
01/03/2017
Europe/Paris
edie Smarter Sustainability Reporting Conference
Driven by the implementation of the Sustainable Development Goals and ratification of the Paris Agreement, sustainability reporting has accelerated up the corporate agenda to become an integral part of prudent business strategy.

But a number of significant challenges remain: How can a business cut through the ever-increasing complexity of the reporting landscape? How should data be effectively measured and presented? And how should a report be formulated to ensure complete relevance to stakeholders?

The edie Smarter Sustainability Reporting Conference addresses all of these questions and more; providing an unrivalled opportunity for you to explore the very latest sustainability reporting innovations, network with peers, discuss your own challenges, and experience best-in-field examples from reporting pioneers across multiple sectors.

Register now at events.edie.net/reporting ...

http%3A%2F%2Fevents%2Eedie%2Enet%2Freporting%2F
Inmarsat Conference Centre, London
Nicola Gillman
nicola.gillman@fav-house.com
true
DD/MM/YYYY
Visit event website