POLLUTEC
29/11/2016 to 02/12/2016 Lyon, France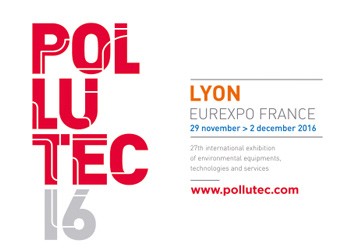 About Pollutec 2016
Organised by Reed Expositions from 29 November to 2 December at Eurexpo Lyon, Pollutec 2016 brings together all industry sectors linked to the environment: waste / recycling of raw materials, water and waste water, energy, instrumentation / metrology / automation, air, sites and soils, risks, responsible purchasing/CSR in an area of 100,000 m2.

It proposes in parallel five focuses to examine a number of major global themes: the sustainable city, sustainable industry in the future, the aquatic and coastal environment, agriculture, hospitals and sustainable development.

The flagship event for environmental innovation since 1978, Pollutec exhibits some 200 innovative solutions every year on its stands and during its lectures and prize-giving ceremonies.

It will go even further this year, introducing innovation spots, specific exhibition areas co-hosted by professional, institutional and academic partners, together with eco-innovative start-up clusters. For its part, the global programme of lectures includes talks dealing with the aids and obstacles to innovation in each sector.

Contact
: Amelie GALATRY. UK office for Pollutec
Tel
: +44 (0)2082163109
Click here to enquire via email
Add to Calendar
29/11/2016
02/12/2016
Europe/Paris
POLLUTEC
About Pollutec 2016
Organised by Reed Expositions from 29 November to 2 December at Eurexpo Lyon, Pollutec 2016 brings together all industry sectors linked to the environment: waste / recycling of raw materials, water and waste water, energy, instrumentation / metrology / automation, air, sites and soils, risks, responsible purchasing/CSR in an area of 100,000 m2.

It proposes in parallel five focuses to examine a number of major global themes: the sustainable city, sustainable industry in the future, the aquatic and coastal environment, agriculture, hospitals and sustainable development.

The flagship event for environmental innovation since 1978, Pollutec exhibits some 200 innovative solutions every year on its stands and during its lectures and prize-giving ceremonies.

It will go even further this year, introducing innovation spots, specific exhibition areas co-hosted b...

http%3A%2F%2Fbit%2Ely%2F1sD8vg6
Lyon, France
Amelie GALATRY. UK office for Pollutec
Amelie@promosalons.co.uk
true
DD/MM/YYYY
Visit event website