Pollutec 2018
27/11/2018 to 30/11/2018 Lyon Eurexpo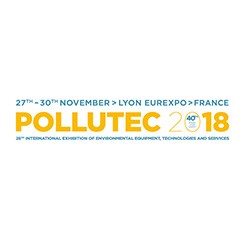 Pollutec 2018 promises to be an exceptional edition, celebrating the trade show's 40th anniversary. The trade fair, taking place from 27 to 30 November 2018 at Lyon Eurexpo (in Lyon, South-Eastern France), will cover 14 key industry sectors and will highlight three regions of the world – South-East Asia, South America and Africa – with a special focus on Burkina Faso.
For 40 years, Pollutec has been a great source of inspiration for professionals in search of a practical way to be exposed to solutions and innovation, while connecting with major players of the industry.


With 90,000 m2 dedicated to environmental innovation, Pollutec constitutes a unique forum for eco-innovation and clean tech: 2,200 exhibitors and 73,000 industry professionals are expected at the trade fair, with 128 countries represented.
Add to Calendar
27/11/2018
30/11/2018
Europe/Paris
Pollutec 2018
Pollutec 2018 promises to be an exceptional edition, celebrating the trade show's 40th anniversary. The trade fair, taking place from 27 to 30 November 2018 at Lyon Eurexpo (in Lyon, South-Eastern France), will cover 14 key industry sectors and will highlight three regions of the world – South-East Asia, South America and Africa – with a special focus on Burkina Faso.For 40 years, Pollutec has been a great source of inspiration for professionals in search of a practical way to be exposed to solutions and innovation, while connecting with major players of the industry.With 90,000 m2 dedicated to environmental innovation, Pollutec constitutes a unique forum for eco-innovation and clean tech: 2,200 exhibitors and 73,000 industry professionals are expected at the trade fair, with 128 countries represented.

www%2Epollutec%2Ecom%2Fen%2F
Lyon Eurexpo
true
DD/MM/YYYY
Visit event website