ENGAGE 2019
02/05/2019 to 03/05/2019 London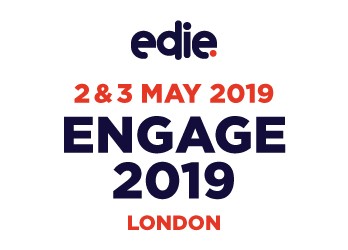 The way sustainability is reported and communicated has changed. Gone are the days when an organisation's CSR progress is confined to a single annual document which is left to gather dust. Today, savvy sustainability storytellers are utilising new, regular reporting tools and innovative communication techniques to build personal engagement and drive meaningful change.
With that in mind, edie is bringing together two of its long-running conferences to form a brand-new event in 2019. The Sustainability Communications Conference and Smarter Sustainability Reporting Conference are being combined to create ENGAGE 2019 – a two-day summit incorporating case studies, workshops and interactive discussions.
Taking place at the 99 City Road Conference Centre on 2-3 May 2019, ENGAGE 2019 will bring sustainability, reporting, communications and marketing professionals together under one roof to deliver a must-attend event for those dedicated to driving engagement with sustainability through robust reporting and captivating communications.
Nowhere else can you:
Learn how to align your communications strategy with the SDGs
Hear inspiring stories of how consumer pressure has turned sustainability into corporate opportunity
Combine your experience with specialist clinics to capture specific feedback on your sustainability report
Gain the tools needed to deliver a campaign that moves beyond stakeholder engagement to ACTION
Find practical strategies to communicate risk to investors and learn how to more effectively tell stories that capture emotion
We look forward to seeing you there!
Contact
: Carla Staden
Tel
: 01342 332016
Click here to enquire via email
Add to Calendar
02/05/2019
03/05/2019
Europe/Paris
ENGAGE 2019
The way sustainability is reported and communicated has changed. Gone are the days when an organisation's CSR progress is confined to a single annual document which is left to gather dust. Today, savvy sustainability storytellers are utilising new, regular reporting tools and innovative communication techniques to build personal engagement and drive meaningful change.With that in mind, edie is bringing together two of its long-running conferences to form a brand-new event in 2019. The Sustainability Communications Conference and Smarter Sustainability Reporting Conference are being combined to create ENGAGE 2019 – a two-day summit incorporating case studies, workshops and interactive discussions.Taking place at the 99 City Road Conference Centre on 2-3 May 2019, ENGAGE 2019 will bring sustainability, reporting, communications and marketing professionals together under one ...

http%3A%2F%2Fbit%2Ely%2F2H7zpyr
London
Carla Staden
carlastaden@fav-house.com
true
DD/MM/YYYY
Visit event website