SECR Masterclass and Seminar
26/09/2019 The British Library, London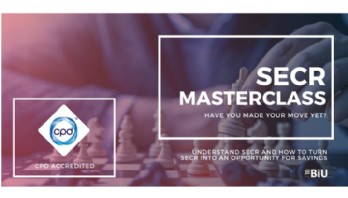 SECR Masterclass
Join us to delve into the SECR compliance objectives with the BiU Masterclass - learn all about the Streamlined Energy and Carbon Reporting compliance obligations and gain insight on how to turn the obligations into profit.
These are formal CPD accredited events to bring you up to speed with the new legislation and how it can impact your energy efficiency and reporting goals and objectives.
What is SECR?
How and when to report for SECR in your financial accounting
How to turn mandatory carbon and environmental targets and compliance into opportunities for profit and planet
How to decide which intensity ratio is the one for your organisation
What methodologies to apply and why
How to use your data in the best possible way what a difference software can make
How to develop a 3-year strategy to harness energy usage data and improve property/site performance
Guest speakers from industry who will provide insight into the very latest technologies that are reducing energy and carbon footprints
Questions & closing remarks
And after closing questions...
Once the masterclass is complete, you'll have an opportunity to speak to one of our BiU Energy Experts along with lunch with us.
What's included?
Firstly, lunch!If you follow us on Twitter, or ever been to our HQ, you'll know we like our food at BiU!
CPD points. A digital certificate will be issued the week following the event.
You'll learn all about SECR, what it is, how it is designed to help reduce your energy consumption and when and how to report on it ready for your financial accounting.
You'll then gain information and insight aimed at your compliance and energy savings needs to improve bottom-line figures and help achieve corporate sustainability/responsibility goals.
You'll see how software can help ease the reporting process and de-risk mandatory/auditable reporting.
Each delegate will receive a takeaway pack with key dates and compliance checklist and how to achieve your next steps for developing your Smart Compliance program.
Who's the event aimed at?
Representatives from companies that are required to report under the SECR mandatory compliance scheme.
Energy and Environmental managers that are looking to reduce their energy and carbon emissions.
Financial Directors and/or Directors that will be required to sign-off their annual accounts (which under SECR are required to disclose their Energy and Carbon SECR Report)
The afternoon session starts with lunch and networking at 12.30pm, with arrivals and registration between 12.00-12.30pm. The masterclass commences at 1.30pm for the afternoon session and concludes by 4.30pm
Further Information
For all questions about the event please email the team at SECRmasterclass@biu.com
Contact
: Jason Thackray
Tel
: 01253789816
Click here to enquire via email
Add to Calendar
26/09/2019
26/09/2019
Europe/Paris
SECR Masterclass and Seminar
SECR MasterclassJoin us to delve into the SECR compliance objectives with the BiU Masterclass - learn all about the Streamlined Energy and Carbon Reporting compliance obligations and gain insight on how to turn the obligations into profit. These are formal CPD accredited events to bring you up to speed with the new legislation and how it can impact your energy efficiency and reporting goals and objectives.What is SECR?How and when to report for SECR in your financial accountingHow to turn mandatory carbon and environmental targets and compliance into opportunities for profit and planetHow to decide which intensity ratio is the one for your organisationWhat methodologies to apply and whyHow to use your data in the best possible way what a difference software can makeHow to develop a 3-year strategy to harness energy usage data and improve property/site performanceGuest...

https%3A%2F%2Fbiuenergy%2Eeventbrite%2Eco%2Euk
The British Library, London
Jason Thackray
SECRmasterclass@biu.com
true
DD/MM/YYYY
Visit event website