The Circular Economy Inspiration Sessions
25/03/2021 13:00 Online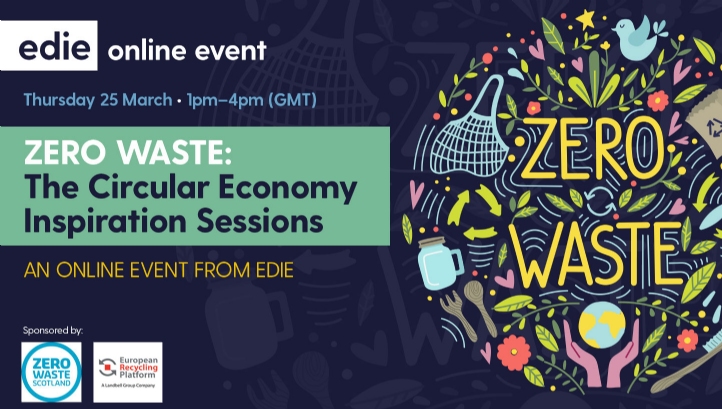 Taking place on Thursday 25 March from 1pm–4pm (GMT), the Circular Economy Inspiration Sessions are targeted at individuals are looking to enhance their approaches and strategies to product manufacturing and procurement to encourage a transition to a circular economy.
This brand-new and exclusive online event will give registrants access to three live and interactive webinar sessions about the circular economy: a big circularity Q&A debate (1pm–2pm); a selection of in-action case studies (2:15pm–3pm); and a 45-minute masterclass (3.15pm–4pm).
Registrants can choose to tune into one, two or all three webinar sessions on the day – and the full collection of sessions will be made available for all registrants to watch on-demand afterwards. You can register for the online event, here.
Add to Calendar
25/03/2021
25/03/2021
Europe/Paris
The Circular Economy Inspiration Sessions
Taking place on Thursday 25 March from 1pm–4pm (GMT), the Circular Economy Inspiration Sessions are targeted at individuals are looking to enhance their approaches and strategies to product manufacturing and procurement to encourage a transition to a circular economy. This brand-new and exclusive online event will give registrants access to three live and interactive webinar sessions about the circular economy: a big circularity Q&A debate (1pm–2pm); a selection of in-action case studies (2:15pm–3pm); and a 45-minute masterclass (3.15pm–4pm).Registrants can choose to tune into one, two or all three webinar sessions on the day – and the full collection of sessions will be made available for all registrants to watch on-demand afterwards. You can register for the online event, here.

https%3A%2F%2Fwww%2Eedie%2Enet%2Fwebinars%2FZero%2DWaste%2D%2DThe%2DCircular%2DEconomy%2DInspiration%2DSessions%2F529
Online
true
DD/MM/YYYY
Visit event website