Which UK cities are climate 'A-Listers' – and why?
CDP has this week published its Cities A List, revealing the global cities that are leading efforts to tackle climate challenges. Here, edie looks at the five UK cities to have made the cut, summarising their green plans and progress to date.
---
Published on Tuesday (18 February), the CDP Cities A List names 105 cities as leaders in the fields of climate adaptation and mitigation, and on transparent climate disclosure.
More than 850 cities reported climate data to CDP last year and, based on analysis of their emissions, climate-related vulnerabilities, mitigation and adaptation plans, they were given an overall grade from 'A' to 'D'. CDP assesses cities because, despite covering just 2% of the world's ice-free land surface, they account for 70% of humanity's annual carbon emissions.
Cities to have secured an 'A' grade range from global destinations like Sydney, Australia; Cape Town, South Africa and Paris, France, to smaller and less populated regions like Lakewood, Colorado; Lahti, Finland, and Flagstaff, Arizona.
In the UK specifically, five cities scored an A – Manchester, Coventry, Leicester, London and Bournemouth. Here, edie explores the actions each of these cities have taken to tackle climate change already and their plans for continuing sustainability leadership in the future.
Greater Manchester
In 2018, more than six months before the UK Government legislated for net-zero by 2050, Greater Manchester Combined Authority set a net-zero target with a 2038 deadline.
Building on this commitment, the local authority last year made it a mandatory requirement for all new buildings across the city-region to be net-zero emissions on an operational basis by 2028. This requirement was complemented by a ban on new fracking projects, ahead of the UK Government's national phase-out. As for existing buildings, the local authority is aiming to retrofit at least 60,000 homes with energy-saving devices annually by 2038.
Given that the achievement of the 2038 aim will require annual emissions reductions of 15%, CDP has said that meeting the deadline will prove to be "no mean feat".
But CDP has also said it is confident in Greater Manchester's ability to deliver large and lasting emissions reductions. The city-region's total carbon footprint fell by 39% between 1990 and 2015, and, since then, multi-million-pound investments have been made in its tram, electricity, walking and cycling infrastructure.
On energy specifically, Greater Manchester Combined Authority is working with Electricity North West to bring 45MW of extra renewable generation capacity to the local grid over the next four years. Soon, schemes to support businesses and homeowners considering onsite generation will be launched. On transport, 23 fully electric buses will be added to the city-region's fleet over the coming months, thanks to investment from the Government's Office for Low-Emission Vehicles.
Coventry
As home to the London Electric Vehicle Company (LEVC) – the UK's only manufacturer of fully electric taxis – Coventry is recognised across the UK and beyond as a hub for low-carbon transport. The city-region will soon play host to a new clean transport lab, which will spearhead research into electric vehicles, biomethane and hydrogen for transport, after a £30m investment was jointly made by German engineering giant FEV and Coventry University.
As home to multiple universities and engineering firms with heavy research and development arms, Coventry is also hotly-tipped to play host to some of the key decarbonisation projects laid out in the Conservative Party's Manifesto, including those in the fields of hydrogen, autonomous vehicles and a circular economy for construction.
Coventry City Council's current climate change strategy expires this year. It is under review and new targets are expected to be published in the coming months.
Published in 2012, the original strategy saw Coventry reduce its emissions by 27.5% against a 1990 baseline over a four-year period, when the local authority initially estimated this decarbonisation would take eight years to deliver. The updated strategy is expected to contain further long and short-term targets – this time in line with the Paris Agreement's 1.5C trajectory – and be headlined by a pre-2050 net-zero target. A zero-carbon homes standard and the creation of a national park are also earmarked for inclusion.
To complement these overarching ambitions, Coventry City Council has made major investments into low-carbon heat networks, energy-efficient street lighting, electric buses and very light rail. The local authority also hosts regular events for businesses which were launched with environmental purpose built-in, and which are striving to improve their environmental impact, in conjunction with Warwickshire County Council.
Leicester
In February 2019, three months ahead of the UK Government's national declaration, Leicester City Council declared a 'climate emergency'. Following consultations with residents, NGOs, business groups and students, the declaration will be fleshed out into a full plan later this year.
The declaration built on the local authority's existing sustainability action plan, which was launched in 2016 and updated in 2017. The plan highlights Leicester's overarching goal of halving emissions by 2025, against a 1990 baseline, and links its goals across the environmental and health and wellbeing spheres.
Since the plan was launched, Leicester City Council has invested heavily in streamlining and electrifying its own vehicle fleet, improving energy efficiency across its estate and cutting emissions from heating council homes.
Beyond the local authority's direct operations, the plan has seen more than 150 SMEs provided with decarbonisation advice; £150,000 invested in LED street lighting; the creation of new communications and incentive campaigns around walking, cycling and public transport; and the launch of a car share scheme called 'Choose How You Move'.
More recent good news announcements include switching to electric buses at the Birstall Park and Ride; investing £340,000 to improve energy efficiency for 269 vulnerable homes; launching a bike hire scheme, expanding the 'eco-schools' programme to 100 locations and extending Green BELLE – a grant for SMEs looking to improve energy efficiency.
London
Under the city's current London Environment Strategy (LES), which sets out a sweeping range of sustainability goals through to 2050, City Hall is aiming for a net-zero London by mid-century.
Steps to achieving this status include increasing London's current solar PV capacity by 20 times by 2050, reducing CO2 emissions by 40% by 2020 against a 1990 baseline, and introducing zero-emission zones in some town centres by 2020, five years ahead of the previous target, to assist businesses with the uptake of electric vehicles.
Since the LES was first published, the IPCC unveiled its landmark report on global warming of 1.5C and 2C and the UK Government set the national net-zero deadline in 2050. In light of these milestones, incumbent London Mayor Sadiq Khan has pledged to move the capital's net-zero deadline forward to 2030 if he is re-elected.
Khan's low-carbon actions to date have included:
In order to meet the 2030 net-zero goal if he is re-elected, Khan has vowed to funnel £50m into a 'Green New Deal' policy framework for London. Such a package would see funding into decarbonising areas such as retrofitting existing buildings, reducing air pollution and decreasing transport emissions increased.
Bournemouth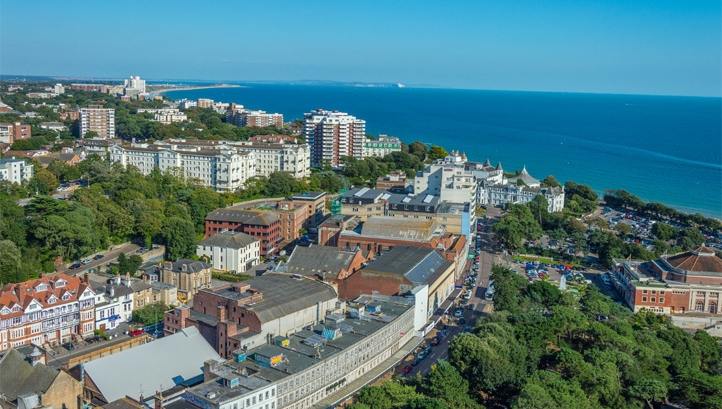 Image: Jack Pease Photography, CC BY 2.0
In 2015, Bournemouth Borough Council set an ambition of reducing area-wide emissions by 30% by 2020. The town exceeded this aim in 2017, prompting it to set a new 2020 target of a 42% reduction. This updated aim is due to be exceeded by the end of the year.
The council has notably signed the Paris Pledge for Action – a commitment which binds it to aligning with the decarbonisation aims agreed in the Paris Accords and supporting local businesses to set and meet their own Paris-aligned targets. Its updated emissions targets, due to be published later this year, will likely see the local authority move from 2C alignment to 1.5C alignment.
Aside from its own emissions, Bournemouth Borough Council has developed two area plans for climate mitigation and adaptation – one short-term and one long-term. Both strategies contain action plans across seven areas which the local authority believes are most likely to be effected by climate risk, namely: surface water and flood management; tourism; public health; council services; sustainable food; green infrastructure and built infrastructure.
On the infrastructure piece, green infrastructure covers not only parks but conserving and restoring farmland, woodland and coastal areas, in order to not only minimise emissions but boost biodiversity and limit flood risks.
Mindful that transport is one of the major contributors to Bournemouth's emissions – and a sector which could also be adversely affected by more frequent extreme weather events – the council is carrying out investigations into adaptation and mitigation for its transport sector this year. Its current transport strategy, developed in conjunction with Dorset Council, includes measures to electrify bus services and the council's fleet; incentivise cycling and electric car journeys to businesses and schools and, crucially, minimise the need for any town-centre travel not made by foot altogether.
Sarah George
© Faversham House Ltd 2023 edie news articles may be copied or forwarded for individual use only. No other reproduction or distribution is permitted without prior written consent.