Which UK cities are leading on climate action – and how?
CDP has this week published its Cities A List for 2020, revealing the global cities that are leading efforts to tackle climate challenges. Here, edie looks at the four UK cities to have made the cut, summarising their green plans and progress to date.
---
Published on Monday (16 November), CDP's updated Cities A List highlights cities across the world which are leading the change on climate adaptation and mitigation – and which have improved their climate disclosure recently. In total, 88 cities made the cut, down from 105 in the last edition.
More than 920 cities, states and regions disclosed climate-related data to CDP this year, in what the organisation has called a record year for transparency and reporting in spite of Covid-19.
Work to compile the A List analyses the emissions, climate-related vulnerabilities, mitigation and adaptation plans of each of these locations. Among the places securing the highest grade were Melbourne, Canberra and Sydney in Australia; Seoul and Hong Kong in Asia; Athens, Paris and Barcelona in Mainland Europe; Rio de Janeiro and Buenos Aires in South America and Los Angeles and Denver in the US.
Four UK locations made the list –  Newcastle, Greater London, Bristol and Bournemouth. Here, edie explores the actions each of these cities have taken to tackle climate change already and their plans for continuing sustainability leadership in the future.
Newcastle
Newcastle didn't make the CDP A List last time around, but has since produced a 2030 action plan to reach net-zero across the city-region.
The plan includes several measures to dramatically change transport across Newcastle, headlined by an ambition to create a "15-minute city" in which all residents can access key services by walking, cycling or affordable public transport. Newcastle City Council also wants to help individuals and businesses transition to electric vehicles and is working with businesses to develop infrastructure and incentive schemes.
Also detailed are plans to reduce energy use in homes by 30% – a target which will be supported by the Green Homes Grant – and to install solar panels on 30% of homes and 60% of non-domestic properties. The council has additionally developed a heat roadmap and earmarked funding for heat pumps in business districts and for social housing.
Offsetting or nature-based insetting will only be used to deal with around 25% of the city region's emissions after 2030 under the plans.
More broadly, Newcastle City Council has committed to embedding the UN's Sustainable Development Goals across the entirety of its policy-setting and delivery processes.
Greater London
The Greater London Authority had initially been targeting net-zero by 2050 – an ambition it announced before the UK Government enshrined the national target in law. Mayor Sadiq Khan has since brought the date forward to 2030, cementing the capital's place on the CDP A List.
A Green New Deal strategy will be developed to help all parts of the city play a role in the transition. Khan has allocated £50m to the creation and delivery of this strategy, which is expected to heavily feature plans around transport, heat and electricity, and nature conservation and restoration.
The strategy will build on the introduction of London's Ultra-Low Emission Zone and associated vehicle scrappage scheme; the launch of London Power, an energy company aiming to make low-carbon energy accessible and affordable for London residents; and the 'Zero-Carbon Home' standard, which was introduced in 2016 and mandates all new build homes to reach net-zero operational emissions by 2025. Khan has claimed that this standard is more ambitious than the Government's 2025 plans for developments across England.
While London may seem an unlikely candidate for climate risk, it is already feeling the impacts of water stress – an issue which is likely to worsen in the coming decades, as the population grows and temperatures increase. CDP believes the city has strong adaptation plans which will only get better with more investment in infrastructure from the central government, which is expected after the National Infrastructure Strategy is published.
Bristol
Bristol is often named in rankings of the UK's greenest cities – and for good reason. Bristol City Council was one of the first local authorities to declare a climate emergency, making its announcement in 2018. It has since committed to delivering a net-zero city-region by 2030 and doubling wildlife in the same timeframe.  
To tackle its operational emissions, the council has invested heavily in renewable energy, energy efficiency, blockchain and battery storage. The local authority's plans for mitigation across the city-region involve working with local communities to embrace innovation in sectors like energy and transport. The City Leap project with Bristol Energy, for example, aims to deliver a net-zero carbon energy system in the city by 2030. The Council also has roadmaps for decarbonising heat and transport.
Having already recorded a 71% reduction in carbon emissions from its direct activities against a 2005 baseline – surpassing a target to reduce emissions by 65% by 2020 – Bristol now has the lowest carbon footprint of any UK city. This places it on good footing to achieve its next targets.
Bristol's ambition reaches far beyond the city-region, however. The council has actively been calling on the UK Government to provide councils with more powers and funding to reach net-zero ahead of the national deadline, and for more long-term policy clarity through packages like the Environment Bill and Heat and Buildings Strategy. It has also pledged to divest from fossil fuel companies.
Bournemouth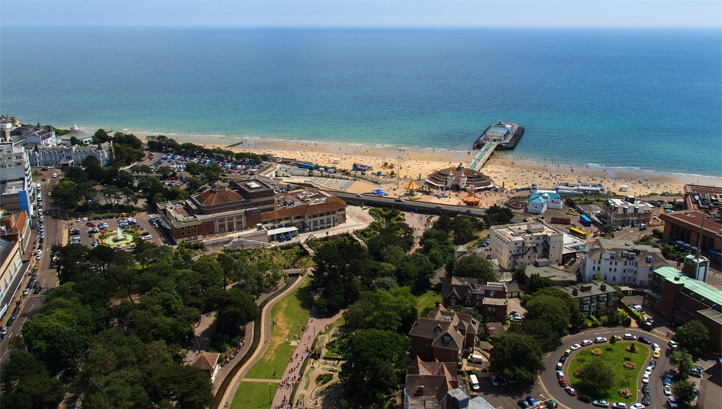 In 2019, Bournemouth, Christchurch and Poole Council declared a climate emergency and committed to achieving net-zero operational emissions by 2030. The wider region is targeting net-zero by 2050, in line with the UK Government's national target.
The local authority is currently consulting with local businesses, trade bodies and residents to develop new roadmaps on carbon reduction, energy efficiency and air pollution, as well as waste management. It is notably a signatory of the Paris Pledge for Action – a commitment which binds it to align with the decarbonisation aims agreed in the Paris Accords and supporting local businesses to set and meet their own Paris-aligned targets. The new roadmaps are likely to be 1.5C-aligned.
Each of the new roadmaps will complement existing area plans for climate mitigation and adaptation – one short-term and one long-term. Both strategies contain action plans across seven areas which the local authority believes are most likely to be affected by climate risk, namely: surface water and flood management; tourism; public health; council services; sustainable food; green infrastructure and built infrastructure.
Bournemouth Borough Council has made strong progress on climate mitigation so far. In 2015, it set an ambition of reducing area-wide emissions by 30% by 2020. The town exceeded this aim in 2017, prompting it to set a new 2020 target of a 42% reduction.
Local leadership
The publication of the CDP A List comes shortly after Carbon Copy revealed that more than half of the UK's local authorities have now set net-zero targets more ambitious than the national 2050 deadline. The organisation uncovered the data using a new interactive map. 
Sarah George
© Faversham House Ltd 2023 edie news articles may be copied or forwarded for individual use only. No other reproduction or distribution is permitted without prior written consent.