Which UK cities are the new climate 'A-Listers' – and why?
CDP has just published its 2021 Cities A-list, with the UK having more than twice as many locations on the list than in 2020. Here, edie looks at the 10 UK cities to have made the cut, summarising their green plans and progress to date.
---
Published today (18 November), the CDP Cities A List names 95 cities as leaders in the fields of climate adaptation and mitigation, and on transparent climate disclosure. It is the first Cities A List to be published since CDP introduced a new requirement for listing – that included areas must be aiming to credibly halve emissions by 2030.
Almost half (48%) of the cities listed in this year's edition are new additions, with the UK seeing the largest year-on-year growth rate of all nations included. Last year, four UK cities made the list. All of them have ranked again this year, and six new locations have been added.
Here, edie explores the actions each of these 10 UK cities have taken to tackle climate change already and their plans for continuing sustainability leadership in the future.
1) Edinburgh (new addition)
Edinburgh is the only Scottish city included in this year's CDP Cities A-List. The City Council has a commitment to reach net-zero by 2030 – 15 years ahead of Scotland's national target. It has also stated that, if this deadline is missed, 2037 will be the "absolute limit" for delivering a local zero-carbon economy. These targets were developed following a Climate Emergency declaration.
Carbon emissions in Edinburgh have fallen by more than 40% since 2005 and, to accelerate decarbonisation, the City Council has put forward a string of proposals for decarbonising transport, existing buildings, new buildings and supply chains.  On transport, a low-emission zone is planned, as is an expansion of the tram network and increased investment in electric vehicle (EV) charging, walking and cycling.  
The City Council has also updated its climate adaptation plan recently, after the old plan – the city's first – ended in 2020. Additionally, it has joined other councils in calling for the UK to move its legally binding net-zero target forward to 2045. 
2) Newcastle
Like Edinburgh, Newcastle has a 2030 net-zero plan, including several measures to dramatically change transport across Newcastle, headlined by an ambition to create a "15-minute city". Newcastle City Council also wants to help individuals and businesses transition to electric vehicles and is working with businesses to develop infrastructure and incentive schemes.
Also detailed are plans to reduce energy use in homes by 30% and to install solar panels on 30% of homes and 60% of non-domestic properties. The council has additionally developed a heat roadmap and earmarked funding for heat pumps in business districts and for social housing.
Offsetting or nature-based insetting will only be used to deal with around 25% of the city region's emissions after 2030 under the plans.
3) Sunderland (new addition)
Last December, Sunderland City Council launched a low-carbon framework, seeking support from businesses and other organisations for a new 2040 carbon-neutrality goal and the development of 1.5C-aligned interim targets. The framework sets a 2030 net-zero goal for the council's own operations and a 2040 goal for the region.
The City Council has made the A-List in its first year of disclosure to CDP. After meeting a target to reduce CO2 emissions by 34% against a 2006-07 baseline by 2002, the framework maps out the next steps for upgrading infrastructure and technology while enabling behaviour change. Specific schemes and sector-specific targets on decarbonisation will be forthcoming following consultations.
4) Greater Manchester (new addition)
In 2018, more than six months before the UK Government legislated for net-zero by 2050, Greater Manchester Combined Authority set a net-zero target with a 2038 deadline.
Building on this commitment, the local authority last year made it a mandatory requirement for all new buildings across the city-region to be net-zero emissions on an operational basis by 2028. This requirement was complemented by a ban on new fracking projects, ahead of the UK Government's national phase-out. As for existing buildings, the local authority is aiming to retrofit at least 60,000 homes with energy-saving devices annually by 2038.
On transport, the region has expanded its Metrolink tram network significantly, with passenger numbers now four times higher than in 2015. It has also established more than 80 cycling and walking schemes as part of the city-region's Bee Network.
The council made the CDP A-list in 2019 before dropping off in 2020.It has disclosed sustainability data through CDP since 2012.
5) Nottingham (new addition)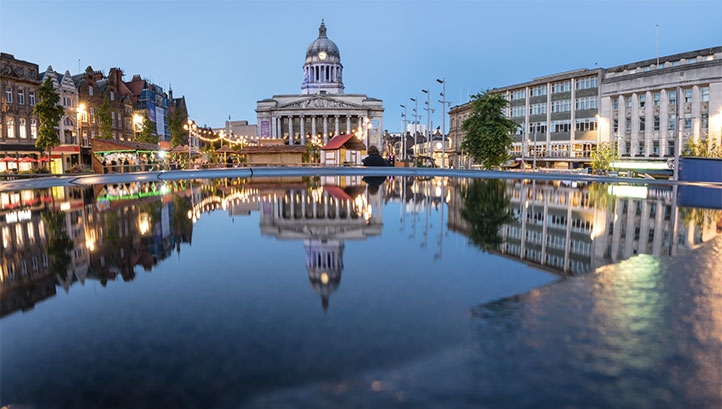 Nottingham City Council has set what is believed to be the most ambitious carbon neutrality commitment for a UK city, with a 2028 deadline.
The City recorded emissions reductions of 41% between 2005 and 2020, and also surpassed its 2020 target of procuring 20% of its energy generation from low-carbon sources.
Building on these successes, an action plan through to 2028 was published last year. It states that the 2028 goal "can only hope to succeed if it is something the whole city can embrace, engage with and be involved in". Among other things, it details proposals to improve transport network integration and support remote working; explore all-electric freight; improve the City Centre Clean Air Zone; research low-carbon heat networks; retrofit buildings and increase the self-generation of renewable electricity.
6) Leicester (new addition)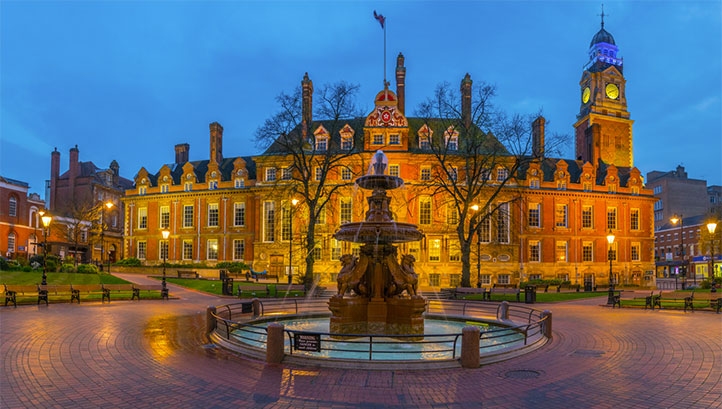 Leicester declared a Climate Emergency in 2019 and, less than a year later, published plans for decarbonisation and adaptation priorities through to the Spring of 2023. These will support the delivery of carbon neutrality for the city and council by 2030.
The council had reduced its own emissions by more than 57% since 2009 prior to the publication of the plans, which cover six key decarbonisation priorities: homes, transport, consumption and waste, workplaces, land use and council operations.
On homes, the Council moved ahead of the Heat and Buildings Strategy, promising £3.2m per year for a boiler upgrade scheme and developing programmes for rooftop solar and electric heating.
7) Bristol
Bristol is often named in rankings of the UK's greenest cities – and for good reason. Bristol City Council was one of the first local authorities to declare a climate emergency, making its announcement in 2018. It has since committed to delivering a net-zero city-region by 2030 and doubling wildlife in the same timeframe.  Also in this timeframe, it is striving to deliver a net-zero carbon energy system through its City Leap Project with Bristol Energy.
To tackle its operational emissions, the council has invested heavily in renewable energy, energy efficiency, blockchain and battery storage. The local authority's plans for mitigation across the city-region involve working with local communities to embrace innovation in sectors like energy and transport.
8) Bournemouth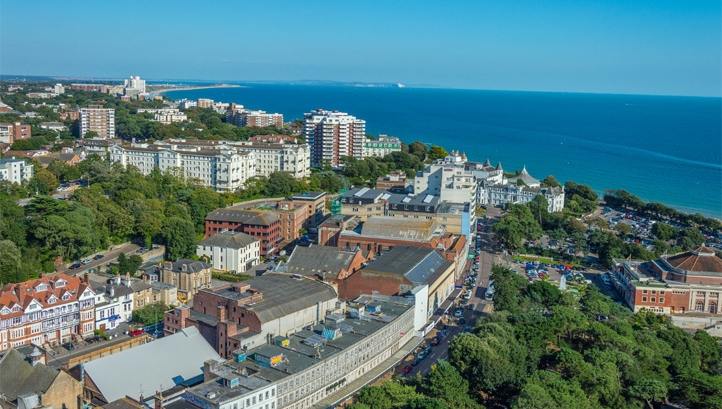 Image: Jack Pease Photography, CC BY 2.0
Bournemouth, Christchurch and Poole Council first made the CDP Cities A-List in 2020. The Council has committed to achieving net-zero operational emissions by 2030 and the wider region is targeting net-zero by 2050.
When these goals were set in 2019, the Council put forward a 153-point action plan for delivery, including procuring 100% renewable energy, scaling up nature-based solutions, decarbonising transport systems and cracking down on greenwashing from energy providers. According to the Bournemouth Echo, the Council has been moving more rapidly than others across the UK on installing low-carbon heating systems.
The plans have a solid baseline; emissions across the area decreased by 30% between 2015 and 2017.
9) Greater London
City Hall had initially set a 2050 net-zero target for the capital before the national Government legislated for this. It has since moved the target date forward to 2030 and developed a range of scenario plans that could be used to meet this deadline in a 1.5C-aligned manner.
Decarbonisation actions undertaken by London Mayor Sadiq Khan to date have included:
Introducing and subsequently expanding the Ultra-Low Emission Zone (ULEZ)
Introducing the 'Zero-Carbon Home' standard, which mandates all new build homes to reach net-zero operational emissions by 2025
Launching a £50m Green New Deal Fund framework to scale sectors including solar installation, electric transport and low-carbon heat technology installation
City Hall claims that London's green economy is the biggest in the UK, covering more than 5% of jobs in the capital.
10) Southend-on-Sea (new addition)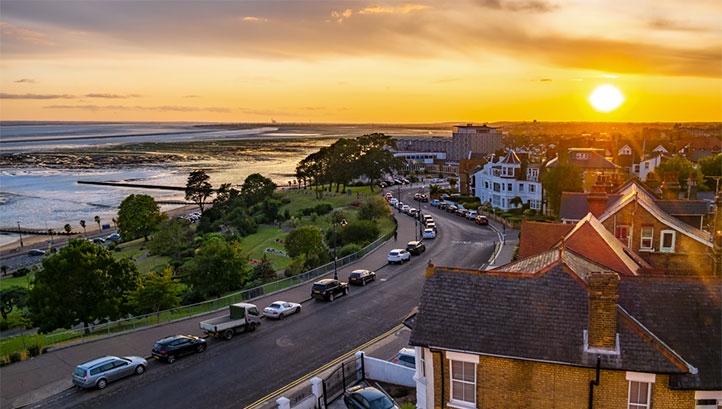 Southend-On-Sea Borough Council declared a climate emergency in 2019 and published an updated Green City Action Plan this January, with a headline plan to deliver a net-zero council by 2030 and a net-zero region ahead of the national deadline.
On council emissions, all electricity tariffs have been switched to green options and an energy efficiency programme through to 2026 has been drawn up. The educational and healthcare estates are being treated as a priority.
On regional emissions, the Council has received funding from UK Research and Innovation and support from academics to develop a smart, local energy system including renewable generation, battery storage, low-carbon heat and electric mobility. Electricity and heating for businesses and homes account for more than 80% of the area's carbon footprint, making this the key focus area. Consultations are also underway to inform the development of new EV charging, walking, cycling and energy-efficient street lighting schemes.
Bristol, Sunderland, Leicester and Newcastle were also this week included in Orega Offices' assessment of the ten least polluted cities in the UK. That ranking took into account access to green spaces and air pollution. 
Sarah George
© Faversham House Ltd 2023 edie news articles may be copied or forwarded for individual use only. No other reproduction or distribution is permitted without prior written consent.