World Green Building Week: 11 of the best innovations for a better built environment
To mark World Green Buildings Week (20-24 September) edie and its new content partner Springwise have rounded-up some of the most innovative solutions available that are helping to improve sustainability across the built environment sector.
---
With the built environment responsible for around 40% of global emissions, it is one of the key sectors that will either hinder or help progress towards net-zero emissions.
Earlier this month, the World Green Buildings Council (WorldGBC) unveiled an update to its longstanding Net Zero Carbon Buildings Commitment, that aims to ignite a "reduction-first" approach to decarbonisation to halve emissions from the sector by 2030 and tackle lifecycle emissions.
This collective effort will require unprecedented levels of innovation. To mark World Green Buildings Week (20-24 September) edie and its new content partner Springwise have outlined some of the most innovative solutions that are emerging. Enjoy.
PLATFORM USES AI TO OPTIMISE BUILDING SPACE AND REDUCE CARBON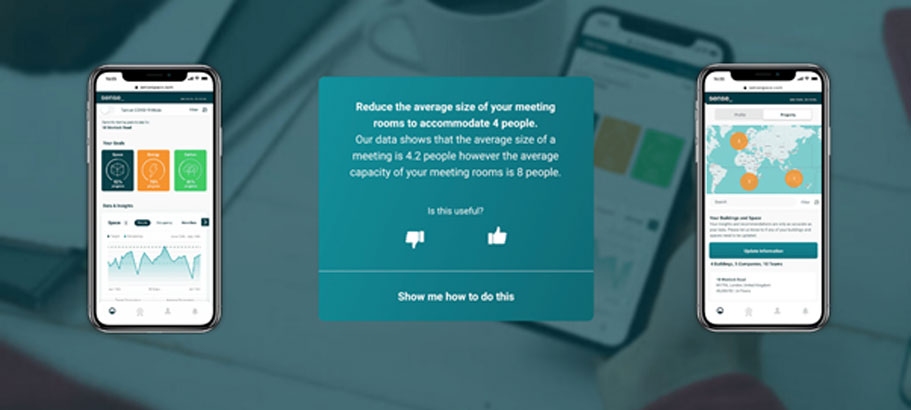 Photo source sense_
The British architectural design studio spacelab_ has developed a building management platform that aims to provide actionable insights based on various data sets that are monitored in real-time. The sense_ platform's algorithms translate the data into specific recommendations related to space occupancy, energy consumption, carbon usage and air quality.
It allows users to set "space goals", which are continuously monitored to measure their building's performance. The platform can then let users know how much space they actually need. One key feature promises to reduce a building's energy consumption by up to 40%. sense_ does this by connecting to the building's BMS (building management system) software, which controls heating, cooling and ventilation. The platform can then automatically adjust the BMS to increase efficiency and reduce energy usage via machine learning.
Everyone loves useful data, but as spacelab_ points out, there's so much data never gets used. sense_'s ability to translate complex data into useful actions is what makes it a worthy solution for building managers. Particularly when it comes to a building's environmental impact — they generate almost 40% of global CO2 emissions — the ability to fine-tune a building's management system in real-time to reduce energy consumption seems like a no-brainer feature all buildings should have.
PLATFORM HELPS ARCHITECTS ESTIMATE CARBON EMISSIONS OF PLANNED BUILDINGS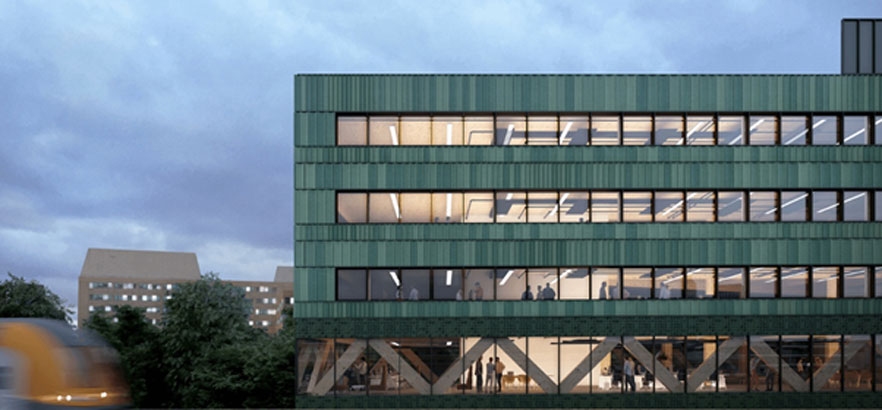 Photo source Feilden Clegg Bradley Studios
Architects are placing themselves at the forefront of a movement to develop carbon neutral and carbon negative buildings. Architecture and design studio Feilden Clegg Bradley Studios (FCBS) is working to make this easier with their development of a free tool called FCBS Carbon, which helps architects to estimate the whole-life carbon emissions of a planned building.
Whole-life carbon emissions refer to the CO2 emitted during the entire lifespan of a building. Knowing the whole-life emissions can allow architects to fine-tune their designs in order to produce fewer emissions. The FCBS Carbon tool helps architects to quickly and easily produce a spreadsheet of a building's potential environmental impact. Architects can then see how changes to plans and materials affect the carbon footprint.
The tool grew out of the Architects Declare initiative, which produced a commitment, signed by major architecture firms, to help alleviate the climate crisis by working to minimise waste and achieve net-zero carbon in all new building projects.  It could also help architects to meet the RIBA 2030 Climate Challenge, which calls for all new and retrofitted buildings to achieve net-zero whole-life carbon.
MODULAR, ZERO-CARBON HOME DESIGN IN CAPE TOWN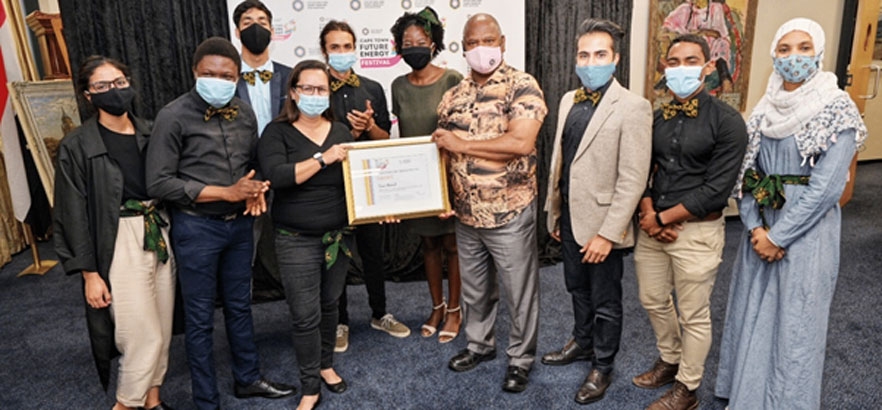 Photo source City of Cape Town
Cape Town is working towards becoming carbon neutral by 2050 and has committed to all new buildings being net-zero carbon by 2030. To meet this goal, the country's architects will need to focus on sustainable and resilient designs.
A team of recent graduates and young professionals have won first place in the Green Building Council of South Africa's (GBSCA) design, which takes place in Cape Town. The My Clean Green Home competition challenges teams of designers to create the ultimate "clean, green home". Team Mahali won the competition for their "Mahali Hub" – a net-zero carbon home.
This was not the first time Team Mahali had demonstrated their prowess with sustainable design. In 2019, the team was awarded second place for architecture and design at Solar Decathlon in Morocco, an international design competition that challenges university students to develop an architecture that incorporates renewable energy.
Team Mahali's design for the My Clean Green Home competition consisted of a modular "house in a box" made from upcycled and locally available materials. It includes rainwater harvesting, solar power generation, passive cooling and a food garden. A full-sized Mahali Hub will be constructed and displayed as part of the festival.
PAINT MADE FROM CEMENT SEQUESTERS CARBON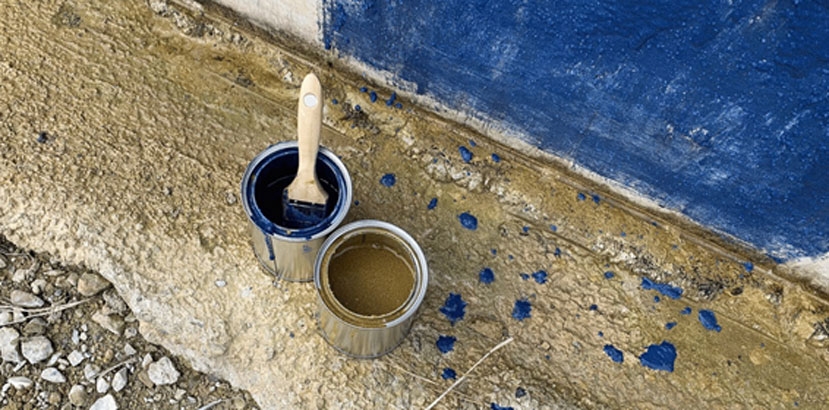 Photo source bongbong.work
Although the making of cement produces huge amounts of carbon emissions, studies show that cement actually absorbs around 43% of this over its lifetime through the mineral carbonation process. However, this process is reliant on the cement being exposed to air, which means that only the outer layers of the cement will undergo mineral carbonation.
Celour paint was developed by Royal College of Art and Imperial College London graduate Kukborg Kim, who created the paint using waste concrete powder. This is a cement-based residue comprised of calcium oxide, which is leftover from concrete recycling.
The cement residue is normally buried in landfills, where it can leach into the soil and turn it alkaline, consequently damaging the local environment. However, when mixed into paint, the powder can undergo mineral carbonation. This is the formation of stable carbonates by the reaction of CO2 with minerals in the cement. The carbonation process effectively sequesters carbon in the air and has been used in a number of other CO2 sequestration projects.
To create the indoor-outdoor paint, Kim filters the powder, pulverises and mixes it with a polyvinyl alcohol binder, water and various pigments. Once applied to a wall, Kim claims that the paint is capable of sequestering 27 grams of CO2 for every 135 grams of paint used. Kim also claims that the paint could allow carbon to be locked away almost indefinitely unless exposed to extreme heat.
SWISS CARBON-NEUTRAL BUILDING CAN ADAPT TO THE CLIMATE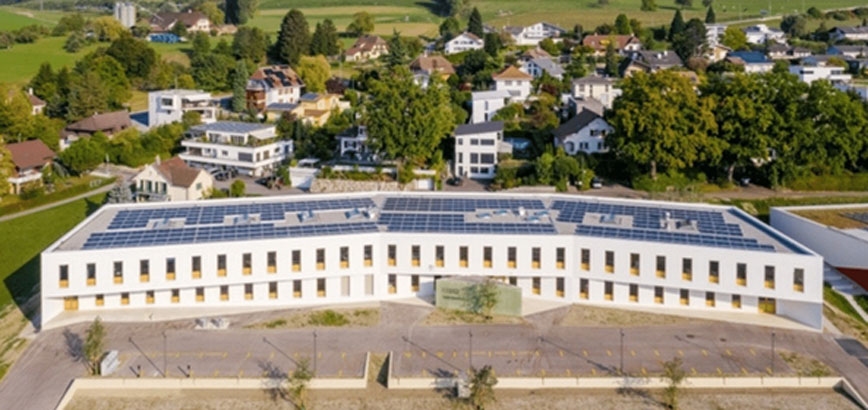 Photo source Sonova Holding
Accommodating around 180 employees and built using mainly renewable materials, the new Sonova Wireless Competence Centre in Murten operates carbon-neutrally and adapts to the outside climate.
Made of a single wythe of climate-neutrally manufactured blocks, the building's façade is designed to retain energy and moisture. The walls and ceilings are coated in pure lime putty, which purifies the air indoors and regulates atmospheric humidity, while the building's photovoltaic panels generate 260,000 kilowatt-hours of energy per year, a higher output of renewable and carbon-neutral electricity than is required to run it. This surplus capacity is fed back into the grid and made available to other consumers.
Furthermore, the building regulates itself by absorbing heat and releasing it again when the outside temperature increases. This process is achieved via a natural ventilation system, whereby controllable flaps on the windows facilitate the circulation of fresh air. Each window's surface area is specifically sized so as to admit the maximum amount of natural light, thereby reducing the demand for artificial lighting, and ensuring that the building does not overheat. 
A LOW-CARBON CORPORATE HEADQUARTERS USES LOCATION TO ITS ADVANTAGE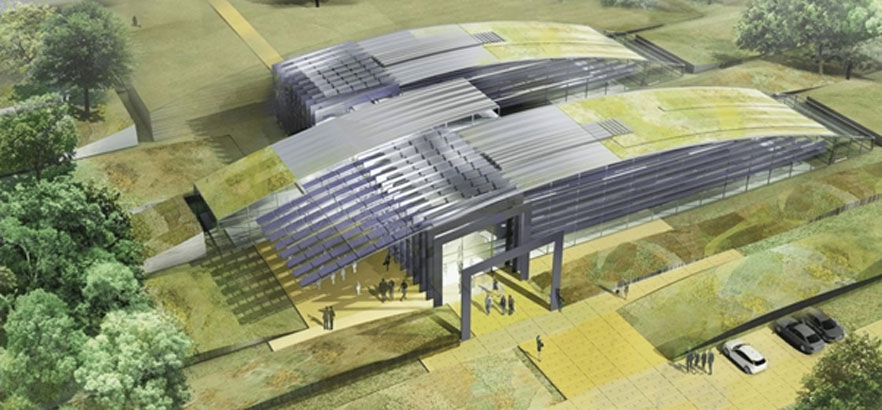 Photo source Scott Brownrigg
International non-profit Centre for Agriculture and Bioscience International (CABI) is dedicated to solving problems related to agriculture and the environment by using their scientific expertise. So, when CABI wanted a new headquarters, they knew that it was important to have a design that reflected their mission. The result is a model for sustainable buildings, based in Wallingford, UK.
Designed by Scott Brownrigg architects, the innovative design echoes CABI's commitment to creating a more sustainable world by leaving less of a carbon footprint and minimising the environmental impact.  The building's location and orientation were chosen to provide shade in the summer and to maximise sunshine during the winter. A photo-voltaic solar array will help provide energy, and roof-lights will reduce demand for electric lighting and help to lower CO2 emissions.
The building itself incorporates a variety of low-carbon features, including a perforated façade which provides natural ventilation, while a heat recovery system pre-warms the air during the winter months. The building's most striking aspect, however, is its living roof, which will attract birds and insects and enhance the area's biodiversity. Cypress trees, native hedgerows, perennial flowers and even a meadow have been planted to attract a broad range of insects, birds and other wildlife.
DANISH HOTEL TO ADD A CARBON-NEGATIVE EXTENSION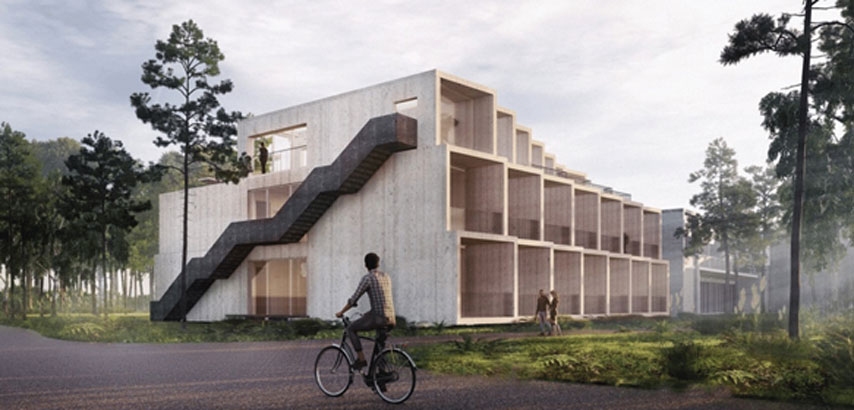 Photo source 3XN
According to the International Environment Agency, the construction industry accounts for around 40% of the world's CO2 emissions, with concrete alone accounting for around 8% of this.
Hotel GSH, located on the Danish island of Bornholm, is building an extension which they claim will be Denmark's first carbon-negative building. Carbon-negative buildings are designed to absorb more carbon than they consume during their lifetime. The structure was designed by architecture studio 3XN and its sister studio GXN. The new wing includes 24 rooms, a conference centre and a rooftop spa.
To achieve a carbon negative structure, the extension will be built using a cross-laminated timber structure, insulated with wood fibres and clad in wooden panels. The building will use passive design to provide ventilation – the skylight windows and open areas will eliminate the need for mechanical cooling. The building components are also designed for reuse with reversible joints, to reduce waste.
Waste will also be reduced by building furniture from the wood offcuts of construction and debris from local granite quarries. Solar energy will provide heating for the water, and renewable energy will be used for power.
SOCIAL HOUSING IN PARIS USES HEMPCRETE TO LOWER CARBON FOOTPRINT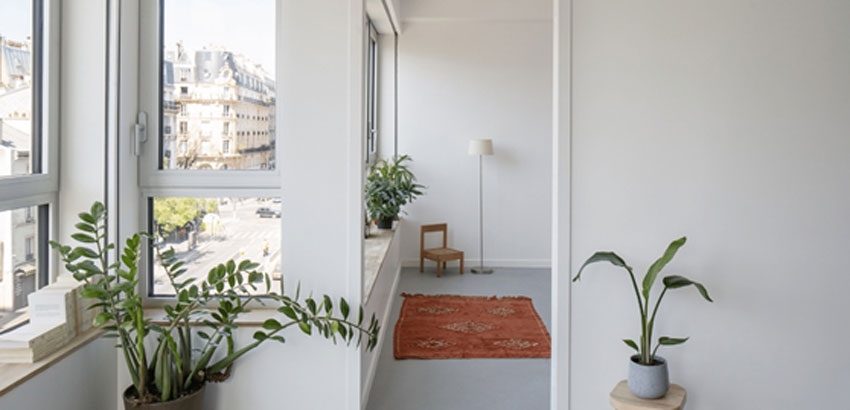 Photo source Barrault Pressacco
French architecture firm Barrault Pressacco created a new building in Paris' 18th Arrondissement for 15 social housing apartments and two ground floor shops. The structure includes two central courtyards that enhance natural lighting as well as provide semi-private outdoor space for residents. Each apartment has bay windows overlooking the street and additional windows that look into the courtyards. 
The wood-framed building uses hempcrete instead of concrete for the walls, and, as a result, already conforms to newly enacted government regulations regarding the sustainability of all new public construction projects. The hempcrete is applied as a spray in layers within the frame before being finished with an interior of lime rendering.
Hempcrete is an excellent insulator and is a much lighter weight building material than concrete. It also absorbs moisture, making it particularly useful in humid climates and as a means of reducing the likelihood of interior mould.  Although the material cannot bear as much weight as can concrete, its eco-credentials far outweigh this drawback. The lightness of the material makes it much easier to transport and move, and for regions that experience regular strong weather conditions, it is much safer than concrete. Concrete is brittle whereas hempcrete has the ability to flex without breaking. Add in the ease with which hemp grows, and the ability to use hemp plant waste in construction and the possibilities for its use appear numerous. Hemp is also one of the few substances able to continue absorbing carbon after being used in construction. 
CROSS-LAMINATED TIMBER ADDS STABILITY TO BUILDINGS AND REDUCES WASTE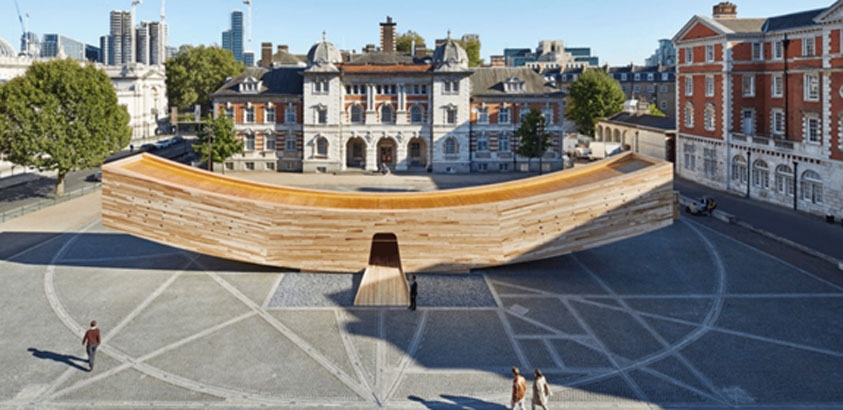 Photo source Alison Brooks
The hottest new sustainable building material is actually an age-old building material – wood. Wood fell out of favour as a building material in the U.S., especially for constructing larger buildings, after disasters like the Chicago Fire of 1871. It was supplanted by steel and concrete construction instead. However, a method called cross-laminated timber (CLT) has been catching the eye of architects around the world.
To create CLT, lumber boards are glued together in layers, with the grain of each layer facing against the grain of the layer adjacent. The method is used to create slabs up to a foot thick, 18-feet-long and 98-feet-wide. These wood slabs can actually match or exceed the performance of concrete and steel, are very hard to ignite in a fire, remain stable in an earthquake, allow buildings to be constructed faster, and result in lower costs and less waste.
CLT was developed in the early 1990s in Austria and has been used extensively in Europe. However, it was slow to catch on in the US until recently, when CLT was incorporated into International Building Code. Since 2015, real-estate developers like Anyeley Hallová and architects like Thomas Robinson of Lever Architecture have been incorporating CLT in an increasingly wide range of projects. Hallová Lever worked together to design a 60-unit high-rise building in Portland, Framework, and demonstrate the possibilities of constructing multi-story buildings out of wood.
HYDROGEN-POWERED CEMENT PRODUCTION TO REDUCE CARBON EMISSIONS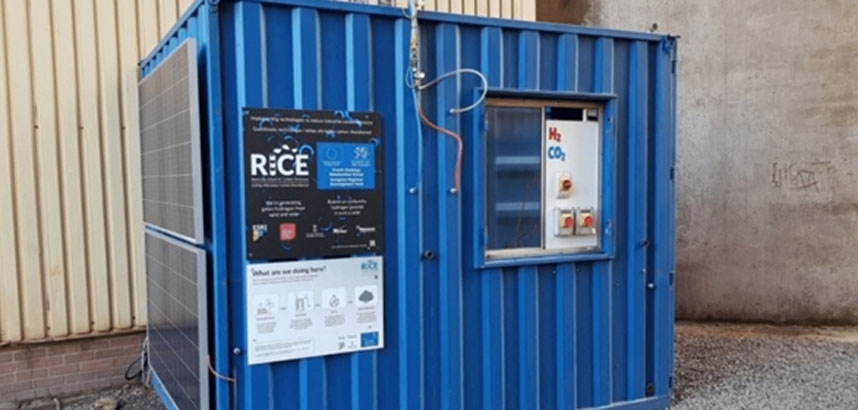 Photo source Hanson UK
In the UK, cement is the source for 1.5% of CO2 emissions, with the number predicted to rise by a quarter by 2030. With these increasing numbers in mind, cement producer Hanson UK have been working with researchers at the Energy Safety Research Institute at Swansea University to develop a new hydrogen demonstration unit. The unit generates green hydrogen through renewable energy and has been installed at the company's Regen Ground Granulated Blast Furnace Slag (GGBS) plant in Port Talbot in south Wales. Hanson's aim is to replace some of the natural gas that is used to power the plant with green hydrogen, a cleaner source of energy that only emits water when burned.
The main component of Portland cement is clinker, the production of which is energy-intensive due to the high temperatures required. Hanson's Port Talbot plant produces Regen GGBS, which is used as a replacement for up to 80% of the cement in concrete and has a carbon footprint that is one-tenth of Portland cement. The demonstration unit produces hydrogen through electrolysis. This process generates renewable energy through wind and solar on-site, where they are then directed into the electrolyser or water splitting device, to be split into hydrogen and oxygen. The hydrogen is then passed into the burner to enrich the combustion mixture, ultimately preventing carbon emissions from being produced out of the burning of natural gas.
SOUTH AFRICAN PRESIDENTIAL LIBRARY TO BE BUILT SUSTAINABLY WITH ANCIENT TECHNIQUES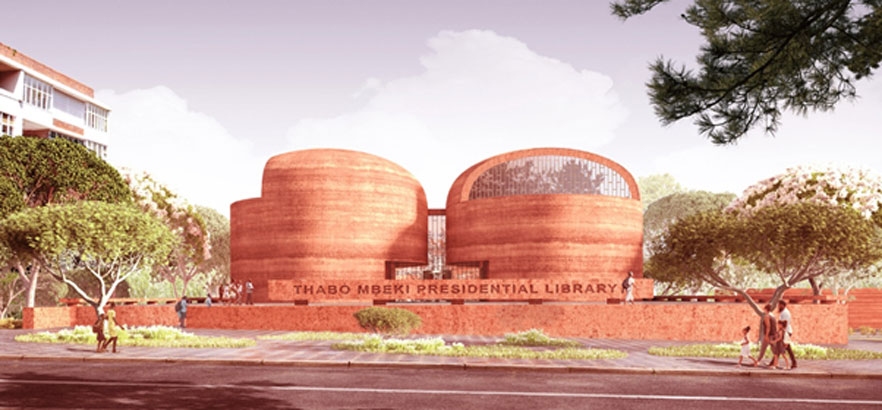 Photo source Adjaye Associates
Founded in 2000 by British-Ghanian architect Sir David Adjaye, architecture studio Adjaye Associates has designed the Thabo Mbeki Presidential Library, which will be built in Johannesburg. The building will pay homage to South Africa's second post-apartheid president and aims to celebrate ancient and contemporary African history.
An eight-domed structure, built to resemble traditional African granaries, will be punctured by a geometric aperture at roof level, in order to create different lighting conditions. Alongside the library, the building will also house a research centre and museum, as well as seminar rooms, a reading room, an auditorium and temporary exhibition spaces.
The 5,400 square metre Thabo Mbeki Presidential Library will be built using locally sourced mud in an attempt to reduce its carbon footprint, along with portions of timber cladding harvested from native wood species, and terrazzo flooring crafted from local stone. To further minimise the building's carbon emission when in use, Adjaye Associates plans for it to utilise rooftop photo-voltaic solar panels to generate electricity. A geothermal heating system is also planned and will work in tandem with the thermal mass of the rammed earth walls, to regulate the building's temperature.
 edie staff
© Faversham House Ltd 2023 edie news articles may be copied or forwarded for individual use only. No other reproduction or distribution is permitted without prior written consent.