World Green Building Week: Ten of Europe's most eye-catching sustainable buildings
To mark World Green Building Week, edie is showcasing ten European buildings with best-practice sustainability credentials.
---
Recent research from global design and architecture firm Gensler laid bare, once more, the climate impacts of the built environment sector, concluding that existing buildings and new construction projects accounted for 40% of man-made greenhouse gas (GHG) emissions and 50% of energy use globally in 2018.
Transforming buildings is therefore crucial to meeting global climate goals – but with the population set to surpass 10 billion for the first time by 2050, and with an ever-greater proportion of humanity set to choose city living over the next three decades, this will be no mean feat.
In order to foster this transformation, the World Green Building Council hosts World Green Building Week each September. Through this event, which this year aligns with the UN's Climate Summit in New York, the body calls on all firms in the sector to set ambitious targets that eliminate carbon emissions for building portfolios by 2030. This year, the body is honing in on embedded, as well as operational, emissions, and has been encouraging members to adopt an activist stance on climate issues.
While the challenge ahead is clear, it's important not to ignore progress made and to turn to examples of best practice when shaping our own projects and strategies. With this in mind, this round-up spotlights ten buildings which are considered to be among the most sustainable in Europe – without compromising on functionality or aesthetics.
Bloomberg's London HQ
Bloomberg has described its London office, 3 Queen Victoria Street, as its "greatest achievement in sustainability yet".
The building, which received 98.5% in BREEAM's assessment to be certified as 'Outstanding', uses 73% less water and 35% less energy than comparable facilities, generating 35% less carbon emissions in the process. These savings are driven partly by the structure of the building itself – it's centred around a spiral staircase, made using sustainably sourced wood, and features a ceiling which employs biomimicry – and partly due to its natural ventilation system and onsite water treatment facility for rainwater.
To convey these benefits to visitors, the building is fitted with a green "living wall" of plants and features several decorative elements which use biomimicry principles.
Image: Bloomberg
Cambridge's 'Eco-Mosque'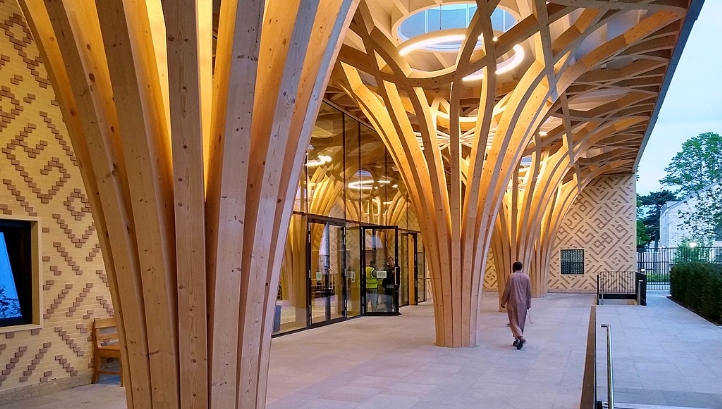 Designed by the architecture firm behind the London eye, the UK's first 'eco-mosque' is designed to be a "calm oasis" for worshippers, in line with placing nature and connection at the heart of modern faith.
The Cambridge Mosque can host up to 1,000 worshippers at ant one time and is made using sustainably sourced wood and low-carbon materials. It is powered entirely using locally generated renewable electricity and is fitted with features such as large skylights and passive heating and cooling systems to minimise energy consumption.
Among its most eye-catching features is the adjacent community garden, where more than 20 cypress trees have been planted with the aim to create a "permeable green edge" to the site. Other built-in features include parking for 300 bicycles and a rainwater harvesting system. Water harvested in this way is used for flushing and irrigation.
The building cost £23m to construct and this sum was largely raised through charitable donations.
Image: Marks Barfield
Belgium's largest solar roof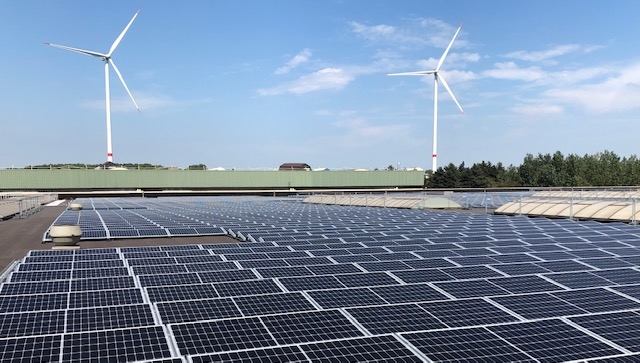 Onsite solar is becoming increasingly prevalent among British buildings, with recent research from Centrica Business Solutions finding that 80% of UK businesses with onsite arrays are planning to expand them in the next five years.
The benefits of onsite solar can be seen in action at ArcelorMittal's flagship complex in Ghent, where the last of 27,000 solar panels were recently installed on the roof. The array will generate 10,000 MWh of power annually and will complement the complex's existing ten wind turbines and two additionally turbines, currently in the planning stage.
The plant has succeeded in reducing its emissions by 25% to date, against a 1990 baseline – a feat which ArcelorMittal claims is in line with the Paris Agreement. But with the firm striving to become carbon-neutral by mid-century, further transformation is expected at the facility.
Image: Eneco
The Crystal, London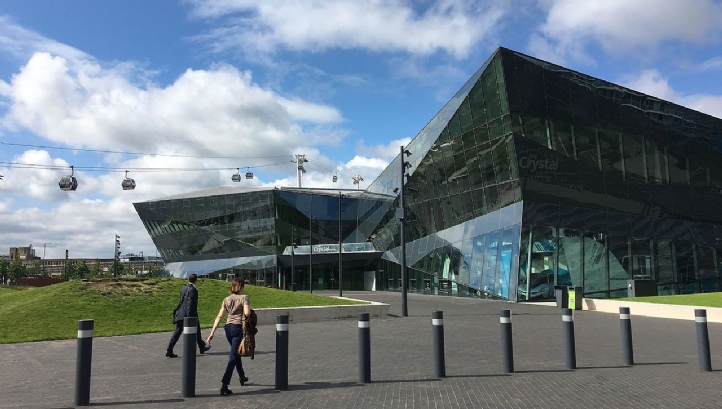 Siemens opened the Crystal in 2012 as a global hub for debate on sustainable living and development.  The 18,000 sqm site on Victoria Dock in East London is covered by the area's Green Enterprise District policy and is, therefore, required to lead by example in terms of sustainability.
Siemens claims the BREEAM Outstanding and LEED Platinum facility is the most sustainable events venue in the world. Its built-in features include triple-glazed windows, onsite solar generation, a 199-pipe ground-source heat pump system, a digital building management system and a rooftop rainwater harvesting array. Once water is collected on the roof, it is sent underground to a 30m3 storage tank for use in toilets.
The purpose of The Crystal is to prove that the technologies it showcases are desirable for modern, future-proof buildings – a message conveyed not only through its design but through its contents. It is home to a permanent exhibition about sustainable urban development and is often used by members of the green economy to host events.
Image: TheCrystal.org
One Angel Square, Manchester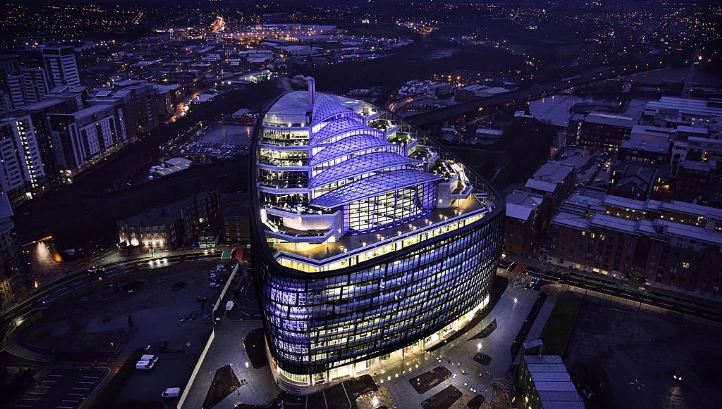 The Co-operative Group's headquarters is another BREEAM Outstanding building and has been compared, in terms of aesthetic, to a ship or a sliced egg. In sustainability terms, it generates more renewable energy than it consumes and produces net-zero operational carbon emissions.
One Angel Square has been to accommodate 4,000 employees at any one time, largely in open-plan space lit using LED lighting and windows that maximise passive solar gain.  Its electricity demands are met entirely through onsite energy generation and its heat needs through a CHP system that runs on rapeseed oil grown on The Co-operatives own farmland.
Rainwater harvesting, greywater recycling, waste heat recycling and adiabatic cooling systems are among its other green features.
Image: CC BY 2.0, https://commons.wikimedia.org/w/index.php?curid=27839486
'The Tube', Tilburg, Netherlands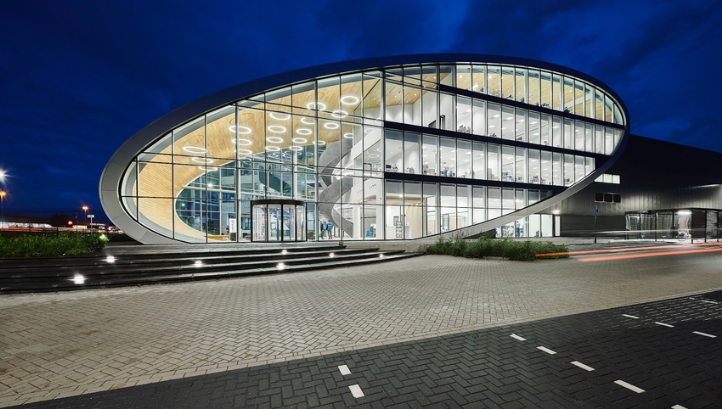 'The Tube's' official name is NewLogic III, but it's not hard to tell how it earned its nickname. It's owned an operated by logistics company Rhenus, which uses it as its head office and main distribution centre.
Aside from its eye-catching design, the building boasts triple-glazed windows, extra insulation, a ground-source heat system and automatically controlled LED lighting. EV charging points and a building management system which regularly monitors energy use, water consumption and CO2 concentrations are also built-in.
Given that the roof of The Tube is fitted with 11,600 solar panels, the building generates more electricity than it consumes and sends the surplus back to the grid. Rhenus claims that this makes the building "energy-positive".
'The Edge', Amsterdam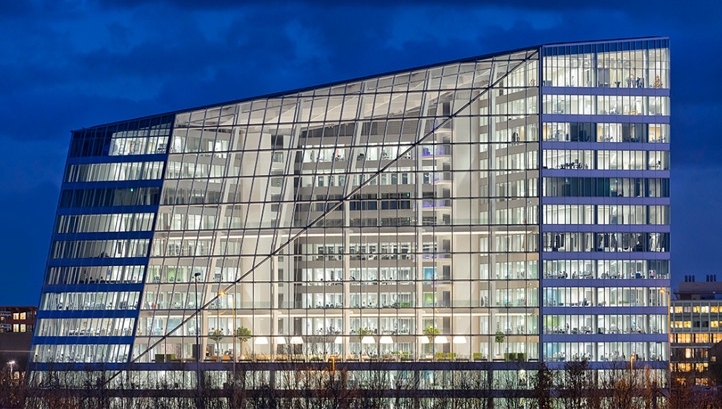 Deloitte's 15-storey Amsterdam headquarters has been hailed as the most sustainable office block in the world; the 40,000sqm building is certified as BREEAM Outstanding, having scored 98 points out of a possible 100.
Designed by PLP Architecture, 'The Edge' resembles a giant glasshouse, minimising the energy consumption required for lighting. The south façade is notably covered in a solar film which generates the electricity needed to power the office's ethernet-connected LED lighting. This ethernet system uses lights as sensors as well as bulbs, transmitting data to control the energy management grid.
As for heating, an aquifer thermal energy storage system has been installed under the building and is used when the passive ventilation system needs a boost. The soil under the site also plays host to rainwater harvesting technology.
Image: Richard Tilleman
SEAT's Martorell plant, Barcelona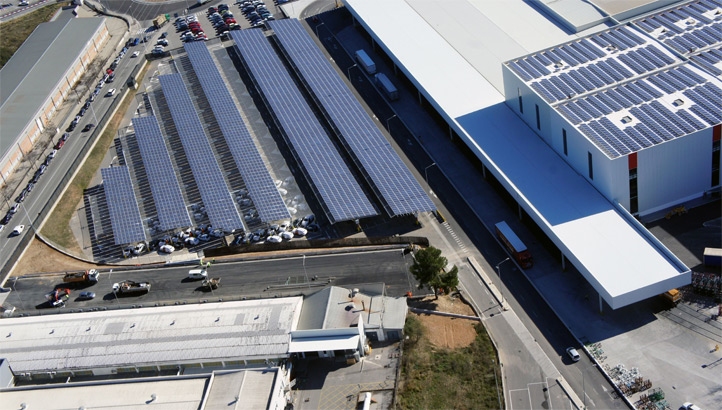 A car manufacturing plant is probably not the kind of building you'd expect to be particularly eye-catching or sustainable.
But SEAT's 2.8 million sqm production facility near Barcelona is not just the workplace of more than 7,000 people – it also acts as a testbed for green technologies, such as 30,000 sqm of self-cleaning and pollution-trapping pavements. The photocatalytic paving slabs, which are made by applying titanium dioxide to cement, convert pollutant nitrous oxides (NOx) into water-soluble nitrates when they are exposed to light, oxygen and NOx at the same time. 
The facility is also home to the global automotive industry's largest rooftop solar array – the 53,000 solar panels on the rooftops of the workshops and the temporary vehicle holding areas generate 15 million kWh of clean power each year – and a combined heat and power (CHP) unit, which generates 90% of the heat and 50% of the electricity consumed at the plant annually.
Image: SEAT
Skanska offices, Budapest and Prague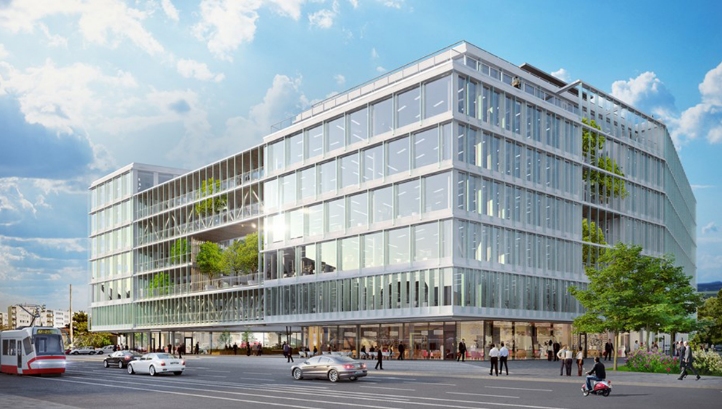 Skanska is a name which has often passed the lips of sustainability professionals in recent months, with the firm's UK arm having set a pledge in May to become carbon-neutral by 2045.
Clearly, other parts of the multinational's operations are clear to lead by example. Skanska's flagship office complex, called Northern Light and located in Budapest, is certified by WELL and is LEED Gold Standard. Phases one and two of its construction were completed using 10% recycled materials and these parts of the complex feature built-in technologies such as water-efficient fixtures and fittings and an emissions monitoring system. Phase three, due to be completed in 2020, will see the addition of a 2,400 sqm fully garden, "extensive" bicycle storage facilities and a network of EV charging points.
Skanska's 'Visionary' office block in Prague is just as impressive in terms of sustainability. It is notably the first building in the Central and Eastern Europe (CEE) region to have been certified by WELL, and includes features such as balcony gardens and forests, as well as passive lighting and cooling systems.
Image: Skanska (Prague)
Ikea's new Greenwich store
Opened in February, Ikea's Greenwich store is touted as an embodiment of the retailer's ambition to become 'People and Planet Positive' by 2030.
The 32,000sqm store, certified as BREEAM 'Outstanding', plays host to community gardens, ground-source heating systems, rainwater harvesting facilities and energy-efficient lighting, as well as a 2,600-panel rooftop solar array, which meets 50-80% of the store's energy demands at any one time.
Acknowledging that a large part of the Scope 3 (indirect) emissions of any of its stores will arise from consumer travel, Ikea deliberately chose to make the store's car part smaller than usual, and to fit it with 20 EV chargers. Customers without EVs are encouraged, though instore and online communications, to take public transport and have their purchases delivered by couriers on e-bikes.
Image: Ikea
Sarah George
© Faversham House Ltd 2023 edie news articles may be copied or forwarded for individual use only. No other reproduction or distribution is permitted without prior written consent.