Mission Possible: Achieving a green recovery for the built environment
8 January 2021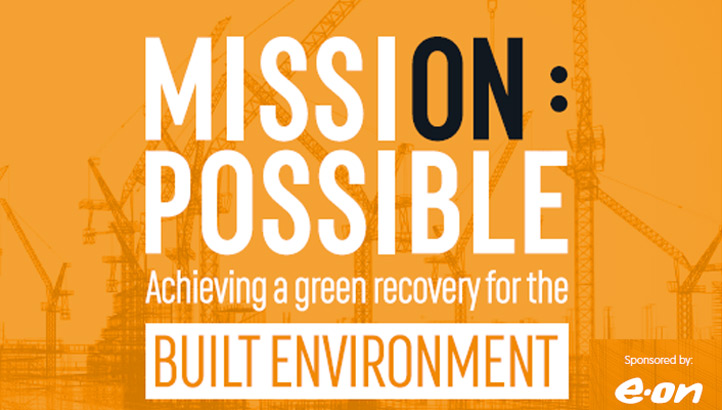 edie's Mission Possible campaign has evolved to focus on the green recovery, with a new series of reports outlining the challenges that businesses in key sectors face in relation to the coronavirus pandemic, and the opportunities that the green recovery will bring. Up next, the built environment.
As part of edie's brand-new Mission Possible: Green Recovery campaign – which supports sustainability, energy and CSR professionals on our collective mission to drive a green recovery across all major industries in the UK – this latest series of reports will explore why a green recovery is so important for the respective industries being analysed; what a green recovery actually looks like for businesses large and small within those industries; and how sustainability and energy professionals can drive a green recovery from within.
The report has been created in assistance with E.ON and uses exclusive results from edie's green recovery survey of 243 sustainability and energy professionals. This built environment report has also been produced with guidance from in-depth discussions with a steering panel of sustainability experts from some of the world's most respected construction and built environment firms in the vanguard of sustainability leadership.
This report features the results of that exclusive survey, insight from the steering panel and key boxouts on how collaboration, innovation, net-zero and the COP26 climate conference will shape the confidence of the sector in delivering radical decarbonisation. Importantly, the report highlights how a strong focus on net-zero, technological innovations and a history of collaboration within the sector has created the building blocks to deliver a green recovery moving forward.
Additionally, viewpoints from E.ON and UK Research and Innovation help set the tone as to why businesses can be optimistic when approaching the green recovery through net-zero targets and new business practices.
Fill out the form on the left and click 'READ THE REPORT' to download this free Green Recovery Built Environment report.
Tags
| Insight reports | Mission Possible | The built environment | Mission Possible: Sector insight reports | net-zero | green recovery




N.B. The information contained in this entry is provided by E.ON UK , and does not necessarily reflect the views and opinions of the publisher.



© Faversham House Group Ltd 2021. edie news articles may be copied or forwarded for individual use only. No other reproduction or distribution is permitted without prior written consent.