Changing behaviour is a sometimes forgotten, but highly effective, part of the energy management armoury. This is the compelling motive behind the launch of a new initiative "The Energy Conscious Organisation" by ESTA, the Energy Services and Technology Association, in partnership with the Energy Institute.
Evidence suggests that behaviour change offers around 50% of the total potential energy savings available. The other 50% comes from technology, though this typically represents 99% of the resource input and policy attention from organisations and government. A shift is required, and soon, to ensure that the 'hidden' savings available from behaviour change are realised.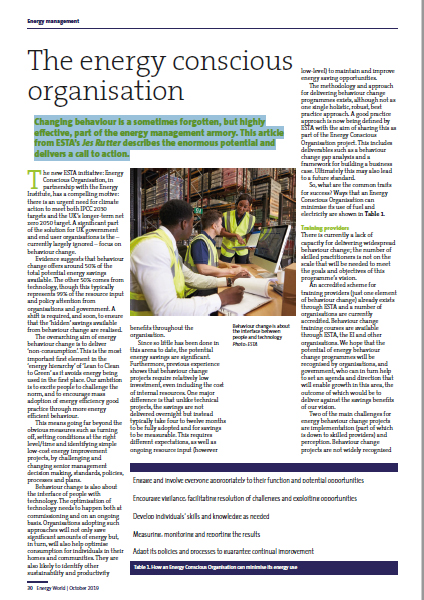 This article (first published in the October 2019 issue of Energy World by the Energy Institute: www.energyinst.org), written by JRP's MD, Jes Rutter, on behalf of ESTA, describes the enormous potential and delivers a call to action.
Download the full article here.
---
---
N.B. The information contained in this entry is provided by the above supplier, and does not necessarily reflect the views and opinions of the publisher
---