edie's Plastics Thinkathon results (Part Two): Solving the behaviour change challenge
With businesses continuing to develop plastic-reduction strategies in the face of ever-growing stakeholder pressure, edie recently hosted the world's first 'Plastics Thinkathon' to co-create scalable solutions to the issue. In the final part of this feature, Sarah George reveals the results to tackling behaviour change.
---
After watching a select group of sustainability professionals, packaging experts and creative designers develop innovative, materials-based solutions to some of the world's biggest plastic challenges during Day One of edie's Sustainability Leaders Forum – you can read that here -I'm keen to see what Day Two has in store.
Following morning discussions on Brexit and future leadership opportunities, I am once again in the designated Thinkathon room with Reboot Innovation director Chris Sherwin (facilitating) and plastics campaigner Dhruv Boruah (supporting). Particpants filter back in, with familiar faces filling most of the 23 seats around me – but also some new representatives from the likes of Kellogg Europe and Schwa Consulting take their seats at the two roundtables.
After yesterday's focus on material solutions to the plastic pollution crises resulted in the development of a plastic-free lunchbox subscription service and a hotel gift pack featuring solid-format toiletries, today we turn to a new piece of the plastics puzzle – turning public attention into impactful behaviour change.
Sherwin begins by outlining how the sustainability issues which "capture" the UK public have "fluctuated considerably" over the past decade. In 2010, climate change was front-page tabloid material, but this has since changed as first food waste and then plastics captured the public's attention.
We are all aware of the current 'Blue Planet effect', but Sherwin reminds us that the most commonly littered item in the UK is chewing gum, the majority of which is plastic-based. We are told of how home recycling rates for plastics have been stagnating for several years. And we are reminded of the UK's lack of on-the-go recycling bins and infrastructure capable of processing small-format packaging.
But the window of time which companies have to harness this awareness to drive action is likely to be rapidly shrinking.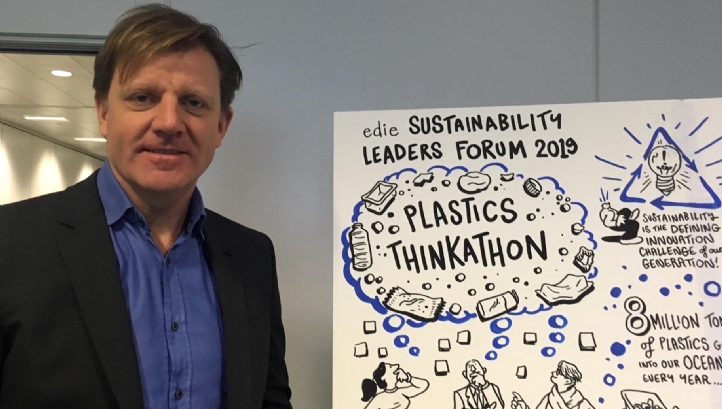 "We are in a breakthrough decade for getting society involved with sustainability, in which either a breakthrough or a breakdown is imminent," Sherwin argues.
"Peoples' concerns shift over time as the focus of media, Government, science and technology do the same, and now is the time to ride the plastic wave. It is possible to harness these trends to drive change, but it has been a challenge for decades and an increasingly prevalent talking-point for businesses."
It's safe to say that we have all been sufficiently reminded of the scale of the challenge at hand – and the impact which could be achieved across the UK if we overcome it. Several attendees have already begun taking notes and planning ideas, before Sherwin sets our task – which is to develop 10 ways of driving behaviour change within the next hour. From this list, he challenges us to select one "stand-out" idea to develop into an engagement scheme – or to somehow fuse them all into one plastic-busting programme.
To direct our thought process a little more, Sherwin asks us to choose who the scheme will target (employees, the public, retired people or teenagers). He also suggests we home in on a cause of plastic pollution, with both tables quickly selecting packaging for on-the-go food and drink.
Behaviour change brainstorming
With just two hours remaining on the clock and a working lunch to squeeze in, my table sets to work. Given that representatives from companies like Hilton Hotels, BaxterStorey and Coca Cola European Partners (CCEP) are within the group, it becomes apparent that my team wants to create a scheme which, extends beyond individual businesses and is accessible to all and engages even the worst plastic offenders.
"There is no point in our campaign if it only gets through to the 'true green' people who are already taking action – we need a framework that is accessible and will reach the 92%, because that's where it can have an impact," BaxterStorey's director of sustainable business Mike Hanson explains.
"We need something that will make littering plastics when you're out and about – or putting them in the wrong bin – become socially unacceptable for everyone."
Hanson's sentiments are echoed by CCEP's head of sustainability Nick Brown, who suggests that a focus on highly populated urban areas would be a good way to reach as many people as possible. Specifically, he argues that making people feel a sense of "connection and pride" to their hometowns and the places they visit could help make the public realise the personal benefits of managing their plastics waste correctly.
Luke Wadsworth, a designer from agency Path, has been tasked with helping our team put these words into writing and visualise them as an eye-catching engagement plan. He is now fervently writing phrases like "reward good behaviour", "punish bad behaviour" and "improve the accessibility of infrastructure" and "city-wide initiatives" on sticky notes and pasting them onto a flipchart.
As the discussion continues, sticky notes reading "gamification", "waste tracking" and "digital tools" are added to the mind map. Delegates are keen not to pick any one of these aspects to focus on, instead saying they want to "think big" and create a national, government-led scheme.
My City, My Home
At first, I struggle to see how all of these aspects could be consolidated into any one scheme and wonder if we have missed a chance to develop a specific, yet impactful solution, like Hubbub's voting bins. But when I re-enter the room after briefly leaving to help the rest of the editorial team, the programme is beginning to take shape, and it already has a name – 'My City, My Home'.
Co-ordinated by the UK Government and run across all major UK cities, the scheme rewards individuals, businesses and local authorities alike for reducing their plastic waste footprint and boosting their plastic recycling rates. It also publicly shames the cities which are lagging behind, via an online table which ranks cities from "cleanest" to "dirtiest" on plastic.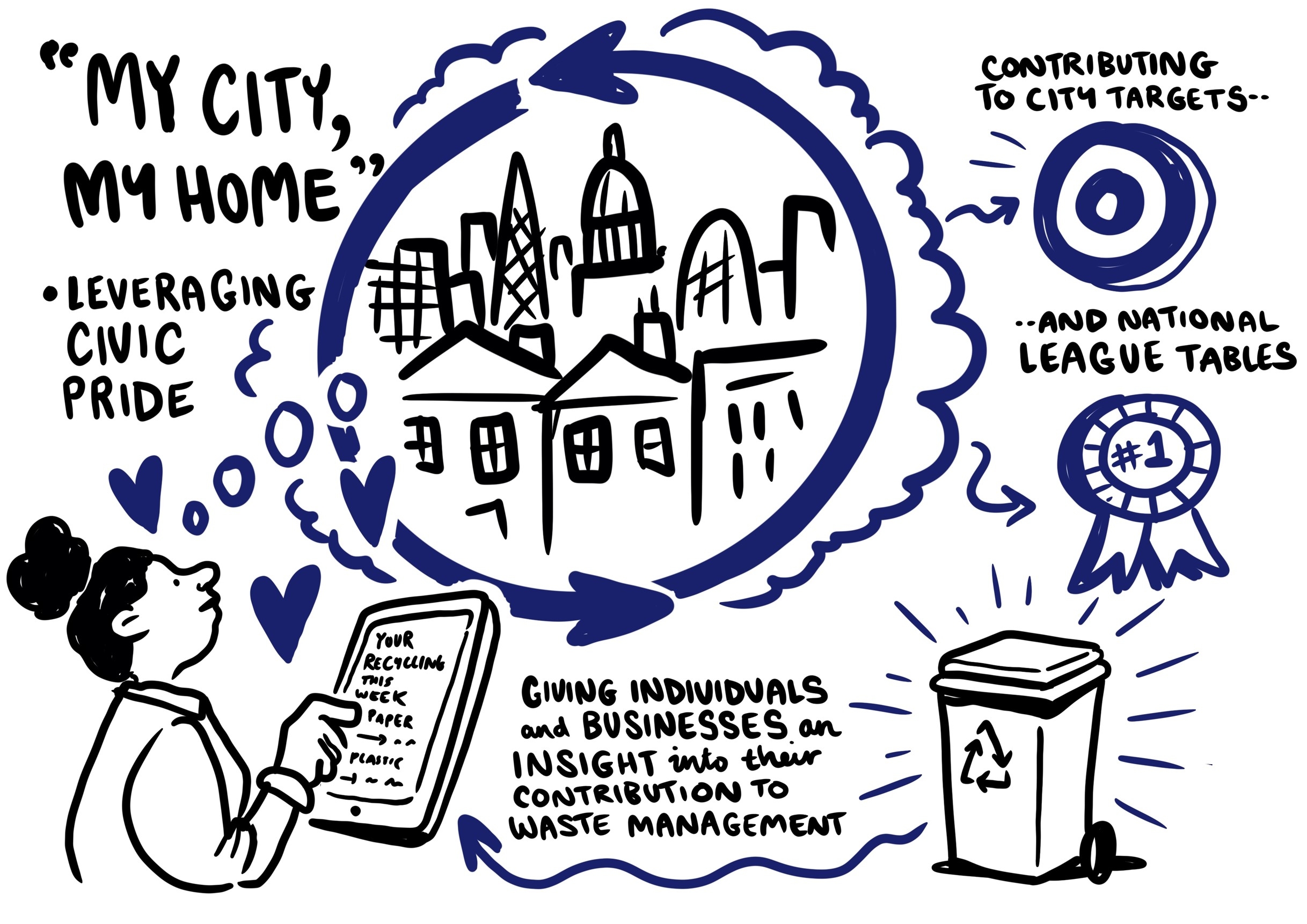 To support a "race to the top", the scheme would provide support to local authorities and estate management firms to install new public recycling bins across publicly accessible spaces, with a singular collection format across all cities. It would also encourage such companies, as well as waste management firms, to invest in recycling infrastructure within the UK, with businesses in participating regions urged not to purchase export packaging recovery notes (PRNs).
With our working lunch of vegan tagine devoured and our ideas now sketched out in full, it's time to share our concepts with the other delegates – and to have them critiqued by the other table.
Wadsworth and Brown stand to present our idea, running through its key points: an online city league table which praises the leaders and shames the laggards; 'smart bins' which reward consumers for recycling; a universal bin system and an app which lets people find their nearest recycling bin, which will never be more than one minute away. They also discuss the possibility of adding digital waste measurement technologies to the mix, enabling consumers to track their waste and the Government to fine any local authorities which are collecting more plastics in 'black sacks' than from recycling bins.
"With on-the-go food and drink, a key part of the challenge will be encouraging responsible disposal in urban areas across the UK," Brown says. "By placing a focus on the consumer's hometown, the campaign becomes more emotive and personal – it encourages them to take pride in their locality when they recycle and makes the impact of any poor behaviour feel more immediate."
Our concept goes down well. Delegates from the other table compliment us for developing a far-reaching scheme with many different aspects within a two-hour slot – and for covering all the key aspects of behaviour change theory in one fell swoop.
Leisurely lunches
We are then shown how the other table has approached the issue of behaviours around food-to-go packaging. Their scheme is also a nationwide one which would require a cultural shift. It's a concept they have called 'Take Time To Meet, Take Time to Eat', a scheme which encourages members of the public to forego pre-packaged snacks and coffee-to-go in favour of a sit-down, plastic-free dining and drinking experience.
The campaign involves collaborating with food outlets to develop a framework of changes that will incentivise people to re-think how they use their lunch break – such as offering lower prices for eating in than taking away, or handing out loyalty points for every time a customer sits in. This would be coordinated by a central business, charity or NGO, with restaurants chains, coffee shops and cafes asked to take part.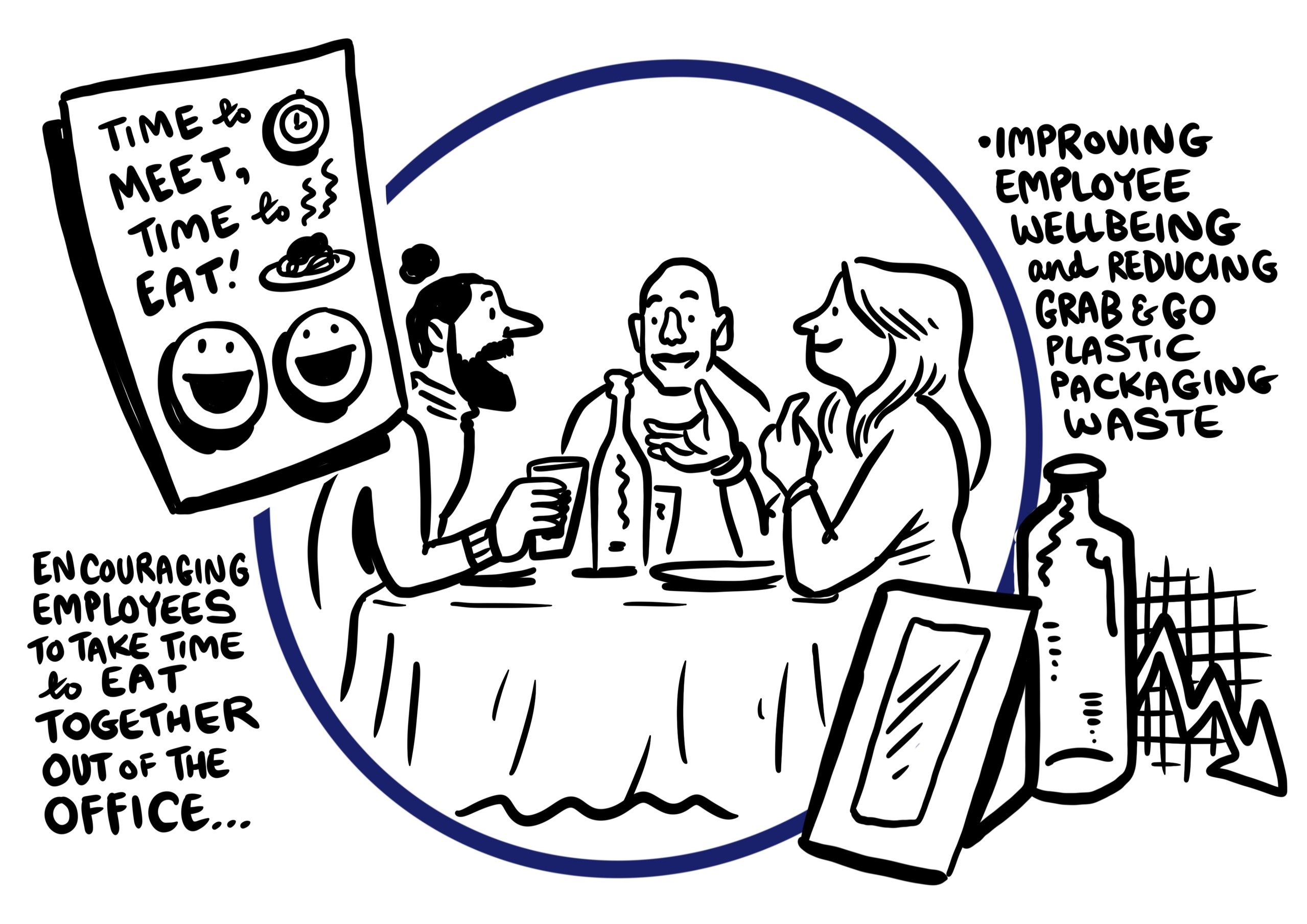 Similarly to the 'Refill' campaign, in which retailers offer free tap water to visitors, this scheme comes with an extensive communications plan, ranging from in-store stickers to social media marketing via influencer endorsements.  IHG's director of corporate responsibility Karina O'Gorman explains that these communications will posit the social and health benefits of sit-down meals to the public, ahead of their plastic-reduction benefit.
"Most of us only grab lunch on the go because of our hectic lifestyles and we know that – as well as plastic – people care about making time for their wellbeing and for seeing friends and family," she says. "Like the other table, we talked about how people often don't change because they think their actions won't make a difference. We hope this campaign would make their impact clearer."
Last orders
After two days of collaborative work and almost five hours of intense thinking, planning and presenting, the Thinkathon has ended, and the time has come to share the potentially game-changing results to the rest of the Forum attendees. Sherwin and Boruah have just two hours to reconcile our sticky notes, rough sketches and final designs into a presentation fit to be given in the auditorium at the Business Design Centre.
Thankfully, our retro lunchboxes, plastic-free toiletry kits and behaviour change campaigns prove a hit with the attendees and, indeed, event chair and Futerra co-founder Solitaire Townsend, who asks some of the participants what the experience was like.
"It was an interesting creative process and I liked that there was a real feeling of optimism in the room," John Lewis Partnership's senior corporate responsibility manager Zoe Brady said. "While we talked about challenges, we deliberately didn't get stuck on the barriers, which was very refreshing."
I certainly agree with Brady. After a year working in sustainability, I'm beginning to see the plastics conversation shift away from the dreadful impacts of pollution on nature – as they become more widely known – and towards a desire to take ambitious action now. I'm keen to see if Boruah agrees, so I catch him just as he is about to head home.
"Participants were already extremely aware of the specific challenges in their business area, with many already having started real-life initiatives to prove concepts – they are now looking for new ideas and disruption," he tells me. "Next time, I want to turbo-charge progress by bringing in more different perspectives. We need to bring young people and creatives into the room – from the artists and ballet dancers to the finance guys."
If the climate-based protests from school children over the last month are anything to go by, Boruah could well be right. Being part of this Plastics Thinkathon has filled me with a sense of pride and a belief that the conversation about plastics pollution can spark new and intelligent behaviours. Of course, the 24 individuals in the room didn't solve the plastics issue, but over two 150-minute sessions, some of the world's biggest businesses have forged new concepts that would usually take months to devise.
This 'co-creation' session was a first for edie in terms of format, but I left knowing that this approach to creative thinking offers a much-needed way out of the plastic crisis. Roll on  edie's next 'Thinkathon'-style event… 
---
The Plastics Hub at edie Live 2019 
Those wishing to take part in edie's next plastics-themed event are invited to join us at the NEC in Birmingham for edie Live 2019, where our hugely popular Mission Possible Plastics Hub content is coming to life.
Taking place on 21-22 May, edie Live will house a dedicated area for industry professionals to connect with one another, share circular economy ideas, meet packaging solutions providers and discover ground-breaking plastic waste innovations. 
Designed by edie's editorial team, this special area of the show will include single-use plastics roundtable discussions, packaging solutions stands and a professionally-facilitated Thinkathon. For more information and to register for free, click here.
Sarah George
© Faversham House Ltd 2023 edie news articles may be copied or forwarded for individual use only. No other reproduction or distribution is permitted without prior written consent.