From activist to activator: How are sustainability leaders' jobs changing in the era of climate activism?
After years of grappling for boardroom buy-in, sustainability professionals have seen the momentum of the plastics and climate movements place environmental considerations firmly at the feet of C-suite. So, how will this seismic shift in the conversation re-shape the sustainability profession?
---
That was one of the key questions which edie sought to answer during an exclusive roundtable discussion earlier this month.
Hosted at the Sustainability Leaders Forum in partnership with EDF Energy and edie's Sustainability Leaders Club, the roundtable saw 11 experts from an array of sectors discuss how they could – with ten years left to achieve the sustainable development goals (SDGs) and to reduce global emissions by 45% – ignite a decade of transformation.
The transformations that businesses themselves will need to go through in order to meet these global challenges have been well documented; all will need to align their operations and value chains with net-zero by 2050 at the absolute latest, transition to circular economy models,  become advocates for climate justice beyond their own four walls, and alter their financial approach and re-define value itself in order to support all of these shifts. 
Less explored is how those that will be leading these changes – the sustainability teams – will need to change their remits, skillsets, sizes and structures. As EDF Energy's director of energy solutions Vincent de Rul said in beginning the roundtable, "innovate or perish" could soon apply to individual professionals, as well as businesses in their entireties, who fail to adapt.
From bolt-on to boardroom
When edie was founded more than 20 years ago, most sustainability and CSR departments didn't exist – and those that worked for the few that did have told, time and again, of feeling like an optional add-on.
Amid what roundtable attendees called a "perfect storm" of new environmental science, stricter green policy, investor pressure and consumer activism, this landscape has changed dramatically over the past 24 months.
Businesses like Delta Airlines and Sainsbury's are publicly backing their sustainability strategies with multi-million-pound pots . Moreover, the conversation around embedded sustainability, popularised by ex-Unilever boss Paul Polman, has reached corporates in every major sector.
As a result of this embedding, Mondelez International's sustainability director Jonathan Horrell said sustainability professionals are getting more involved in not only other departmental strategies and processes, but overarching business decisions also.
"For the past ten or 20 years, sustainability has been – essentially – a risk mitigation function; our organisations have reputations to manage," Horrell explained.
"I'm starting to feel that the risk and PR parts are disappearing and the fact that we have a role to play in determining the direction of business is coming to the fore. It's not about 'this is the idea I need to sell today', but about 'these are the things you need to invest in for the future.'"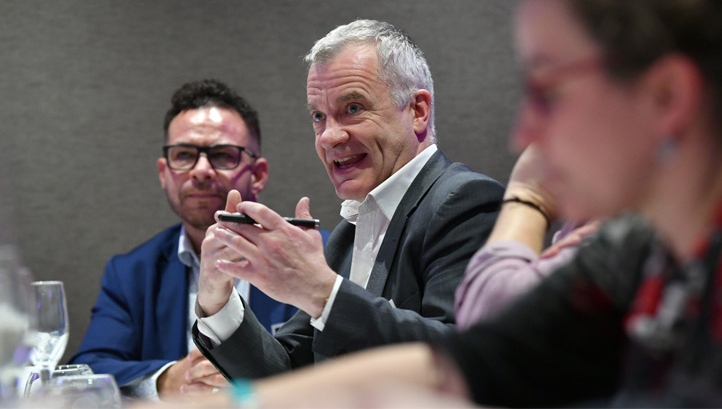 John Lewis Partnership's director of CR Benet Northcote agreed but argued that boardrooms and sustainability teams alike have "built up a risk mitigation mindset for so long", that a tangible change in function may be slower in some sectors. Others echoed his sentiments, saying they would like more in-depth information on how their firm does business in order to amplify their voice in board-level discussions.
These comments notably came shortly after H&M appointed sustainability professional Helena Helmersson as its new chief executive officer. The move is widely regarded as the first time a global corporation has appointed a former sustainability manager to lead the company.
From talk to action
Aside from strategising at a board level, several speakers told of how they were being asked to step away from selling the business case for shifts that will bring about environmental benefits, and into delivering them on the ground.
Horrell said that while his team were once "cajolers", they are now "consultants", while Canary Wharf Group's (CWG) head of sustainability Martin Gettings dubbed the transformation an "activist to activator" story.
Gettings joined CWG as sustainability manager for the 20 Fenchurch Street or so-called Walkie Talkie project, where he pitched for the creation of a dedicated, permanent, in-house sustainability team. As well as strategising, his team are now responsible for delivering progress towards CWG's sweeping sustainability targets and building upon the Estate's Plastic-Free Communities status.
"Rather than banging on the door and asking 'can we come in', the door is now open and we're learning to hone different skills," Gettings said, citing project delivery and colleague engagement and empowerment as skills he is personally keen to develop.
John Lewis Partnership's Northcote agreed, saying that the "ex-Greenpeace" skills base is giving way to a "delivery-centred" skillset. This skillset, participants collaboratively agreed, could include project planning, life-cycle analysis, climate risk reporting and collaborating internally and externally.
While participants voiced concerns that these skills have been slow to enter the workforce – partly because they have only become popular university and college choices in the past few years, and partly because many sustainability teams have not generally received large proportions of overall business funds for training in the past – BaxterStorey's head of sustainable business Mike Hanson noted that existing experience in mapping and strategising could now be transferred to address skills gaps.
"Part of our strategising going forward will need to be about what we do as individuals and as a profession, to become what we need to be to deliver what the business needs," Hanson said.
Streamlining shift 
On this latter point, several participants said that while they were glad to receive longer to-do lists and more chances for engaging to deliver against them (usually from the board), this trend was not necessarily met with new funding to hire additional team members. One told of how they would happily hire ten new additions to their team. 
As a result, it was agreed, many felt they were delivering large numbers of projects but not necessarily seeing large positive impacts in terms of emissions, resources or social impact. Participants agreed that the role of the sustainability professional going forward will need to be streamlined and fine-tuned, if progress is to align with pressing global frameworks like the SDGs and the Paris Agreement.
"As businesses, I think we need to identify what is most material and weight the expertise and resource accordingly," CWG's Gettings said, pitching the case for sustainability targets based on materiality assessments rather than external demands.
"We need to understand what our core issues are as businesses, and as sectors, and where we can drive progress on those across our personal spheres of influence. Everyone has a centre of expertise. While nobody has to be good at everything, we, on the whole, have to tackle everything."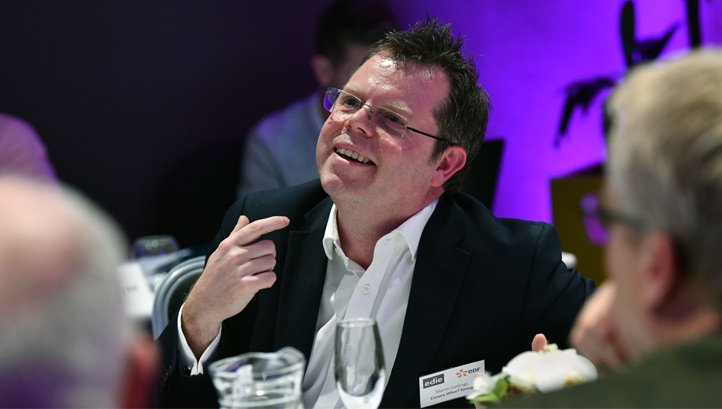 Re-defining collaboration
AB Sugar's head of advocacy Katharine Teague agreed with Gettings, calling for an end to the "white noise" of short-term action on issues with low material impacts in favour of sustained action on the issues most material to the business, or those which it is best placed to solve. Teague notably leads the creation of AB Sugar's sustainability strategies and all of its external communications across three continents.
But saying you'll streamline is not as simple as cutting back your remit, participants agreed, partly because investors and certification schemes are increasingly demanding sustainability data across a broad range of topics, and partly because most sustainability professionals would wince if asked to classify any socio-environmental topic as "immaterial" to their organisations.
Participants, therefore, discussed how collaborating – both internally and externally – could boost efficiencies, enabling sustainability professionals to focus on "big-ticket" projects or their fields of expertise, without letting the business drop action on other issues altogether.
On the internal collaboration piece, Diageo's head of water, environment and agriculture Michael Alexander said: "I see throughout the business – whether it's in finance or HR or procurement or innovation – people are developing some of the awareness that sustainability professionals have. That's brilliant. After ten years in a small unit, everyone's a sustainability professional, in a sense."
Alexander, like other participants, was also keen to emphasise the importance of collaborating across the value chain – both upstream and downstream – to help spark new ideas and avoid unintended consequences.
AB Sugar's Teague told of how a key part of the development of her firm's 2030 sustainability targets were country visits, to regional management offices and front-line fields alike.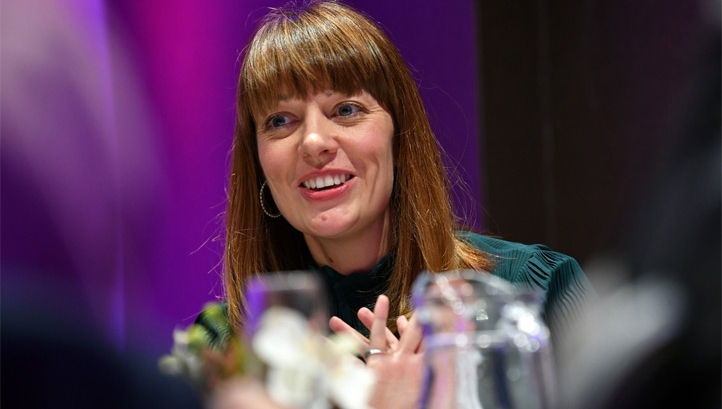 "The most innovative ideas did not come from the innovation team – they came from the people stood in the fields, in the factories…. Moreover, their actions will be what drives the change in the future," Teague said.
A further benefit of working directly with front-line employees, in both direct operations and the supply chains, is ensuring that workers are engaged with big transitions, participants concluded. The risk of getting this engagement wrong was likened to the so-called Yellow Jacket protests in France.
As for collaboration with external organisations, participants all noted that conversations in this space had picked up in recent months. But calls were also made for practical support to ensure that partnerships are mutually beneficial, delivering lasting results that go beyond incremental improvements and drive transformation.
As Balfour Beatty's head of sustainable procurement Aaron Reid summarised: "As much as sharing stories is good… there is a need for more formal collaboration in and across sectors – especially on issues and with companies that are usually competitive."
Those interested in the external partnerships piece are encouraged to read Cranfield University's latest exclusive edie blog, entitled: 'Partnerships: Re-addressing the sustainability power balance'. 
Sarah George
© Faversham House Ltd 2023 edie news articles may be copied or forwarded for individual use only. No other reproduction or distribution is permitted without prior written consent.