How AB Sugar made sustainability its competitive edge
Faced with extreme climate-related challenges and increased calls for healthier diets, one of the world's leading sugar businesses has raised its sustainability ambitions to keep its competitive edge in a challenging economic environment.
---
In April 2018, a discount fashion retailer shed insight on the tumultuous world of the sugar industry. Associated British Foods (ABF), the owner of Primark, had just reported a 30% fall in profits despite the fashion retailer delivering a 6% increase in operating profit over the last 12 months.
ABF and Primark claimed that the major sugar business AB Sugar was the driver behind its decline in profits. AB Sugar has operations in 10 countries across three continents bur recorded a 27% fall in operating profit to £90m.
AB Sugar's struggles can be attributed to a few factors. Firstly, the European Union has made a recent step of removing sugar sale quotas for firms. By scrapping these restrictions, it is estimated that EU sugar exports will increase by 50% to 2.2m metric tonnes. While this is good news for AB Sugar's British and Spanish organisations, the firm has a notable market presence in Africa and China which can now be rivalled by EU producers, notably in France and Germany.
An ultra-competitive market is fine, but when coupled with sugar prices that have dropped by 17% in a year some businesses could be gearing up for a "race to the bottom" that ignores the industry's other major threats; climate change and environmental degradation.
Shortly after ABF announced the losses, AB Sugar emerged with its first-ever group-wide sustainability report, outlining bold new commitments to cut carbon emissions and water use by 30%. The 2030 sustainability commitments assist an overarching aim of becoming "the world's leading sustainable sugar business" and as the firm's head of advocacy, Katharine Teague, explains, sustainability is viewed as a key element of competitive growth.
"We need to be exceedingly competitive in a market where prices are at an all-time low," Teague tells edie. "If we want to be a business for the next 100 years, there has to be demand for our supply and we're making sure we're the one that everyone wants to work with. Our sustainability framework is a major part of this play.
"I think our impact has to be wider than just making an ingredient. We're so much more than just a business, we're part of the fabric of society where we work, as we have a huge number of employees. Our impact has to be social, environmental and economic and very clear for our customers to see."
British Sugar
AB Sugar's societal impact is evident in the UK. British Sugar, a subsidiary of the firm, is the sole processor of UK-grown sugar beet. The company contributes £700m per year to the UK economy, supporting up to 9,500 jobs throughout the UK.
According to Teague, there has been a "drumbeat" on carbon emissions and water use within British Sugar for some time. Propped up by multi-million-pound investments into onsite technologies and anaerobic digestion (AD) plants, British Sugar produces less than 200 grams of waste for every tonne of sugar produced. At its Bury St Edmunds site, up to 35,675MWh of renewable heat is generated annually through AD processes.
The British firm has been a huge driver of the 11% reduction in greenhouse gas emissions and a 13% reduction in water use that AB Sugar has recorded since 2015. However, the 2030 goals, which will be measured against a 2017 baseline, aim to take this "drumbeat of understanding" and translate it for markets where technologies are less developed, and the threat of climate change is much more severe.
"In the UK, the sustainability footprint of our business has always been considered in detail. But we need to translate our Global Minds strategy into something that each of our businesses can work with locally," Teague says.
"You need to be very conscious and very sensitive to how we get to these critical issues into the business and the challenges that sit around them, as they'll differ from region to region. We've worked with each country to make the right ambitious commitments from a sustainability perspective and have local champions on the ground who can make the best decisions."
Global performance
WWF has placed sugar near the top of causes for biodiversity loss, claiming that it may cause more damage than any other crop. The construction of plantations has destroyed habitats, while intensive water irrigation and the use of chemicals is creating swathes of polluted wastewater. In fact, it is estimated that around six million hectares of soil are lost globally every year due to intensive sugar cultivation.
AB Sugar, however, has issued more than 1,600 "performance improvements" looking at how farming, processing and manufacturing can be tweaked to improve resource efficiency. One-third of these changes relate to energy and water.
AB Sugar China, for example, has created a Sustainable Agriculture Programme to educate growers to improve crop yields while using less land and water. Over the past five years, AB Sugar China has helped farmers improve net income by 166%, record an 18.5% reduction in water use and a 35% increase in yield over the past seven years.
Across the organisation's African operations, which include Malawi, Mozambique, South Africa, Swaziland, Tanzania and Zambia, sustainability efforts have directly benefitted local communities. More than 25,000 in South Africa are now employed through AB Sugar's operations, while 95% of employees in Swaziland are from surrounding communities.
Schools, clinics (pictured below) and clean water supplies have been created in the latter country by AB Sugar, while smallholder land ruined by the 2000 flood in Illovo was rehabilitated and 4,100 people were provided with water by boreholes drilled by Illovo Sugar Africa.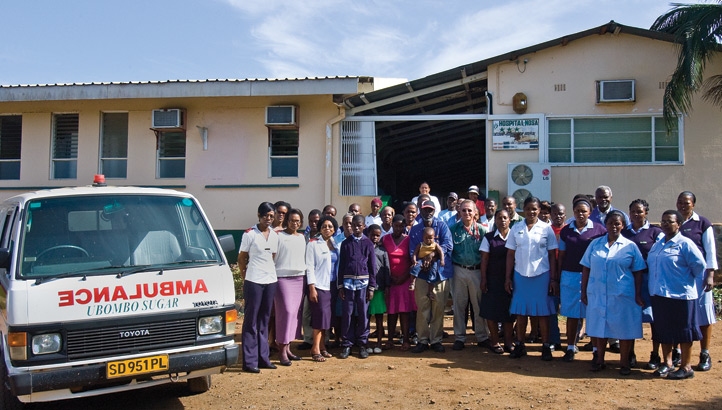 The by-products of sugar production on the continent are also helping power facilities with clean energy. In Swaziland, for example, Ubombo Sugar Limited sources 96% of its energy consumption from renewables, primarily through bagasse.
Healthy diets
Teague claims that there is a huge growth in sugar consumption in Africa, as basic income levels improve. However, she is also aware of the intricate role that sugar plays in creating – or often limiting – a healthy balanced lifestyle.
Sugar is often demonised in media, especially in the UK where obesity levels continue to rise. However, UK Government statistics show a reduction of 16.6% per capita in consumption of total sugars in the UK since 2001, while obesity continues to increase. During this time, British Sugar has improved beet sugar yields by more than 25%.
A cocktail of sugar taxes, the Veganuary campaign and an increased number of reports outlining the climate impact of the food we consume suggests that more consumers are lessening the amount of sugar they consume while also steering clear of red meats and dairy products. However, Teague and AB Sugar are keen to bust a few myths of the health debate while championing the low-carbon impact of sugar production.
"The debate around our ingredient is a little tricky and slightly skewed sometimes," Teague says. "The thing we're trying to do is add balance. We appreciate the challenges around obesity and like any calorie we need to consider our role.
"We understand the dynamics around obesity and malnutrition in each of our contexts very clearly and we continually work on it. We haven't yet seen the conversation around climate impacts within our consumer base coming through. However, any food business that understands future trends needs to understand where ingredients sit in relation to the climate conversation."
Teague's notion that AB Sugar is trying to add balance is based on the 2014 Making Sense of Sugar campaign, launched in the UK. It aims to provide factual information about sugar and the role it can play as part of a healthy balanced diet. To date, the campaign has had over 1.6 million views and plans are in place to push the campaign to a more international audience.
But even if consumers are yet to be convinced by sugar, the UK's economy and climate aspirations would likely benefit from continued production.
Research submitted to BMC Public Health found that combining a sugar tax with a food-based emissions tax has the potential to reduced UK food-related emissions by 18,537 KtCO2e, while also producing £3.4bn for the UK economy and averting 1,249 deaths annually.
Sweet disposition
A food-based emissions tax has been explored in countries like Denmark but is some way off the table in regards to UK politics. But that hasn't stopped Teague casting one eye to the horizon.
While Tate & Lyle's exploration of the sustainability impacts of the stevia industry isn't going to be replicated any time soon by AB Sugar, according to Teague, the company is looking at how it can boost its already ambitious targets in the future.
Teague reveals that AB Sugar "flirted" with the idea of setting science-based targets and signing up to the RE100 initiative to source 100% renewable energy. However, these ambitions didn't quite match up to the firm's plans and they were keen to accelerate action before reviewing the frameworks at a later date.
It is likely the company could also become more involved with the ongoing plastics debate. AB Sugar had a pledge to ensure all plastic packaging is reusable, recyclable or bio-degradable by 2030. According to Teague, use of biomass for plastics is at an early stage but AB Sugar is keen to see whether they could be "part of the revolution" through innovative uses of the by-products of sugarcane.
This type of innovation is also seeping into the transport sector. AB Sugar owns Vivergo Fuels, the UK's largest and Europe's second largest producer of bioethanol.
Vivergo processes 1.1 million tonnes of feed wheat sourced from nearly 900 UK farms to produce up to 420 million litres of bioethanol as well as 500,000 tonnes of animal feed. Alongside carbon savings by enabling transport fleets to switch from diesel and petrol, Vivergo provides an economic benefit to wheat farmers, who would otherwise need to export up to 3 million tonnes per year, at a £10 per tonne loss. While AB Sugar remains dedicated to the ingredient that makes up its name, its uses are being explored beyond food.
At a time where uncertainty is shrouding all sectors in the UK, AB Sugar is looking at the life-cycle of its primary product to see how sustainability can drive the competitive edge it is seeking.
"We're at a point now where we're opening up Pandora's box and thinking about where we can go next and who we will work with and partner with," Teague concludes.
Matt Mace
© Faversham House Ltd 2023 edie news articles may be copied or forwarded for individual use only. No other reproduction or distribution is permitted without prior written consent.