In charts: How big is the UK's waste mountain – and what are we recycling?
As part of edie's Circular Economy Week campaign, we take a look at the official facts and stats regarding some of the UK's biggest waste streams, outlining how much is generated and what proportions are recycled.
---
As the UK plots its roadmap out of lockdown, waste and resource management is rising up the political and business agendas once more.
On the former, consultations on the Resources as Waste Strategy, originally tabled for 2020, have re-started. The process is underway for things like the UK's Deposit Return Scheme and a new Waste Prevention strategy for hard-to-recycle items including textiles. Defra has also recently published updated waste and recycling figures, revealing some of the pandemic's early impact in this space.
With this in mind, edie takes a snapshot-style overview of the UK's waste production and management statistics across five prominent material streams.
Packaging and plastics from homes
Plastic has been one of the most high-profile materials – and, indeed, broader environmental – topics in recent years. Despite logistical challenges with refill and recycling during lockdown, compounded with delays in policymaking, the appetite for change seems to have remained strong.
Figures from Defra last March revealed that the UK reused or recycled 46.2% of the plastic packaging it produced in 2017. This put the nation well ahead of the EU's minimum rate requirement at the time (22.5%). Moreover, the amount of plastic put into recycling bins at home has gradually been increasing in recent years, with a 5.3% year-on-year increase between 2018 and 2019. Defra believes this is more attributable to improved recycling behaviours that increased plastic consumption.
But Defra's recently published figures on all household waste and recycling set alarm bells ringing for many green groups and businesses. A report from the Department, published earlier this month, revealed a minimal (1%) year-on-year increase in the UK's recycling rate and a minimal (0.4%) decrease in household waste produced on a per-capita basis. The overall recycling rate for household waste stands at 45.5%. In comparison, Germany's rate is 67%. Even when energy-from-waste is added, less than half (48.5%) of the UK's household waste is accounted for – despite a target to cover 50% with recycling alone by 2020.
It is worth noting that the UK Government does not publish unified recycling statistics for all plastics, encompassing, for example, packaging used in homes and businesses alongside plastics used upstream in businesses. There is little data on, for example, plastics used in agriculture, or in logistics.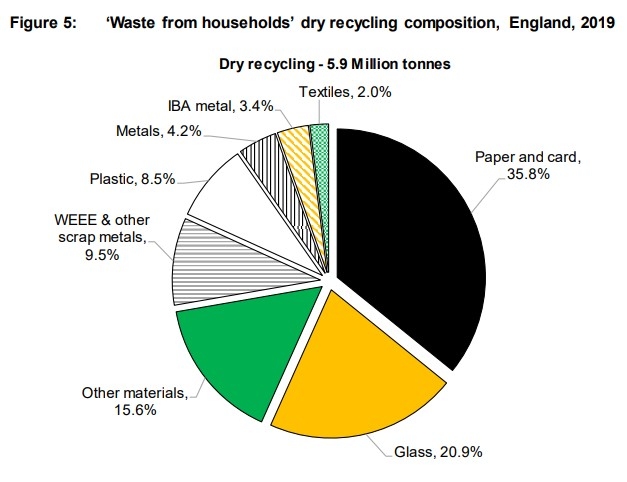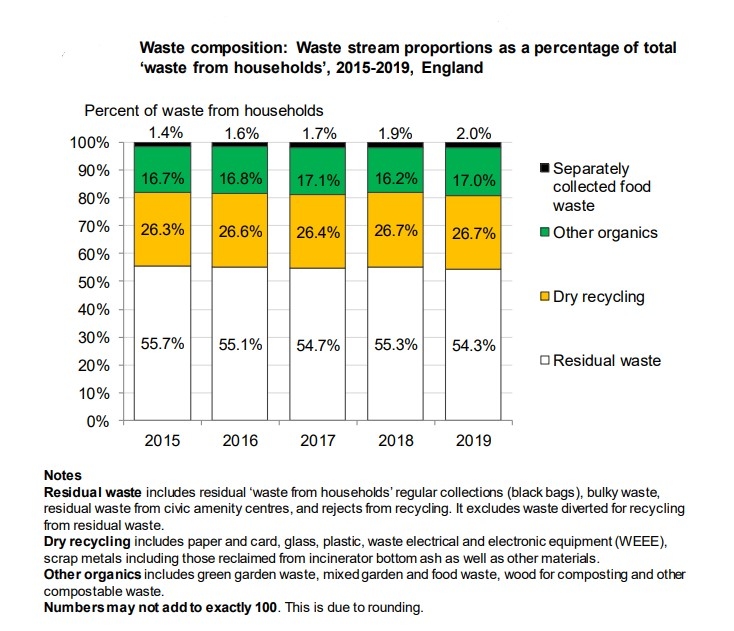 Bodies including the British Plastics Federation and Flexible Packaging Consortium have been urging Ministers to develop more concrete plans to increase the UK's plastics recycling capacity post-Brexit.
At the same time, groups like the Environmental Audit Committee (EAC) have been urging changes to the Environment Bill, Resources and Waste Strategy (RWS) and tax system that would help the UK adopt a 'waste hierarchy' at all for plastics at all levels. This would prioritise material avoidance over reuse and reduction; reuse and reduction over recyclability; recycling over energy-from-waste; energy-from-waste over landfill and landfill over littering. Tax changes are expected to be announced on 23 March. The Environment Bill and RWS, however, have been delayed due to Covid-19.
Image credit: Defra
E-waste
The UN regards e-waste (wasted electronics and electricals) as the world's fastest-growing domestic and commercial waste stream, with waste generation vastly outstripping expansions to recovery systems, repair and recycling infrastructure.
According to the body's Global E-Waste Monitor Report, the UK generated 23.9kg of e-waste per capita in 2019. While this was down from 24.9kg in 2016, the UK still generated the second most e-waste per capita in the world, behind only Norway (26kg). 7.3kg per capita was the global average.
However, recovery and recycling rates for e-waste across Europe in 2019 stood at 59% – one of the highest rates in the world. The global average was just 17.4%. Below are two charts from the Report.
More granular data on the UK's e-waste is provided quarterly by the Environment Agency (EA). The EA. EA data from Q1 of 2013 to Q3 of 2020 is charted below.

Find more statistics at  Statista
A recent edie Explains guide, which is free to download and can be found here, outlines how businesses can help create a circular economy for electricals and electronics of all kinds.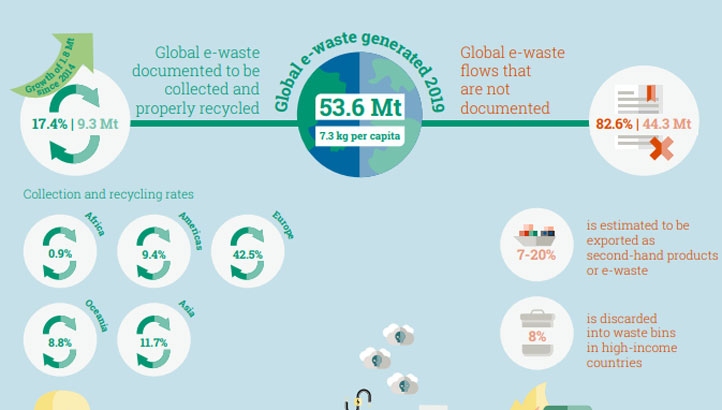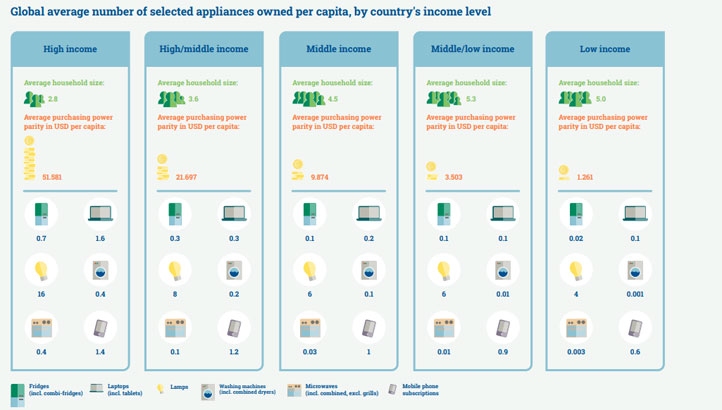 Image credit: Global E-waste Monitor, 2020 edition
Food waste
WRAP estimates that the UK wastes around 9.5 million tonnes of food every year. This figure accounts for waste that is generated post-farmgate. While farms are not included, the figure includes households, manufacturers, hospitality and foodservice, retail and wholesale.
The organisation believes that, given that 70% of all wasted food is edible, this waste mountain has a value of £19bn every year. Aside from the obvious resource and social implications, the amount of food wasted in the UK annually will generate more than 25 million tonnes of emissions if landfilled.
The below charts break down where food waste comes from and how it is managed.
Textiles
Industries that depend on textiles, like fashion and homewares, have been accelerating production and scaling up hard-to-recycle material blends at rates that have outpaced the development of reuse systems and recycling technologies. According to the Ellen MacArthur Foundation, only 1% of textiles produced each year for fashion are successfully recycled in true 'closed loop' fashion. 73%, meanwhile, is burned or landfilled.
The below charts outline how much textile waste is produced each year, on a per-capita basis, in nations including the UK – and what proportion of this waste is currently reused or recycled. Overall, the UK produced 206,450+ tonnes of textile waste in 2019.
Construction, demolition and excavation
While the waste streams covered above are some of the biggest and fastest-growing, in the UK and overseas, in terms of waste from households (WFH), the bulk of the UK's overall waste mountain is not WFH.
WFH accounts for around 14% of the annual national waste footprint – the same proportion as waste from commercial properties and projects. Waste from construction, demolition and excavations, meanwhile, accounts for some 59%.
Defra's UK Waste Statistics Paper states that the UK is on track to meet its target to recover at least 70% of non-hazardous waste from these sources by the end of 2020; this is an ambition detailed in the EC Waste Framework Directive. However, it does not provide data on waste generation and recovery rates after 2016, so only time will tell whether the target has been met. The latest data available is charted as below.
Brexit means that the UK is no longer bound by the requirements of the EC Waste Framework Directive. Targets are likely to be replaced by amendments to the RWS.
Sarah George
---
Join the conversation at edie's Circular Economy Inspiration Sessions
On Thursday 25 March, as part of its special Circular Economy Week of online content and events, edie is hosting three live, interactive webinar presentations and discussions – all dedicated to accelerating the transition to a zero-waste economy.
Called the Circular Economy Inspiration Sessions, the three events, range from Q&A style debates with circular economy experts, business-led panel discussions and a masterclass. Experts from organisations including the Ellen MacArthur Foundation, Zero Waste Scotland and The Body Shop are taking part.
For full details and to register, click here. Tickets, which give holders access to all three events live and on-demand, cost £49 plus VAT.
---
© Faversham House Ltd 2023 edie news articles may be copied or forwarded for individual use only. No other reproduction or distribution is permitted without prior written consent.