SDGs In Action: How Tetra Pak is achieving Goal 13 – Climate Action
Welcome back to edie's new editorial series which breaks down exactly how businesses are turning the Sustainable Development Goals (SDGs) into action. Up next: multinational food packaging firm Tetra Pak unveils how it is protecting futures by championing actions to mitigate climate change.
---
Defining the Goal…
Increased cases of flooding, heatwaves and forest fires have seen the impacts of climate change become visible to the wider public. Driven by spiralling greenhouse gas emissions, global temperature increase is on the rise, wreaking havoc with natural ecosystems and societies as a result.
SDG 13 calls on governments and businesses to "take urgent action to combat climate change and its impacts" and the risks of climate change will ultimately impact and shape progress across the other 16 Goals.
The climate action goal depends on global efforts to limit global temperature rise to well below 2C above pre-industrial levels, ideally by aiming to limit temperature increase to 1.5C – the more ambitious pathway of the historic agreement.
To reach this target, humanity must ensure that cumulative net-carbon emissions do not exceed one trillion tonnes. To achieve this, the world must reach net-zero emissions by the second half of the century.
Recent progress suggests this task is becoming increasingly difficult to achieve. Analysis from the World Meteorological Organisation shows that a five-year average global temperature between 2013 and 2017 was the highest on record. Since the ratification of the Paris Agreement in 2015, annual greenhouse gas emissions have plateaued and are slowly rising again.
Multinational food packaging company Tetra Pak has outlined energy use and greenhouse gas (GHG) emissions as a material aspect where the company believes it can have a significant impact in creating a sustainable future. As such, Tetra Pak has chosen to champion SDG 13: Climate Action and support the delivering of the Goal's underlying targets.
(Note: edie has published an in-depth guide detailing how businesses can contribute and align to Goal 13. Sponsored by Orsted and with contributions from Forum for the Future, the report outlines low-carbon solutions across operations, supply chains, products and services and strategic planning.)
— DOWNLOAD EDIE'S SDG 13 REPORT HERE —
Tetra Pak's alignment with Goal 13
In 2010, Tetra Pak revamped its approach to environmental science to ensure that protecting the environment was listed as one of four key strategic priorities for the company, under the mantra "Protecting Futures".
The company has committed via edie's Mission Possible Pledge Wall to cap its 2020 impact across the value chain at 2010 levels, regardless of growth, which acts as the first target in what is a stretching ambition to reduce its carbon footprint.
Longer-term goals are also in place to reduce operational GHG emissions by 42% by 2030 and 58% by 2040, all of which have been verified by the Science Based Targets initiative (SBTi) against a 2015 baseline. The long-term targets are aligned with the 2C pathway of the Paris Agreement.
As the supply chain accounts for approximately 46% of Tetra Pak's value chain emissions, a target to reduce emissions across the value chain by 16% per unit of revenue by 2020 against a 2010 baseline is also in place.
As this case study will explore, Tetra Pak is focusing on achieving its climate goals through an array of energy efficiency, renewable electricity and supplier engagement methods and technologies.
Results so far…
In 2017, Tetra Pak revealed that a reduction of 13% had been recorded against the firm's overall climate impact, despite increasing the volume of food packages sold by 19%, therefore decoupling emissions from growth. In the same year, Tetra Pak's climate targets were validated by the SBTi.
Operational emission reductions have been driven by onsite energy efficiency drives and the procurement of renewable electricity. However, new strategic developments have been introduced to create new understandings around impacts and implications of tackling climate change.
In early 2017, Tetra Pak set up its Sustainability Forum to bring together different stakeholders to distil new information and understanding on the company's role in limiting and reducing climate impacts. The Forum consists of 10 senior leaders across all key department and leadership areas who are setting out where Tetra Pak wants and needs to be in 2025, 2030 and beyond.
As for value chain emissions, customers can access a Carton CO2 calculator to make climate-based decisions about packaging solutions. The calculator measures the CO2e footprint of cartons up to the point they leave Tetra Pak factories. The Co2e footprint accounts for cradle-to-gate emissions including sourcing impacts, transporting raw materials and manufacturing processes.
In 2018, version 5 of the Carton CO2 calculator was certified by the Carbon Trust as capable of generating carbon footprints in compliance with PAS 2050:2011, ISO 14044:2006 and ISO/TS 14067:2013.
Tetra Pak and SDG 13: An example project…
A key focus on the delivery of Tetra Pak's climate goals is the procurement and sourcing on renewable electricity to power its operations.
Tetra Pak had sourced a fifth of its electricity from renewables before joining the RE100 initiative in 2016, spurring it to install onsite solar arrays at its factories and to purchase International Renewable Energy Certificates (I-RECs) – an international standard for issuing, tracking and redeeming renewable energy certificates (RECs) in countries where tracking systems for RECs do not yet exist.
At the time, Tetra Pak's total electricity use was 845,058 MWh, out of which 298,374 MWh was renewable electricity. The proportion of renewable electricity in Tetra Pak's global electricity mix has increased more than twofold over a two-year period, with all of its factories in Sweden, Denmark, Finland and South Africa now running on 100% renewable electricity. In total, 17 of Tetra Pak's major sites now run solely on renewable electricity.
As of July 2018, Tetra Pak now sources 50% of the electricity needed to power its global operations from renewables, putting it on track to meet its target of sourcing 100% green electricity by 2030.
The combination of pursuing I-RECs and onsite solutions are based on a limitation of required space to roll out more onsite solar technology. Tetra Pak has so far installed solar power at eight different sites, reaching a total capacity of more than 2600kW.
In 2018, Tetra Pak purchased 460 million kWh of renewable electricity and this number will continue to increase as it closes in on its 2030 goal.
How Tetra Pak is working towards other goals
Under the "Protecting Futures" pillar, Tetra Pak notes contributions to:
SDG 6: Clean Water and Sanitation (Read more here)
SDG 7: Affordable and Clean Energy
SDG 9: Industry Innovation and Infrastructure
SDG 12: Responsible Consumption and Production
SDG 15: Life on Land (Read more here)
And SDG 17: Partnership for the Goals.
As a food packaging firm, the company is also heavily focused on Target 2.1: to end hunger and ensure access to safe, nutritious and sufficient food all year round by 2030.
A lot of these targets have touch points with the Climate Action Goal. For example, around 75% of Tetra Pak's cartons, by weight, is paperboard. In order to contribute to both Goal 12 and 14, Tetra Pak applies its purchasing power to promote sustainable forest management.
The company can now supply packaging from responsibly managed wood sources from any of its facilities worldwide, having received full Forest Stewardship Council certification (FSC) in 2015. Sustainable sourcing principles for paper reduces the risk of deforestation and forests act as ideal carbon sinks, a key and natural solution in the fight against climate change.
Tetra Pak is one of only six companies to be identified as a global leader in combatting deforestation in its supply chain.
Key Learnings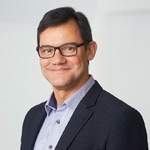 According to Tetra Pak's Vice President for Sustainability Mario Abreu (pictured left), the SDGs have created the "destination point" for businesses to work towards. However, Abreu's own workings on the Goals highlights the need to join multiple future economies together.
"One thing we've identified in our approach to the Goals is not just an undisputed need for a low-carbon economy, but an economy that is also circular," Abreu tells edie. "We cannot afford to make mistakes and the foods systems approach requires the values of both these economies to be embedded in the same way.
"There is a need to consider a resource efficiency economy where we limit the impact we have on our planet. We have to rely less on fossil and finite materials. The advantage of the SDGS is they provide us with the destination address for where we all want to be in 2030. We have trade-offs of course, but the SDGs are the destination point."
Plans for the future
As Tetra Pak closes in on its 2020 targets, a big focus for the firm is that of value chain emissions. Noting that the supply chain accounts for approximately 46% of Tetra Pak's value chain emissions, Abreu is keen to progress action here.
Tetra Pak was the third end user company to be certified against the Aluminium Stewardship Initiative (ASI) Performance Standard for life cycle assessments and is encouraging all major relevant suppliers to join the ASI, which would then see the suppliers set carbon targets.
"We're looking at the materials we're purchasing and seeing how we can address the needs of a low-carbon circular economy to make the packaging of the future that is not only recyclable but fits in with the need for a low-carbon transition," Abreu adds.
Matt Mace
© Faversham House Ltd 2023 edie news articles may be copied or forwarded for individual use only. No other reproduction or distribution is permitted without prior written consent.