Solar from space and green hydrogen fertiliser: The best green innovations of July 2023
As July comes to a close, edie and our innovation partner Springwise have rounded up six of the best breakthrough technologies for the green economy, including low-carbon fertiliser made using green hydrogen. Read on to find out more.
---
The falling costs of solar and wind power have defied all expectations and forecasts. Between 2009 and 2019, onshore wind fell prices dropped 70% and solar power by a massive 89%. This has been a major success story, but there remain challenges to scaling up a decarbonised electricity grid, and our first three innovations this month are all aimed at tackling these obstacles.
First, as more applications are electrified, clean energy technologies come online, and climate change interferes with patterns of demand for heating and cooling, the strains placed on the grid are likely to both change and increase. A new project to create a digital twin of the UK grid is helping to tackle this problem.
Second, we need to account for the variability of weather-based generation technologies. On earth, solar power is affected by nightfall and cloud cover and, away from the equator, it shows large variations in generation between seasons. However, these problems don't exist in space, and, as the cost of space launches decreases, people are beginning to talk seriously about generating solar power in space and beaming it back to earth. A team at Caltech recently passed an important milestone in turning this concept from science fiction into practical reality.
Third, we need to increase our capacity to store the energy generated from renewable sources when it is abundant so we can deploy it when it is needed most. A new saltwater flow battery is showing how long-term energy storage might work in practice.
Moving from grid-scale to household scale, our fourth innovation is taking the now ubiquitous model of the box subscription and applying it to growing superfoods at home. And for farming on a larger scale, a partnership plans to produce low-carbon fertiliser using green hydrogen in place of natural gas feedstocks.
Finally, our last featured innovation this month is providing footwear aficionados with the feeling of walking barefoot through sustainable 3D printed shoes customised to the wearer's foot and gait.
A digital twin of the UK's electricity system
Image: SP Energy Networks
As climate change fuels extreme weather, energy companies will face new challenges in keeping the lights (and air conditioning) on. SP Energy Networks is working to address this challenge by developing a first-of-its-kind digital twin of the UK's entire electricity network. The system, dubbed ENSIGN (ENergy System dIGital twiN), will be used to model and test digital solutions for managing electricity demand.
The digital twin was developed in collaboration with several leading Scottish universities, including Strathclyde, Glasgow, Heriot-Watt, and St. Andrews. It is designed to identify the best ways to optimise capacity and manage increased electricity demand, as well as finding the most cost-effective ways to incorporate green energy technologies.
The digital twin will use artificial intelligence (AI) to create virtual links between homes and businesses and the grid. According to SP, this is an important step towards the smart grid of the future, which should give consumers a greater interactive relationship with the national grid.
The project is being funded with a £10m award from the Engineering, Physics, and Sciences Research Council's Prosperity Partnership Fund, a part of the government-supported UK Research and Innovation (UKRI).
Wireless solar transmissions in space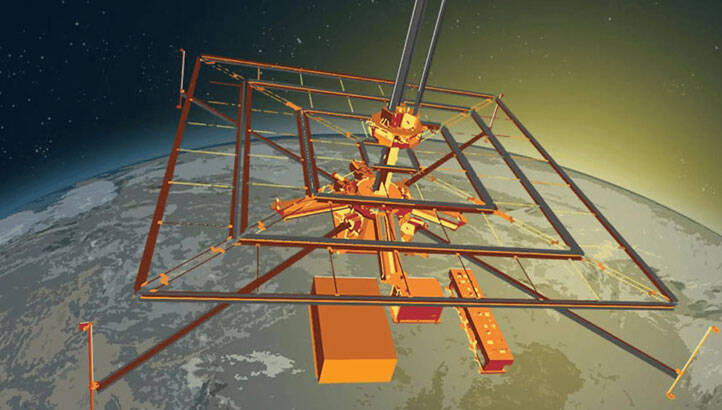 Image: Caltech
The ability to collect solar energy here on Earth is at the mercy of factors such as nightfall, cloud cover, and other adverse weather conditions. But what if solar power could be collected in space and beamed back to Earth? In space, solar energy is constantly available without being subjected to the cycles of day and night, seasons, and cloud cover. That is exactly what a team of researchers has done.
Caltech's Space Solar Power Project (SSPP) has recently demonstrated wireless power transfer from space. In January of this year, the SSPP launched a prototype – dubbed the Space Solar Power Demonstrator (SSPD) – aboard a SpaceX rocket, to test key components of the plan to harvest solar power in space and beam the energy back to Earth.
In June, one of these components, the MAPLE (Microwave Array for Power-transfer Low-orbit Experiment), succeeded in transferring power wirelessly to receivers in space. It used constructive and destructive interference between individual transmitters to focus and direct the energy it beams out – all without any moving parts.
Caltech Professor Ali Hajimiri, who led the team developing MAPLE, explained: "Through the experiments we have run so far, we received confirmation that MAPLE can transmit power successfully to receivers in space. We have also been able to program the array to direct its energy toward Earth, which we detected here at Caltech."
Salt and water to store energy
Image: AquaBattery
The ability to store renewably produced energy in ways that flexibly provide reliable, affordable power is a key tenet of a future decarbonised grid. Batteries are one option but come with challenges such as supply chain sustainability and energy storage duration.
Dutch tech firm Aquabattery, which has developed a simple and safe saltwater flow renewable energy battery, presents a solution. Aquabattery provides long-duration energy storage in the form of chemical energy generated by running power through a saltwater mix and a stack of electrodes. The resultant stable solutions of acid and base are stored in separate reservoirs.
When energy is needed, the solutions move in the opposite direction through the electrode stack, recombining to form saltwater and releasing electricity. No toxins or flammable materials are involved in the process.
Regions such as islands that are particularly vulnerable to variations in power supply and dependent on imports can scale the Aquabattery system to be as large or small as needed. The microgrids provide sustainable power autonomy and resilience for communities that use a variety of renewable energy sources.
What's more, Aquabattery's local production system helps reduce carbon emissions by shortening transport routes and using nearby water sources. The process also works for 20 years without mechanical degradation. Having run several successful pilot sites, the company plans to install its first large-scale storage unit by 2025.
Home gardening for the delivery kit generation
Image: Ingarden
Despite a high level of saturation, the global subscription box market continues to grow. There are a myriad of options available, making it possible to find everything from gifts and treats to essentials for almost everyone. A new addition to the market is German-based Ingarden's home microgreen-growing kit.
The foodtech company offers a subscription service as well as one-off buying options. Each kit comes with everything needed for assembly, plus growing and refilling crops, and two refills of the customer's choice. Crops available include radish, arugula, bok choi, kale, garlic, and mustard. All seeds come from certified organic growers in Italy and the Netherlands.
After set-up, home gardeners add the prescribed amount of water to the seed pads and turn on the growing light, a 15W, energy-efficient LED bulb. In five to seven days, depending on what is growing, the crop is ready for harvest. Once all the greens on a seed pad have grown and been eaten, the pad is compostable.
Made from ceramic and steel, the bases are designed to last for many years and if any component breaks, Ingarden provides repairs and replacement parts for free.
With zero carbon emitted from transport and the produce able to go direct from garden to plate, Ingarden's solution makes it possible for communities anywhere to add nutrient-rich food to their diet with almost no work required. Ingarden recently secured €500,000 in funding, which the business plans to use to expand its subscription plans and enter new markets.
Low-carbon fertiliser
Image: FertigHy
Agriculture is directly responsible for up to 12% of all greenhouse gas emissions, with fertilisers alone accounting for around 5% of total emissions. To reduce this, a partnership between EIT InnoEnergy, RIC Energy, MAIRE, Siemens Financial Services, InVivo, and Heineken has recently launched FertigHy, a green fertiliser provider.
European farmers apply around 10 million tonnes of nitrogen fertilisers each year. This is why the European Commission has identified the fertiliser sector as critically important to reducing CO2 emissions.
FertigHy will build low-carbon fertiliser plants that will use green hydrogen to replace the natural-gas-based feedstock used in traditional fertiliser plants. The green hydrogen itself will be produced using electrolysis powered by renewable or low-carbon electricity.
The initial plant, due to start construction in Spain in 2025, will produce more than one million metric tonnes of low-carbon fertilisers per year. FertigHy also plans to build and operate several large-scale low-carbon fertiliser projects in other European countries.
3D-printed shoes
Image: VivoBarefoot
Shoes are an essential part of our everyday wardrobes, and experts say that the global footwear industry will be worth more than $96bn by 2025. So, can this fast-growing industry be a force for good?
There is a sensory connection between the feet and the brain, and Vivobarefoot has created footwear with one goal, to bring people closer to nature with its shoes. The company draws upon three design principles: wide, thin, and flexible. The idea is that the shoes mimic the feeling of being barefoot as closely as possible so that wearers can feel the ground beneath their feet. This promotes the foot's natural strength and movement.
The company is now using a first-of-its-kind digital platform, VivoBiome, to create made-to-order, personalised, locally assembled, and circular footwear. The platform analyses individual 3D foot scans and gait patterns and generates custom shoe designs to give wearers ideal comfort, support, and performance.
Vivobarefoot works with Unreal Engine, which uses photoreal visuals that bring the product to life so users can virtually try on the product. Wearers can also personalise their scans to create an artificial-intelligence-enabled (AI) model, and can choose to customise the design and colour further before it gets printed. The shoes are made using SLS 3D printing, with AI-driven transparency data that gives real-time sustainability credentials.
The company has just launched its "feet-first" pioneer programme, where applicants will try out three pairs of VivoBiome products to provide feedback. Following the programme, the first generation of footwear will also be available for other members in the UK at the start of next year.
Springwise is the global innovation intelligence platform for positive and sustainable change. With a growing database of 11,000+ innovations, we are the place of record for innovation that matters. Springwise.com.
© Faversham House Ltd 2023 edie news articles may be copied or forwarded for individual use only. No other reproduction or distribution is permitted without prior written consent.