UN's High-Level Champions implore businesses to advocate for a 'just' net-zero transition
The UN Climate Change High-Level Champions team today (22 June) issued a call to action for corporates and other non-state actors to sign up to Race Zero and reach net-zero emissions as soon as possible.
---
The Race to Zero initiative is currently backed by more than 11,000 non-state members that have committed to action progress toward net-zero emissions by 2050 at the latest.
Led by the UN Climate Change High-Level Champions, a new call to action has been issued to outline the clear steps that organisations can take to set, support and lobby for net-zero policies and regulations that support a "just" net-zero transition.
The call to action believes that non-state actors can lead the way by using their voices to call for the creation of new policies that combine the need to respond to the climate crisis while improving society.
The call to action has been endorsed by We Mean Business Coalition, Influence Map, Environmental Defense Fund, and Ceres, and is supported by Race to Zero Partners, like Net Zero Asset Managers, Under2 Coalition and Science Based Targets initiative (SBTi).
The We Mean Business Coalition, has also released an 'Ambition to Advocacy: a framework for responsible policy engagement' publication. The framework provides tools and best practices to enable companies to match their climate advocacy to their climate targets.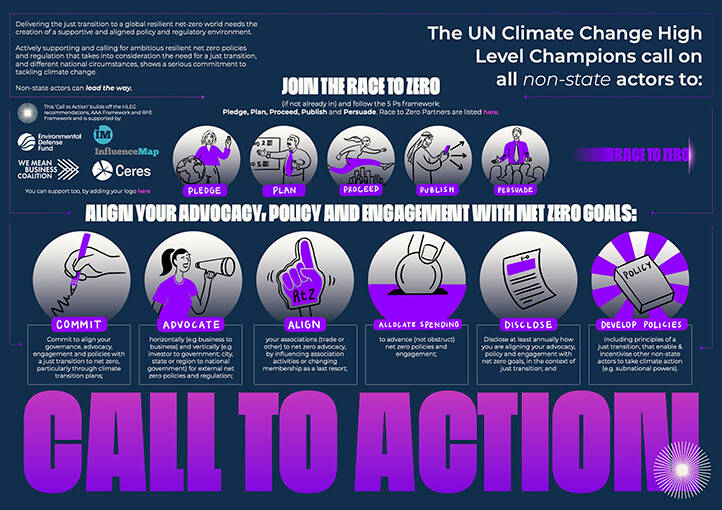 Next week, Race to Zero will also publish 'The 5th P Handbook', a guide for non-state actors on how they can align their advocacy, policy and engagement with net-zero goals.
The call to action also builds from the recommendations of UN Secretary General's High-Level Expert Group on Net Zero Emissions Commitments of Non-State Entities.
At COP27, the High-Level Expert Group has outlined a new set of key recommendations to help these entities develop and deliver net-zero targets in a way that negates cases of greenwash.
The new report aims to build on the Race to Zero and Science Based Targets initiative by providing corporates and investors with time-based frameworks to deliver net-zero, based on short, medium and long-term targets.
The recommendations aim to crackdown on greenwashing and "weak" net-zero pledges that the Group warns could undermine efforts to deliver the ambitions of the Paris Agreement by reducing emissions in line with 1.5C.
Race to Zero was established in 2020 with an overarching goal to halve emissions by 2030 and achieve net-zero emissions as soon as possible, by 2050 at the latest. To join the Race, businesses must commit to emissions reduction targets in line with the goals of the Paris Agreement; have clear plans in place to achieve those targets, and periodically report on progress. View the full Race to Zero application criteria here. 
As an Accelerator of the campaign, edie commits to amplifying Race to Zero membership by supporting readers, event attendees and club members in their decarbonisation efforts and by spreading awareness of the Campaign through ongoing content and events. View all Race to Zero partner organisations here.
---
Apply now for the edie Net-Zero Awards!
Readers interested in the above article may be keen to enter edie's new Net-Zero Awards.
From breakthrough innovations and solutions through to industry-leading carbon reduction programmes and bold collaborative initiatives – this is THE awards scheme have your net-zero efforts and achievements recognised by thousands of businesses and climate experts.
The Net-Zero Awards have been launched as a sister scheme to the long-running edie Awards in response to the surge of innovation and corporate action to accelerate the net-zero transition. The Awards are open to all organisations across the public and private sectors and of all sizes from the largest multi-nationals to the smallest micro-businesses. Winning an inaugural Net-Zero Award empowers teams, inspires stakeholders and ultimately accelerates the corporate net-zero transition.
Applications are open until 14 July and awards will be presented on 15 November.
Click here for full information and to apply.
© Faversham House Ltd 2023 edie news articles may be copied or forwarded for individual use only. No other reproduction or distribution is permitted without prior written consent.