Algae-boosted solar panels and floating cities: The best green innovations of the week
Every week, numerous eye-catching and potentially transformational innovations are being developed to help businesses and nations turn their green ambitions into actions. Here, we round up six of the best.
---
It has, once again, been a tumultuous week for politics here in the UK. The nation narrowly avoided crashing out of the EU without a Brexit deal after Prime Minister Theresa May agreed a delay of six months with European lawmakers late on Wednesday evening (10 April). 
In light of all that has happened in Westminster in recent weeks – and for all the fears it has either bred or allayed around the green economy – edie this week published its flagship Brexit "Matrix", a free downloadable guide outlining the impacts that the UK's various exit scenarios would have on environmental policy.
And while politicians may have slowed down as they try to compromise on a Withdrawal Agreement, the same can't be said of the green innovation sphere. Innovators have been moving at a pace as they continue to develop or scale up new products, concepts and systems which could help corporates and governments to lead the development of a resource-efficient, low-carbon, socially equal world.
In this round-up, edie outlines six of the most promising green innovations to have emerged this week. 
Algae-boosted solar panels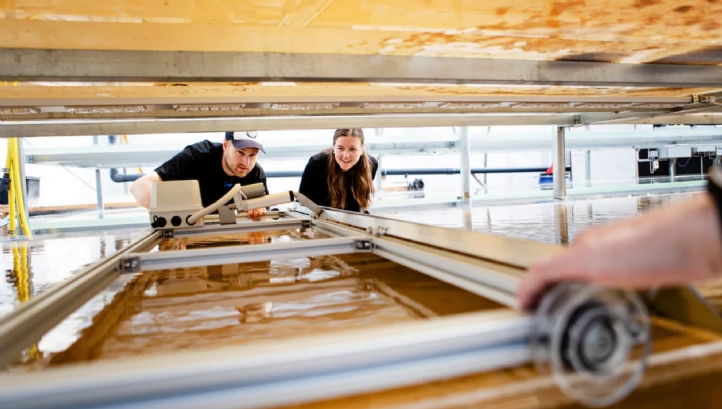 As the renewables revolution continues across the globe, technologies which could make solar power generation cheaper and more efficient have featured heavily in this round-up in 2019. Previously listed technologies include 3D-printed panels, gold-plated solar "sandwiches" and flexible photovoltaic (PV) film which can also be used as a television.
Continuing this trend is a project which has found a way to boost the generating ability of solar panels by combining them with controlled algae blooms. Conducted by a team of marine biologists and biotechnologists in Sweden and supported with funding from the European Commission's LIFE scheme, the SUNALGAE project is investigating how best to place strains of algae which photosynthesise in low levels of light alongside solar technology to boost its output.
Initial tests of this theory at two small, pre-industrial scale modules have found that by spurring controlled blooms of diatoms algae and making it into a coating, silicon solar panels and dye-sensitised solar cells can both be made 4% more efficient, even during periods of low sunlight. If this were extended to the entire global PV industry, an additional $1.2bn (£0.92bn) worth of clean power could be generated annually. The SUNALGAE team will be able to start building the world's first industrial-scale algae and solar plant later this year, with completion earmarked for 2020.  
Unilever's water-saving hair products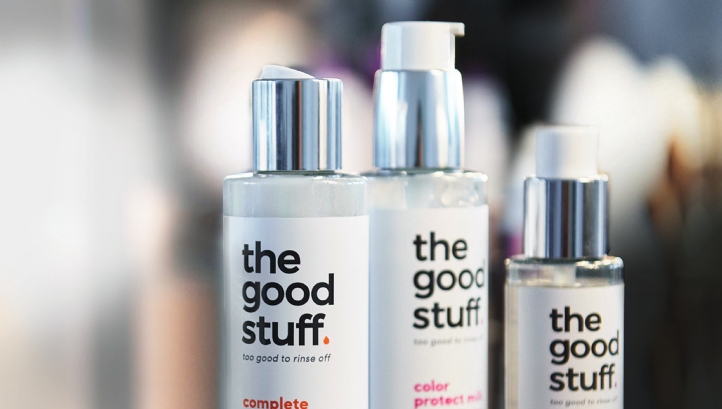 Anglo-Dutch consumer goods giant Unilever has continued to prove that sustainability can be a selling point. Having generated 70% of its turnover growth in 2017 through its 'Sustainable Living' brands, which have a common aim of encouraging and enabling consumers to make more eco-friendly choices. The company recently launched a vegan-friendly beauty line housed in 100% post-consumer recycled (PCR) packaging and washing-up liquid housed in 100% recycled and recyclable bottles.
Building on this momentum, the company this month launched a new haircare brand called 'The Good Stuff', which is designed to reduce the plastic, water and animal impacts of haircare routines. The range is housed in 100% recycled and recyclable packaging and has been developed using plant-based, low-carbon and vegan-friendly formulas – but its key sustainability USP is that the conditioners are designed to be left in.
Unilever claims that the no-rinse nature of the conditioners will save the average user 99 seconds in the shower per hair wash, equivalent to 460 litres of water per full-sized bottle of product. To put this saving into context, the firm has calculated that if every woman in California used The Good Stuff conditioners, 17 billion litres of water – or 6,800 Olympic-sized swimming pools' worth – could be conserved every year. The range of products went on sale across the US this month and may be rolled out to other markets if they are successful. 
Desert-to-soil systems
Also on the topic of water conservation, the UN estimates that the livelihoods of one billion people will have been negatively affected by desertification – the process by which water-stressed areas of soil gradually become infertile sand – between 2010 and 2020. 
To help developing nations in hot climates overcome this ever-growing challenge, startup Desert Control has created a system which purports to convert soil into arable land within as little as seven hours. The process involves spraying a mixture of water and nano-clay onto the affected area, which serves to change the texture of the sandy land and help it to absorb water. This change is achieved as the clay mixture encases each of the sand granules, distributing the materials and giving them a more "spongy" texture. Desert Control claims the process usually takes less than a day to complete, depending on the area of land covered and the weather conditions. 
The system has been researched and developed for around ten years and the results of the third large-scale real-world trial in Pakistan were recently revealed. During this scheme, farmers reported water reductions of up to 65% as well as higher and more predictable yields. 
Floating cities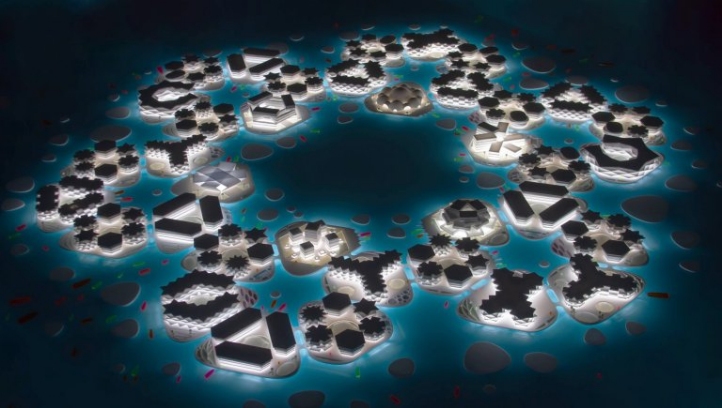 The UN estimates that around 2.5 billion more people will be living in cities by 2050, meaning that the onus is now on firms within the built environment sector to create scalable and sustainable solutions for urban living. But such companies are also tasked with creating solutions to wider sustainability issues, including rising rea levels, population growth and strengthening our food systems.
A solution which aims to tackle these challenges simultaneously comes from Terrace Architecture firm BIG, which this week presented its concept for a floating city, capable of housing up to 10,000 residents, to UN members at the body's New York offices. Called 'Oceanix City', the model consists of buoyant islands clustered together in groups of six, repeated in multiples of six to create villages, and multiplied again by six to create an interconnected city.
The islands would be made from renewable and fast-growing materials, such as bamboo, while wind, solar and tidal power arrays are also included in the city designs. They would be made on land before being towed out to sea and anchored to the seabed by supports capable of withstanding a category-five hurricane. Each of the islands would support both housing and larger facilities such as farms, offices, entertainment venues and state facilities, and are designed to support the growth of marine plants below their underside.
Pocket-sized air pollution trackers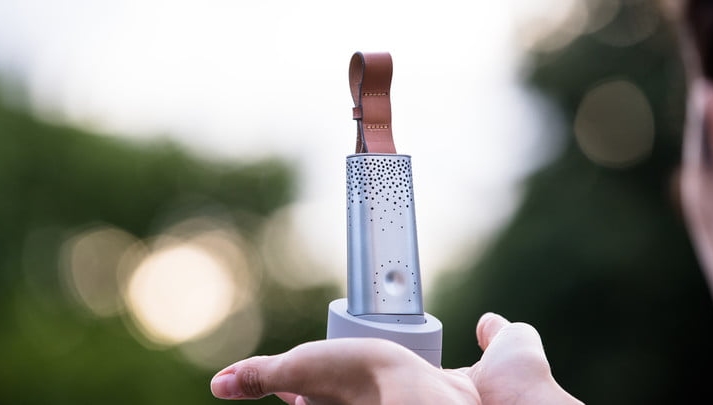 In the UK, air pollution has become an increasingly prominent concern for policymakers, businesses and the public alike, with the launch of London's Ultra-low Emission Zone (ULEZ) this Monday (8 April) having highlighted the topic once more.
As devices such as air-purifying curtains, superfast monitoring and mapping technologies and "breathing" CityTrees are marketed in a bid to combat the issue, a further potential solution has this week been unveiled by Paris-based startup Plume Labs SAS. The five-inch-long device is called 'Flow' and consists of a miniature pollution sensor housed in an aluminium case. 'Flow' uses a tiny fan to suck air through a series of asymmetrical holes in the device's case. The air is then fed through a combination of lasers and membranes to track pollutant levels, and this information is then relayed to the user in real-time by both lights on the device and through a connected smartphone app.
The device weighs just 70 grams and breaks the measurements down into particulate matter (PM), nitrogen dioxide (NO2), and volatile organic compounds (VOCs). 'Flow' has been designed for use by individuals, so they can make adjustments to their daily routines to reduce their exposure to airborne pollutants, but could also be used by schools, local authorities and businesses to track exposure in their local areas. The retail price of the device is $179 (£136).
Chicken poo power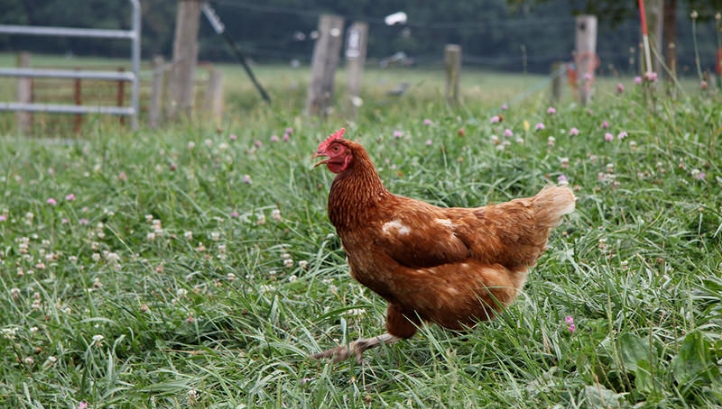 As the global population grows, spurring humanity's demand for more protein, the global chicken population is also skyrocketing. In fact, it is estimated that there are now 23 billion of the birds alive at any one time.
In a bid to harness the waste product generated through this trend to drive the low-carbon transition, the Glenhead of Aldouran chicken farm in Scotland has developed a system which sees its chicken manure converted into clean power. The farmers take the manure generated by the facility's 128,000 free-range chickens and feed it into bed biomass boilers, where it is heated by water held at a temperature of 150C. This process generates 750Wth of heat, which is captured by a heat recovery device produced by 3M and called the Organic Rankine Cycle (ORC).
To recover the rest of the heat, a special chemical vapour capable of absorbing heat from the remaining manure is then added to the chamber. The vapour drives a turbine before condensing and being rerouted to the heat source. The system is powered by wind energy, with a backup diesel generator and off-grid cabinet to protect against power outages and periods of low wind.
Each cycle of manure processed through the system generates 65kWe of electrical power, which is used onsite, while also generating heat for the facility's boiler. The manure ash left at the end of the process is used as fertiliser.  
Sarah George
© Faversham House Ltd 2023 edie news articles may be copied or forwarded for individual use only. No other reproduction or distribution is permitted without prior written consent.