Businesses with science-based targets on course to slash emissions by one-third
Businesses that have committed to aligning their emissions reduction strategies with the aims of the Paris Agreement will spur more than $18bn in climate-mitigation investment and up to 90TWh of annual renewable electricity generation.
---
A new report published today by the Science Based Targets initiative (SBTi), a collaboration between CDP, the United Nations Global Compact, World Resources Institute (WRI) and World Wide Fund for Nature (WWF) has outlined the positive impacts that will be generated if the 285 firms with approved science-based targets meet their commitments.
The report notes that the 285 companies, which have either aligned to the 2C or 1.5C target of the Paris Agreement to limit global temperature increase, will reduce emissions by 265 million metric tonnes of CO2 equivalent, approximately equivalent to shutting down 68 coal-fired power plants. This, the report notes, represents a 35% reduction in company emissions.
The companies are collectively responsible for more than 750 million metric tonnes of CO2 equivalent annually through their operations, which is more than the combined emissions of France and Spain. According to the SBTi, 76 of these firms are targeting emissions reductions in line with the 1.5C target of the Paris Agreement – up from just four more than 18 months ago.
"These companies are at the vanguard in the fight against climate change. They are proof that acting on climate science goes hand-in-hand with a successful business and economy," said Alexander Farsan, Global Lead for science-based targets at WWF, one of the SBTi partners. "Every company in every sector must step up and reduce their emissions in line with what science says is needed, or risk being left behind in a changing world."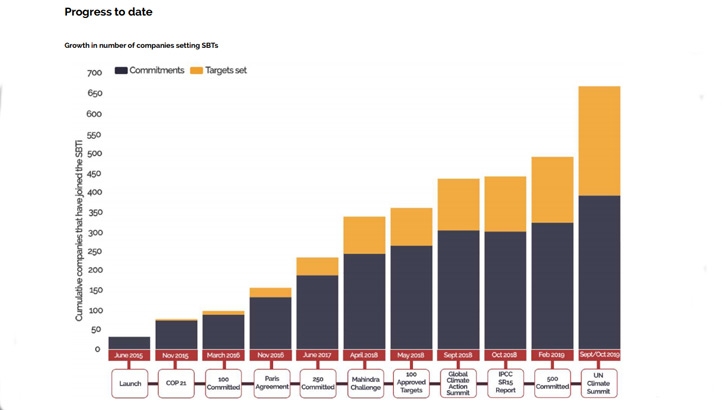 The report claims that the 285 companies will drive investments of up to $18bn to mitigate climate change impacts, while spurring demand for 90TWh of renewable electricity annually – enough to power 11 million US households.
Companies are also attempting to target value chain emissions. More than 90% of the companies have set value chain targets, which make up 3.9 billion metric tons of CO2 equivalent emissions per year — roughly equivalent to 90% of the European Union's annual emissions. 
Heavy emitters
Maersk, Enel and National Grid – shipping and power generation respectively – are amongst the companies within high-emitting industries that are now setting science-based targets.
In fact, a separate survey of 57 of the world's largest transport companies, including airlines and carmakers, has found that more than one in three (35%) have set emissions targets in line with the Paris Agreement.
Conducted by the Transition Pathway Initiative (TPI) – a body campaigning for a rapid low-carbon transition with the backing of investors managing $15trn (£11.6trn) of assets – the survey assessed the sustainability strategies of 22 airlines, 22 car companies and 13 publicly-listed container shipping firms.
At the time of writing, 714 companies have committed to science-based targets through the SBTi.
Matt Mace
© Faversham House Ltd 2023 edie news articles may be copied or forwarded for individual use only. No other reproduction or distribution is permitted without prior written consent.