COP26 Action Tracker: China's ETS launches as UK's Cambo oilfield plans draw controversy
With less than four months to go until COP26, this new series from edie will provide a regular temperature check of global climate action from nations and businesses.
---
Taking place in Glasgow this November after a one-year delay due to Covid-19, COP26 is widely considered to be the most important iteration of the annual UN meeting since 2015, when the Paris Agreement was ratified.
The new COP26 Action Tracker provides a regular round-up of the policy and business preparations being made here in the UK and across the world. The key elements of the Tracker will be updated every two weeks with all of the need-to-know updates ahead of the November talks.  
The COP26 Action Tracker is brought to you as part edie's Countdown to COP26 Festival – a six-month programme of exclusive content and events supported by headline partner O2. View all of edie's COP26 content here. 
The numbers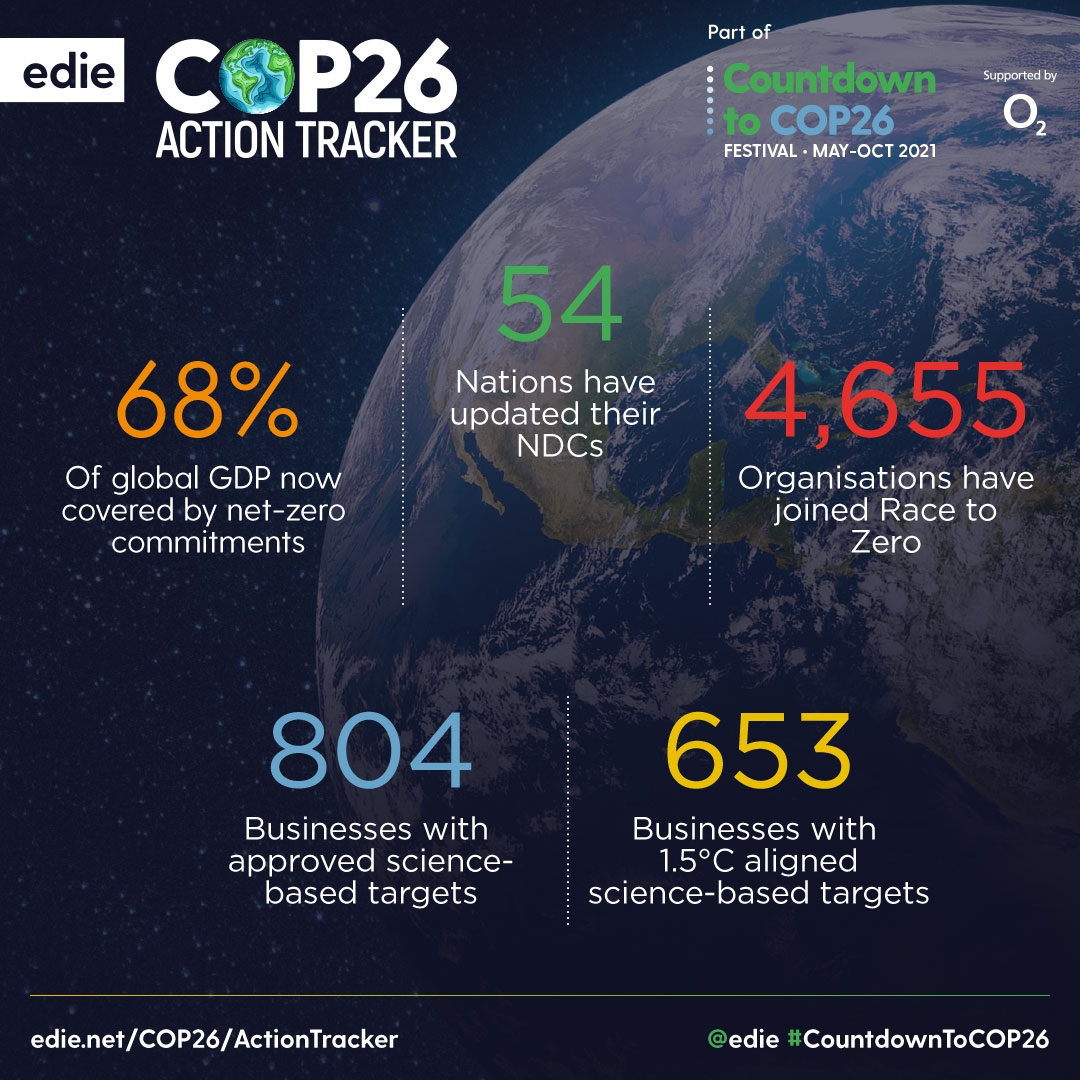 The headlines
UK policy updates
The last edition of this round-up summarised fresh calls for the closure of the UK's biggest green policy gaps from the Climate Change Committee (CCC). Two of the packages requested by the committee as a matter of urgency – the Transport Decarbonisation Plan and the National Food Strategy – have since been released.
The Transport Decarbonisation Plan outlines steps to electrify the Government's vehicle fleet by 2027; ban the sale of petrol and diesel heavy goods vehicles (HGVs) and buses by 2040; transition UK airports and domestic flights to net-zero by 2040 and achieve a net-zero aviation and rail sector by 2050. Read edie's run-down of what is included here.
The National Food Strategy is a review sent to Ministers rather than a policy package in its own right. Authored by Henry Dimbleby, the paper recommends measures to incentivise farmers for restoring nature and to drive dietary shifts towards lower-carbon protein sources. There are also recommendations on improving health and wellbeing, such as new taxes on sugar and salt and an extension of the free school meals scheme.
However, it has been reported that the Heat and Buildings Strategy is unlikely to be published before September. There is reportedly disagreement within the Department for Business, Energy and Industrial Strategy (BEIS) and the Treasury about how best to incentivise low-carbon domestic heating options like heat pumps and hydrogen-ready boilers. The Hydrogen Strategy is also yet to be published.
Moreover, the Government has been accused, in two separate reports, of failing to account for the general public's views on decarbonisation and failing to support local councils to deliver place-based net-zero strategies. A potential solution to these challenges comes through the formation of a new Interministerial Group for Net-Zero, designed to join-up the approach from different parts of Whitehall.
Criticism is also mounting over plans for the new Cambo oilfield off the Shetland Islands. Green groups are urging the plans to be dropped, stating that the project would be inconsistent with the transition to net-zero by 2050. Behind the application are Siccar Point Energy and Shell, with stakes of 70% and 30% respectively. A decision is likely to be made in the coming weeks.
Regarding COP26 itself – a day-by-day agenda has now been published for the two-week summit. You can read it here.
Global policy updates 
Ahead of the G20 summit in October, the G20 Finance Ministers and Central Bank Governors Meeting took place earlier this month. There were reportedly in-depth discussions about the best ways to systematically integrate climate risk considerations into financial systems, with attendees speaking in support of carbon pricing and mandatory disclosures. There were no overarching new commitments in these fields, however.
Another major event tabled for October is the 15th Biodiversity COP in Kunming, China. The UN has now published its first draft of the plan which world leaders are to finalise at the conference, detailing measures intended to combat nature loss this decade. Key points include eliminating plastic pollution and ending $500bn of annual government subsidies that harm nature.
Elsewhere, the EU published its much-anticipated 'Fit for 55' package, designed to accelerate decarbonisation in line with the bloc's commitment to reduce emissions by 55% by 2030, against a 1990 baseline. The package consists of 13 legislative proposals – some new and others revisions of existing laws. Issues covered include emissions trading, land use, renewable energy, energy efficiency, alternative fuels and delivering a socially just transition. MEPS are now reportedly calling for more clarity on how some aspects of Fit for 55 will be financed.
China, meanwhile, launched its Emissions Trading System (ETS). The system will initially cover some 2,225 power companies which collectively accounted for 30% of the emissions generated by Chinese industry in 2019. Other sectors, including aviation and petrochemicals, were due to be included at launch but may now be added at a later date. Opening trade at the market in Shanghai started off at 52.7 yuan ($8) per tonne of carbon. This is far lower than the average price in the world's largest ETS, that of the EU, which stood at $49.40 in 2020.
The Least Developed Countries (LDC) group, which represents more than half the world's countries, has set out its key negotiating demands for COP26. Calls to action include meeting and exceeding the G7 commitment to deliver $100bn annually in climate finance; ensuring that half of international climate finance goes to adaptation and finalising international rules on carbon trading.
Lastly, dozens of politicians from across the world have joined the newly-formed Global Alliance for a Green New Deal. The Alliance's aim is to transform warm words on "building back better" from Covid-19, in a manner aligned with climate science, into reality. Key asks include debt restructuring for poorer nations, measures to close green investment gaps and ensuring global vaccine access. Politicians to have signed up hail from nations including the UK, Brazil, Argentina, Malaysia and the US.
Business action
In a move that will affect hundreds of businesses, the Science Based Targets initiative (SBTi) has announced plans to stop verifying "well below 2C" targets and to support businesses in aiming for 1.5C. Any corporate that had 2C targets approved in 2020 or earlier has until 2025 to update targets. New joiners, meanwhile, will not be able to submit 2C-aligned plans for verification after 15 July 2022.
Regarding business involvement in COP26 directly, a handful of corporates have been added to the roster of Principal Partners – the highest-level sponsors for the conference. The line-up now includes Unilever, Salesforce, Microsoft, SSE, ScottishPower, NatWest Group, National Grid, Sainsbury's, Hitachi, GSK and Reckitt, as well as Sky, the Principal Media Partner.
Elsewhere, new net-zero coalitions have been forged in the retail, insurance and pensions sectors, while edie itself has published the findings of its first Net-Zero Business Barometer. Hosted in association with Inspired Energy, the Barometer will be repeated bi-annually, asking in-house sustainability and energy professionals about their employers' climate progress and plans. 161 respondents took part in the first edition of the Barometer, revealing that 45% of organisations are yet to publicly announce net-zero goals.
On the horizon
The UN Global Compact Network's UK arm is hosting its annual responsible business summit this Tuesday and Wednesday (20-21 July).
Then, Thursday (22 July) will mark the start of this year's One Young World Summit – an event descried as the world's biggest and most impactful youth leadership summit, covering all 17 Sustainable Development Goals (SDGs). This year's Summit is taking place in Munich, Germany, with all content being made available online in light of Covid-19.
Lastly, it has been confirmed that Earth Overshoot Day – the calendar date at which humanity has consumed the whole years' worth of natural resources – will fall on 29 July this year. This makes it the joint earliest, along with 2019. The edie team are marking the occasion with a free webinar featuring experts from ReLondon, Elvis & Kresse and Centrica Business Solutions. Find out more and register here.
Words of wisdom
"The needs of nations most acutely threatened by climate change lie at the heart of the Paris Agreement and indeed of the UN climate convention: morally and practically, there can be no successful outcome at COP26 that does not deliver for the most vulnerable across the full range of issues."
– Statement from the LDC group 
Sarah George
© Faversham House Ltd 2023 edie news articles may be copied or forwarded for individual use only. No other reproduction or distribution is permitted without prior written consent.