COP26 Action Tracker: Global biodiversity congress underway as Cumbria coal mine inquiry set to begin
With less than 50 days to go until COP26, this new series from edie provides a regular temperature check of global climate action from nations and businesses.
---
Taking place in Glasgow this November after a one-year delay due to Covid-19, COP26 is widely considered to be the most important iteration of the annual UN meeting since 2015, when the Paris Agreement was ratified.
The new COP26 Action Tracker provides a regular round-up of the policy and business preparations being made here in the UK and across the world. The key elements of the Tracker will be updated every two weeks with all of the need-to-know updates ahead of the November talks.  
The COP26 Action Tracker is brought to you as part edie's Countdown to COP26 Festival – a six-month programme of exclusive content and events supported by headline partner Virgin Media O2. View all of edie's COP26 content here. 
The numbers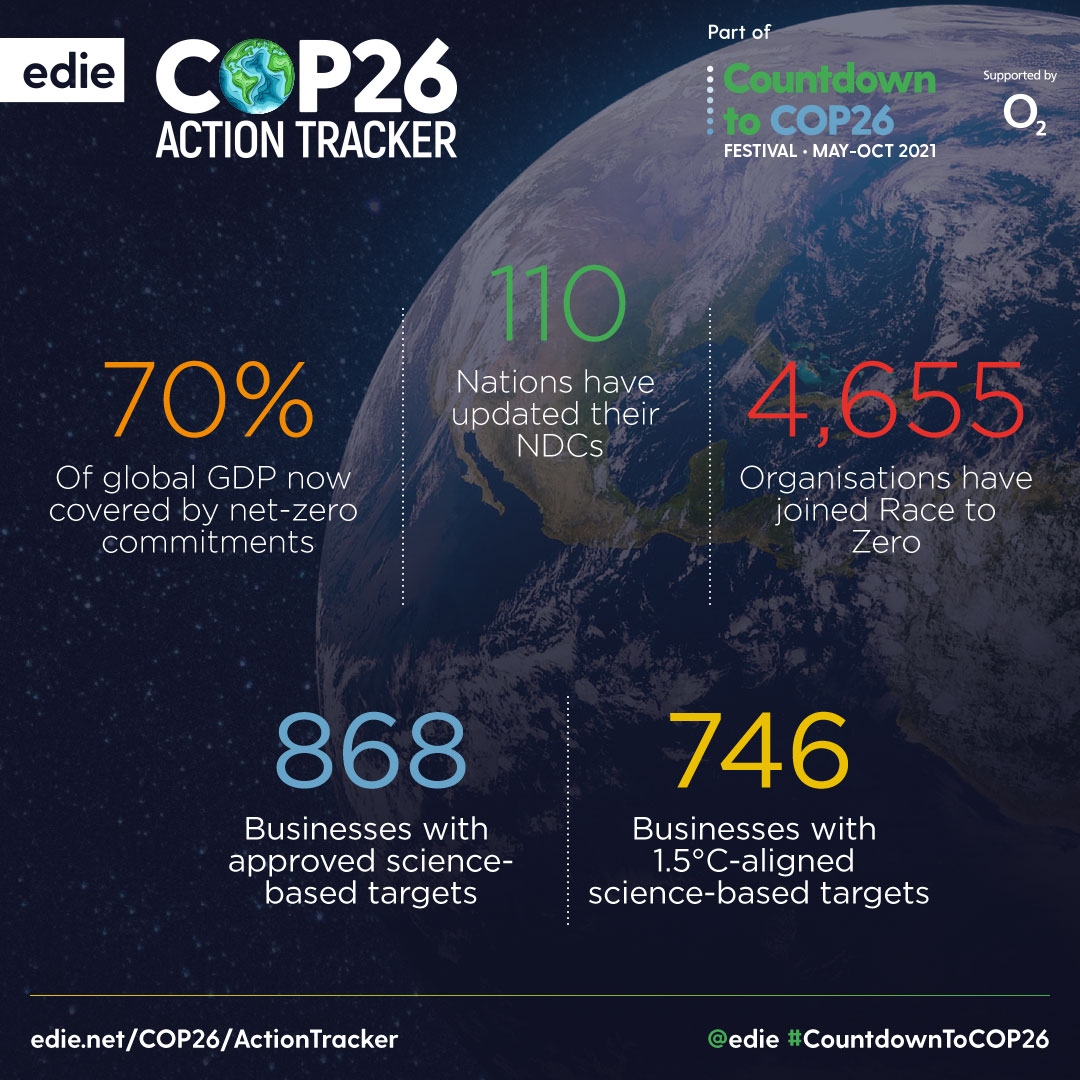 The headlines 
UK policy updates
With MPs having officially returned from Parliament's summer recess today (6 September), the past few weeks have been relatively quiet in terms of big policy announcements. However, the Heat and Buildings Strategy and overarching Net-Zero Strategy are now expected in the coming weeks, as pressure from consumer, business and green groups increases, so watch this space.
The coming weeks will also be a busy time for the Environment Bill, which has four sessions of debate tabled over the next fortnight. The Bill is in its final stages in the House of Lords but could return to the House of Commons, the Guardian is reporting, with an alliance of crossbench and opposition peers tabling more than 100 amendments, hoping for stricter protections for nature, water and air quality. The alliance is also concerned about the current approach to the creation of the UK's post-Brexit environmental watchdog, the Office for Environmental Protection (OEP).
What happens to the Environment Bill over the next couple of weeks will be crucial for England's environment in the coming decades. Important thread below. https://t.co/vtaRDruyRc

— Shaun Spiers (@ShaunSpiers1) September 6, 2021
Additionally, the public inquiry into the UK's first deep coal mine in more than 30 years – a facility proposed for Whitehaven, Cumbria – is set to begin this week.
In taking a moment to look back since the last edition of this Action Tracker was published, it appears that climate action has been accelerating outside of Whitehall. News came in late August that more than 100 local authorities and councils have publicly backed the Climate and Ecological Emergency (CEE) Bill, which calls for the UK to do more to tackle its contribution to the climate crisis and adopt broader environmental accounting. In the same week, the Scottish Government put forward a draft policy programme for aligning its economic recovery plans for Covid-19 with its long-term climate, nature and social targets, developed under an agreement with the Scottish Green Party Parliamentary Group.
Global policy updates
Last week, UK Chancellor Rishi Sunak and Indian finance minister Nirmala Sitharaman attended the 11th Economic and Financial Dialogue between the two nations, hosted over video call. The Dialogue resulted in the agreement of a $1.2bn (£900,000) package of funding designed to accelerate the low-carbon transition, with plans to increase public and private spending on renewable energy, sustainable infrastructure and low-carbon technologies in India.
Elsewhere, the European Commission published its new flagship Forest Strategy – a key part of the bloc's Green Deal. But the Strategy was met with criticism from lawmakers across the political spectrum, who have called it 'vague' and 'superficial' while questioning whether planned pathways for delivery are possible.
Looking across the Atlantic, the Biden administration is facing increasing pressure to deliver a more joined-up approach to the net-zero transition. The White House announced plans to re-open auctions for oil and gas exploration, covering millions of acres of water in the Gulf of Mexico. Auctions were paused in January, with the administration promising an analysis of the sector's environmental impacts and true value to taxpayers. While that review is ongoing, the administration was compelled to resume lease auctions after a federal judge in Louisiana ordered the move. The sale could ultimately result in the production of up to 1.1 billion barrels of crude oil and 4.4 trillion cubic feet of natural gas.
Four environmental groups have filed a lawsuit in Washington federal court challenging the decision to hold the auction. Earthjustice will act on behalf of the groups, namely Friends of the Earth, Healthy Gulf, Sierra Club and Center for Biological Diversity.
The US is also continuing to crank up the diplomatic pressure on China, joining the UK and EU in pushing for an updated Paris Agreement pledge and a time-bound commitment to end coal-fired energy generation. US climate envoy John Kerry is expected in Beijing shortly; Kerry and his counterpart Xie Zhenhua have been meeting regularly on Zoom in recent months.
Business action
Major business announcements, like major policy announcements, are made less frequently in August than at most other times of year.
However, with the start of a new month has come a flurry of corporate commitments on biodiversity, timed to coincide with the International Union for Conservation of Nature's (IUCN) World Conservation Congress, running in Marseille, France, until 11 September.
Pernod Ricard was the first business to sign up for the IICN's new 'Agriculture and Land Health Initiative', developed to help accelerate the transition to regenerative agriculture and to prevent greenwashing. The commitment builds on an existing pledge to "nurture terroir", made under a sustainability strategy updated in 2019.  
Similarly, companies including L'Occitaine and Walmart have updated their biodiversity strategies, while Kering has announced the first string of projects to receive funding from its 'Regenerative Fund for Nature' initiative, which is being run in partnership with Conservation International and was first opened to applications in 2021. Projects chosen include efforts to help cotton farmers in India transition to regenerative methods and to help indigenous smallholder cattle producers in South America.
A swathe of new corporate commitments on decarbonisation and climate action is likely to come during Climate Week NYC, which begins on 20 September. Last year's event saw new pledges from the likes of Walmart, Adidas, Formula E and NatWest.
More broadly, news has also come that global green bond issuance is likely to pass the half-a-trillion-dollar mark this year. The Climate Bonds Initiative increased its forecasts for 2021following a strong first half of the year for the market, with issuance from national governments, government agencies and corporates surging.
On the horizon
As mentioned above, the IUCN Congress is running until Saturday 11 September. It is the largest global event on biodiversity since 2019 and will be attended by thousands of scientists, conservation experts, government representatives and business leaders. The event comes shortly after the UN's 15th biodiversity summit, scheduled for October in Kunming, China, was delayed once again. Columbia has been confirmed as the host nation for the pre-conference event. 
On September 20, Climate Week NYC will begin. It is being held in a virtual format for the second consecutive year. The organisers, The Climate Group, have selected ten focus areas for events and announcements: the built environment, energy, environmental justice, finance, food, industry, nature, policy, sustainable living and transport.
20 September also marks the start of World Green Building Week. The event runs annually and is overseen by the World Green Building Council (WGBC), which has this year selected 'Building Resilience for Climate, People and Economies' as the theme.
Words of wisdom
"[Net-zero] can be done; it is worth it. I hope we can move away from thinking about the cost and see it as a mission to modernise the economy."
– Chris Stark, chief executive at the Climate Change Committee (CCC)
Luke Nicholls
© Faversham House Ltd 2023 edie news articles may be copied or forwarded for individual use only. No other reproduction or distribution is permitted without prior written consent.