COP26 Action Tracker: UN biodiversity summit underway, G20 finance ministers set to gather
With less than three weeks to go until COP26, this latest edition of edie's Action Tracker explores the eleventh-hour actions being taken by the UK Government and the private sector.
---
 Taking place in Glasgow this November after a one-year delay due to Covid-19, COP26 is widely considered the most important iteration of the annual UN meeting since 2015, when the Paris Agreement was ratified.
The new COP26 Action Tracker provides a regular round-up of the policy and business preparations being made here in the UK and across the world. The key elements of the Tracker will be updated every two weeks with all of the need-to-know updates ahead of the November talks.  
The COP26 Action Tracker is brought to you as part edie's Countdown to COP26 Festival – a six-month programme of exclusive content and events supported by headline partner Virgin Media O2. View all of edie's COP26 content here. 
The numbers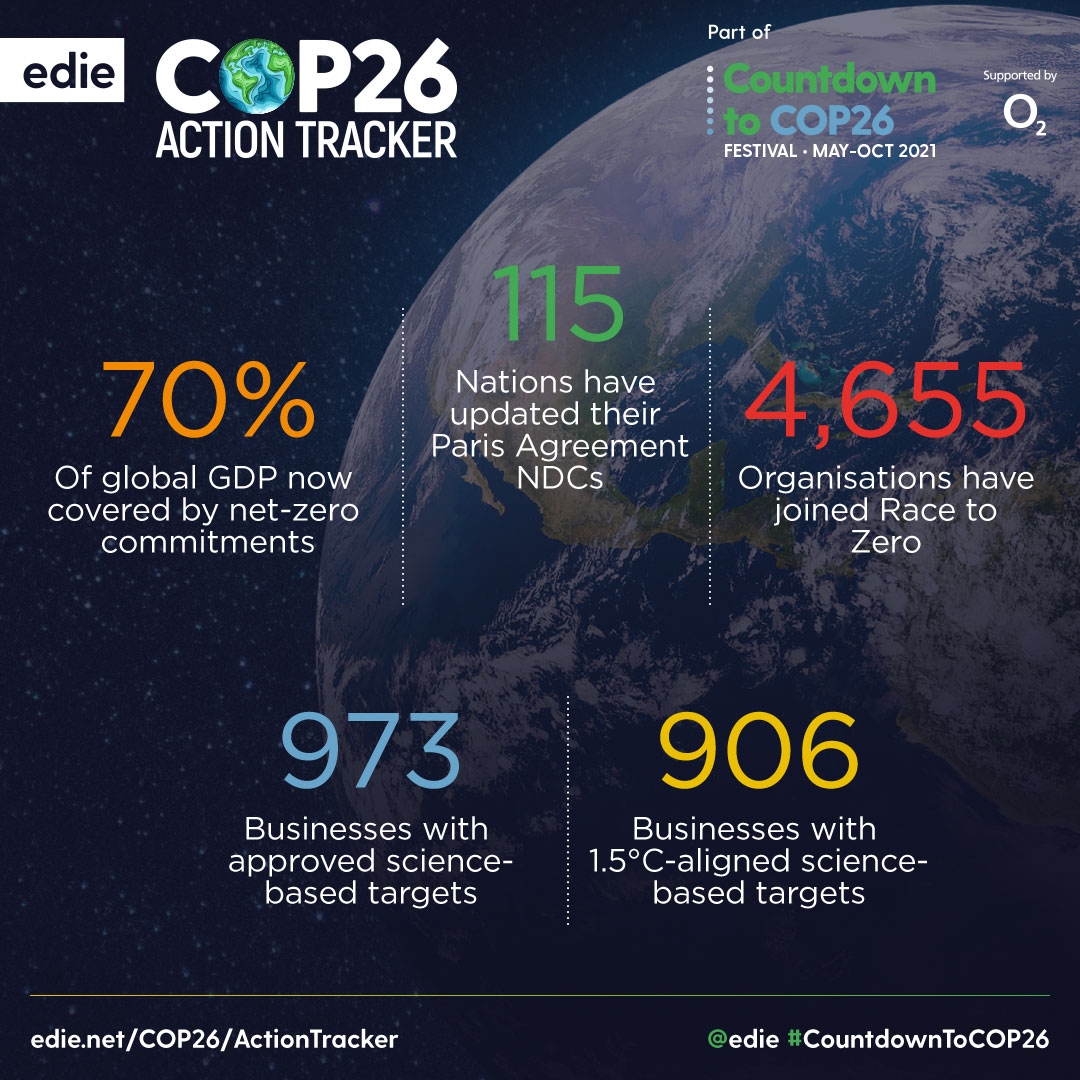 The headlines
UK policy updates
The UK Government had promised the Heat & Buildings Strategy, the results of the Treasury's Net-Zero Review and the overarching Net-Zero Strategy ahead of COP26. But none of these packages have yet been published, and the window in which to do so is now closing quickly.
The Scottish Government has, however, unveiled its own long-term plans for decarbonising buildings – its domestic Heat and Buildings Strategy. The Strategy targets a 68% reduction in built environment emissions by 2030  and is backed with a £1.8bn investment plan.
The Welsh Government, meanwhile, has published a new flood map for planners and issued a Technical Advice Note (TAN), intended to help developers minimise risk associated with flooding and coastal erosion. The advisory paper states that no "highly vulnerable" land uses such as housing, schools, hospitals and emergency service facilities should be developed in areas of high flood risk without strong defences. If a local authority fails to follow this advice, Ministers will have the opportunity to block the planning process. Even for low-flood-risk areas and areas with strong flood defences, gaining planning permission will soon be dependent on passing new acceptability tests.
On a UK-wide level, the big news since the last edition of this Action Tracker was published has been a commitment to end unabated fossil-fuelled electricity generation by 2035. The move was first floated by Boris Johnson at the Conservative Party Conference on 4 October and then confirmed as official by the Department for Business, Energy and Industrial Strategy (BEIS) late last week. Canada and the US had already made such commitments, putting pressure on the UK as COP26 host.
Meeting the 2035 commitment will require a major shift in the UK's electricity mix, in which unabated gas currently plays a key role. BEIS has not yet published full information on how it intends to deliver. These details are expected in the Net-Zero Strategy. However, the Department has stated that it will support a mix of "home-grown" technologies, including nuclear, hydrogen, carbon capture and storage (CCS), wind and solar.
Additionally, Sky News has reported that BEIS Secretary Kwasi Kwarteng is seeking a non-executive director for the Department. The new professional will likely not be in post until after COP26.
Labour's own Party Conference, which took place in Brighton a week before the Tories convened, saw the Party committing to spend £28bn annually on climate mitigation and adaptation if elected. Shadow Chancellor Rachel Reeves stated that the amount is around four times the amount that the Government is currently allocating to tackle the climate crisis annually.
In terms of COP26 itself, the UK's decision to change international travel rules, dramatically reducing the number of countries on the red list and scrapping the amber list altogether, should help leaders from more nations attend in-person. The previous edition of this Action Tracker charted concerns from nations including South Africa about Covid-19-related barriers to travel.
COP26 President Alok Sharma is in Paris this week to deliver a major speech at the UNESCO World Heritage Centre. The Government has already published his speech, which states: "COP26 is not a photo op or a talking shop. It must be the forum where we put the world on track to deliver on climate. And that is down to leaders. It is leaders who made a promise to the world in this great city six years ago. And it is leaders that must honour it."
Sharma is continuing to urge other nations to update their Nationally Determined Contributions (NDCs) to the Paris Agreement.
Global policy updates
Last week, the European Union's 27 environment ministers agreed on a shared COP26 stance – that nations should increase their national climate goals every five years – rather than every 10 – in light of the latest science. However, the agreement stipulates that the EU will only do this if other nations follow suit – a caveat which green groups have argued weakens the bloc's stance.
Elsewhere, the United Arab Emirates has announced that it will develop plans for enshrining a 2050 net-zero target in law. It is the first nation in the Middle East and North Africa to make this commitment. Plans for delivery are not fleshed out yet, but the UAE has stated its intention to transition away from an oil-based economy and to invest 600bn dirham (£120bn) in low-carbon energy.
Looking more broadly, the World Bank-IMF meeting this week includes a gathering of the G20's finance ministers. The foundations could be laid for joint commitments to phase out fossil fuel subsidies and to finally deliver the promised $100bn in annual climate finance for developing nations. The World Health Organisation this week stated that "the burning of fossil fuels is killing us" and that "climate change is the single biggest health threat facing humanity". The meeting will likely see ministers looking at public health, the economic recovery from Covid-19 and climate action in tandem.
Finally, the UN is considering a proposal that would recognise access to a healthy environment as a clean right. 100 nations already recognise this as a right domestically, and proponents claim it could help campaigners further climate cases. However, Reuters is reporting that some nations, including the US, Russia and the UK, are delaying progress.
Business action
A major report last week from Accenture revealed that only 5% of Europe's largest companies are on track to hit net-zero by 2050, with 70% having not yet made a long-term net-zero commitment. This built on a separate report from Sphera, revealing that just one-fifth of businesses have a clear roadmap to deliver their long-term environmental goals.
Nonetheless, it has continued to be said that leading businesses can and are moving faster than national governments; it has been a busy time for businesses collectively putting pressure on policymakers around green issues.
Hundreds of businesses wrote to the G20 as September came to an end, calling for stronger climate policies. Convened by the We Mean Business coalition, the firms involved collectively represent £1.8trn in revenue and are urging an immediate end to new coal power development; financing plans to end coal-fired electricity generation this decade and strengthened NDCs.
Then, with attention turning to the first half of the UN's Convention on Biological Diversity, the chief executives of 12 multinationals penned an open letter urging world leaders to commit to reversing nature loss this decade. The UN's current draft agreement stops short of this, pledging to halt nature loss this decade and begin reversing the damage in the longer term. Singatories of that open letter include the chief executives of Unilever, Holcim and H&M Group.
Similar letters are to be expected in the coming weeks. 
On the horizon
From 11-15 October, an official opening of the UN's Convention on Biological Diversity will take place online,  including High-Level Segment discussions that will aim to produce a "Kunming Declaration" on a global biodiversity agreement. The Declaration will be ratified after in-person negotiations, which have been pushed back to spring 2022 due to Covid-19.
Then, on 30 and 31 October, G20 nations will meet for this year's summit in Rome. Pre-summit meetings on topics including finance, infrastructure and agriculture have already taken place.
COP26 will formally open on 31 October in Glasgow. Negotiations will begin on 1 November.
Zooming back in on the UK for one moment; Chancellor Rishi Sunak is due to deliver the Autumn Statement on 27 October.
Words of wisdom
"This is going to be quite a nuanced event; it's not as clear-cut as when the gavel came down on the Paris Agreement. It will be much more won in the narrative this year and, so, for all of our sakes, we have to make sure we come out of this with a sense of momentum – a feeling that it really can be done."
– Bridget Jackson, the COP26 unit's business engagement lead
Sarah George
© Faversham House Ltd 2023 edie news articles may be copied or forwarded for individual use only. No other reproduction or distribution is permitted without prior written consent.