Hungary's coal exit and London's first 'tiny forest': The Sustainability Success Stories of the week
As part of our Mission Possible campaign, edie brings you this weekly round-up of five of the best sustainability success stories of the week from across the globe.
---
Published every week, this series charts how businesses and sustainability professionals are working to achieve their 'Mission Possible' across the campaign's five key pillars – energy, resources, infrastructure, mobility and business leadership.
In a week where UK headlines were dominated by International Women's Day, projects and initiatives which empower businesses to play their part in achieving a sustainable future, today, continued to launch and scale-up. 
ENERGY: Hungary brings coal exit date forward to 2025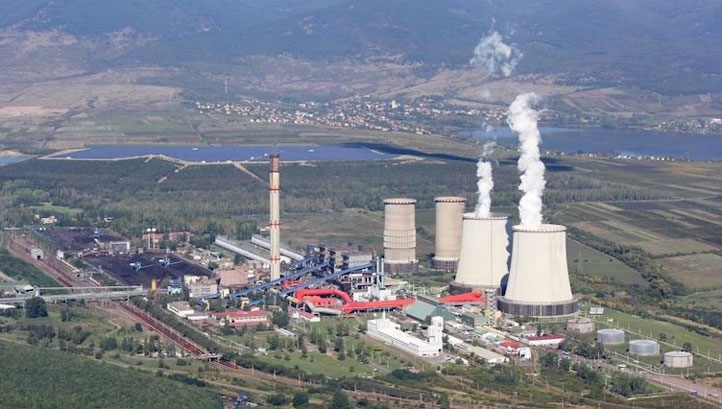 January saw Portugal confirming that its last coal-fired power plant will close this year. The country was originally working towards a phase-out by the end of 2022.
The move came after the UK moved its own coal-fired power ban date from 2025 to 2024. Continuing this trend, Hungary used its podium at the annual Powering Past Coal Alliance summit this week to confirm plans to close its last coal-fired power plant by 2025; the deadline was originally 2030.
Hungary's secretary of state for EU affairs Attila Steiner told listeners that keeping the nation's coal-fired power plants open would not be compatible with the nation's plan to achieve 90% carbon-neutral generation in the electricity mix by 2030. Steiner outlined how the gap in generation that will result from the coal plant closures will be bridged by nuclear and by solar – where an expansion in generation capacity to 6GW is planned this decade.
Environmental group Europe Beyond Coal stated that "the confirmation of the closure of the 884 MW Matra coal power plant is a critical step in planning for a just transition for workers and impacted communities."
Photo: Matra Power Plant
RESOURCES: Non-profit pressure leads to new plastics pledges from PepsiCo and Mondelez
The world's biggest food and drinks brands are, arguably, at the centre of line of fire for the so-called 'war on plastics' or 'Blue Planet 2' movements.
Non-profit As You Sow has been engaging with several such businesses in recent months in a push for stronger commitments, This week, it announced success following discussions with PepsiCo and Mondelez – both of which have been named by organisations including Greenpeace as some of the world's biggest contributors to plastic waste.
Mondelez has set a new reduction target for 2025, against a 2020 baseline, that will result in a 5% absolute reduction in virgin plastic used in packaging, including a 25% reduction in its rigid packaging. The company expects to deliver a 10,000-tonne reduction in plastic use as a result.
PepsiCo, on the other hand, has committed to setting a time-bound reduction target later this year. It is already targeting a 35% reduction in plastic across beverages by 2025 but the new target will also include snacks.
As You Sow's senior vice president Conrad MacKerron said: "We look forward to other companies stepping forward to make similar commitments, and making bolder, larger absolute cuts in overall plastic packaging."
MOBILITY: Paris to add 150 e-scooter charging points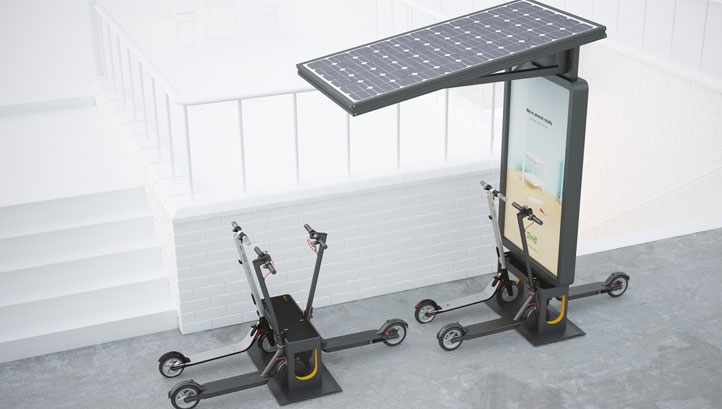 As is the case with many national governments, including the UK'sv, the EU sees electric mobility, active transport, micro-mobility and shared mobility playing an important role in the low-carbon transition.
A recent success story in this space comes from Paris. Micro mobility infrastructure firm DUCKT this month received confirmation that it will receive funding from the Paris Municipality and innovation engine EIT InnoEnergy to install 150 'dock, lock and charge' points for e-scooters in the French capital by the end of June.
Paris is estimated to play host to 15,000 e-scooters and the new points will act as universal chargers, compatible with all models. One of the largest e-scooter providers in the city, Lime, recorded a 15% increase in the number of electric scooter and bike journeys and a 65% increase in total distance travelled by this fleet between February and June 2020.
"Paris was the ideal city to demonstrate the power of our solution," DUCKT's country manager for France Marc-Antoine Réol said. "This initiative supports the Mayor's desire to reduce the use of cars in town to a minimum and the city's ambitious '15-minute city' project, which aims to give Parisians the full use of their streets back."
THE BUILT ENVIRONMENT: GRESB and BREEAM name Asia's most sustainable real estate developer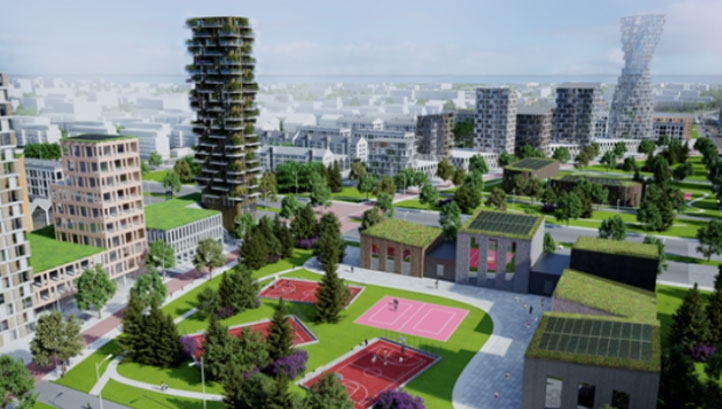 In this part of the roundup, edie often highlights a particular building or development that has been certified as sustainable through a scheme such as GRESB or BREEAM. These schemes are designed to prove that developments meet best-practice requirements on things like operational emissions, water use and energy efficiency.
This week, however, the two certification bodies came together to announce, for the first time, an award for Asia's most sustainable real estate developer. The crown went to White Peak, which is based in China and funded in Sweden, and follows the Swedish 'Hammarby Sjöstad' concept to create 'eco-city' projects. White Peak is best-known for the Hammarby Eco-City Yantai, currently under construction in China's Zhifu District. The project is transforming the coastal urban area, covering more than 5,000 apartments.
White Peak said in a statement that the first phase of the project will be completed in 2022. It will feature an innovation incubator, an ice hockey rink, a community hub, new low-carbon public transport systems, active transport infrastructure and several public green spaces.
 "We are encouraged by the fact that Asian real estate players are paying more and more attention to data-driven methods to improve the sustainability of real estate," GRESB's Asia representative Xinying Tok said. "White Peak, as a responsible enterprise, has consistently been among the best-performing developers in our assessments over the past few years."
BUSINESS LEADERSHIP: Fever-Tree supports 'tiny forest' in London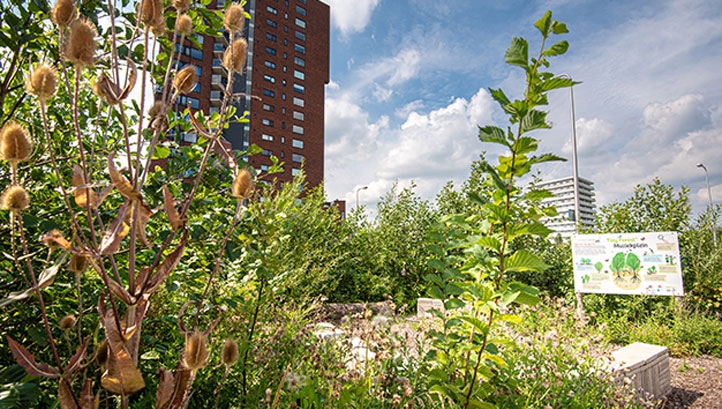 According to the Climate Change Committee, the UK will need to plant at least 1.5 billion new trees by 2050 to meet net-zero, with the majority being planted in the short-term. While restoring, expanding and creating woodlands and forests will be important, urban tree-planting will also need to take place. The UN estimates that roughly half of the world's urban population cannot access a green space within walking distance of their home or workplace, meaning that this action will have social benefits as well as environmental.
With all of this in mind, beverage brand Fever-Tree has partnered with charity EarthWatch Europe to support the creation of a 'tiny forest' in Hammersmith Park, West London. The forest will be a dense, fast-growing woodland consisting of 600 trees planted in an area the size of a tennis court, contributing to the regeneration of derelict parkland. EarthWatch believes it will attract 500 species within the first three years.
The first trees were planted in the forest on Monday (8 March). Local community groups have been selected to maintain the forest as it grows.
"Urban tree planting has a huge role to play in enriching biodiversity in our cities as well as helping to protect against the impacts of climate change," Fever-Tree's CR and sustainability manager Jess Ainley said. "Fever-Tree is so proud to be planting London's first Tiny Forest, just down the road from our head office, and, in doing so, creating a green space for local community and nature to thrive in."  
Sarah George
© Faversham House Ltd 2023 edie news articles may be copied or forwarded for individual use only. No other reproduction or distribution is permitted without prior written consent.